I'm in reflective mood, having realised it's been 25 years between designing my first and my latest chair. There have been plenty in between as well, most were developed by us for our own clients but we have also designed and prototyped for other companies. At a quick count I can remember around 20 different chair designs, but I've a nagging feeling that there are some I've forgotten and I know of plenty of others that didn't make it out of the sketchbook for a myriad of reasons. Chair designs have always marked key milestones through the last 25 years: they seem to have defined periods in the development of the business and changes in our design thinking. So I thought this was a good moment to revisit those first and last chairs, along with some other designs along the way, in a series of blog stories about designing chairs.
You can visit our 'sitting' gallery and look through more of our chair designs on the Simon Thomas Pirie website by clicking here.
A History of Chair Design over 25 Years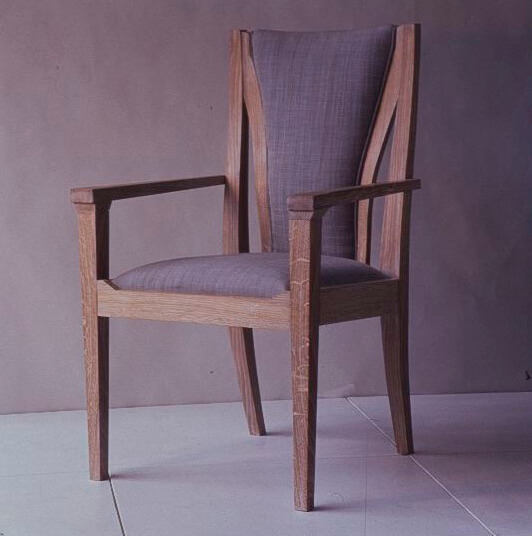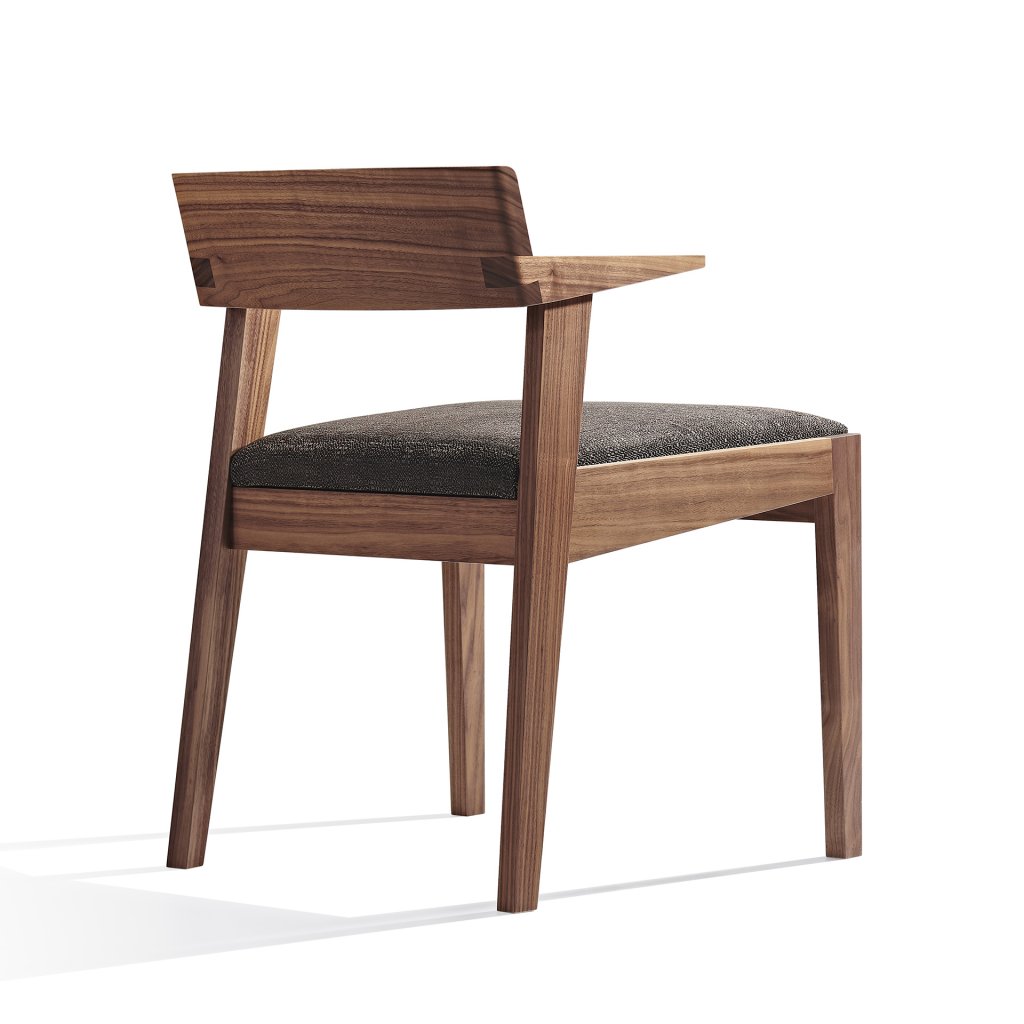 First and last: The 'Gazelle' prototype (left) was the first chair I ever designed and made back in 1993. The 'Iceni' half-arm (right) is our latest offering, launched at Decorex in 2018.
25 years ago I was a student at Hooke Park College, part of John Makepeace's influential Parnham Trust. Hooke was hidden away in a West Dorset woodland, a bizarre upturned boat of a place made of the forest thinnings that grew around it. It was a workshop, production facility and college all rolled into one. It was an inspiring place to be and the cohort of students I was part of were all highly driven; it was both a competitive and highly creative environment.
Two key things happened for me at Hooke: Firstly I came into contact with the furniture of Ron Carter through the then Hooke Park College director, Peter Miles. Peter had been in partnership with Ron at Miles Carter, a company who had made modern English furniture for corporate and institutional clients through the 1980s. That second career defining moment was when I was selected as the designer on a large furniture project which was to be designed and managed by the students and made in the Hooke production facilities. Our 'live' client was Bournemouth University who required a Senate table to seat 40, storage cabinets and 40 chairs. There was also furniture for the main lecture theatre which included a wing shape 'platform' table with chairs, a lectern and more storage pieces. It was a big project by any measure and the kind of thing I'd still relish today.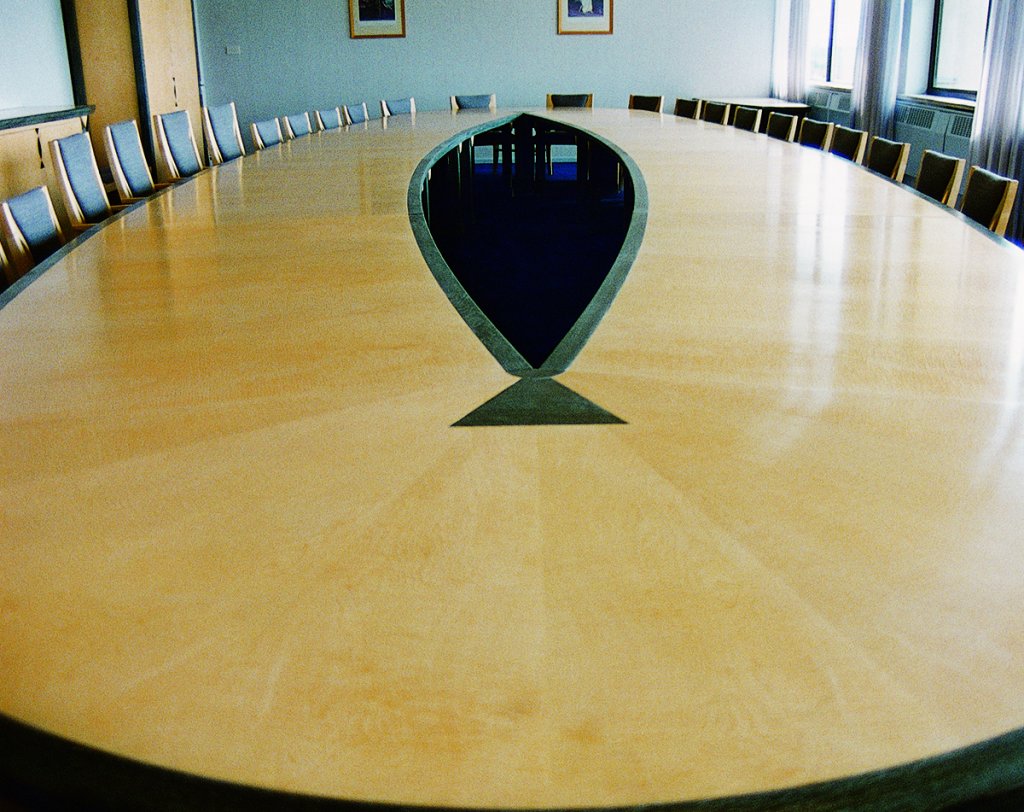 So the first chairs I designed were part of this collection for the Bournemouth University, something that was very much influenced by that Miles Carter 'modern English furniture' aesthetic. It was a great first job for me as a designer, working with an experienced production team under the mentorship of Peter Miles. I even had a bit of design tutorship from Ron Carter himself, which looking back now is really precious. (Ron passed away a couple of years ago but his work continues to influence mine to this day. You can read more about Ron Carter in the blog article I wrote about him – Ron Carter – A Furniture Designer's Designer).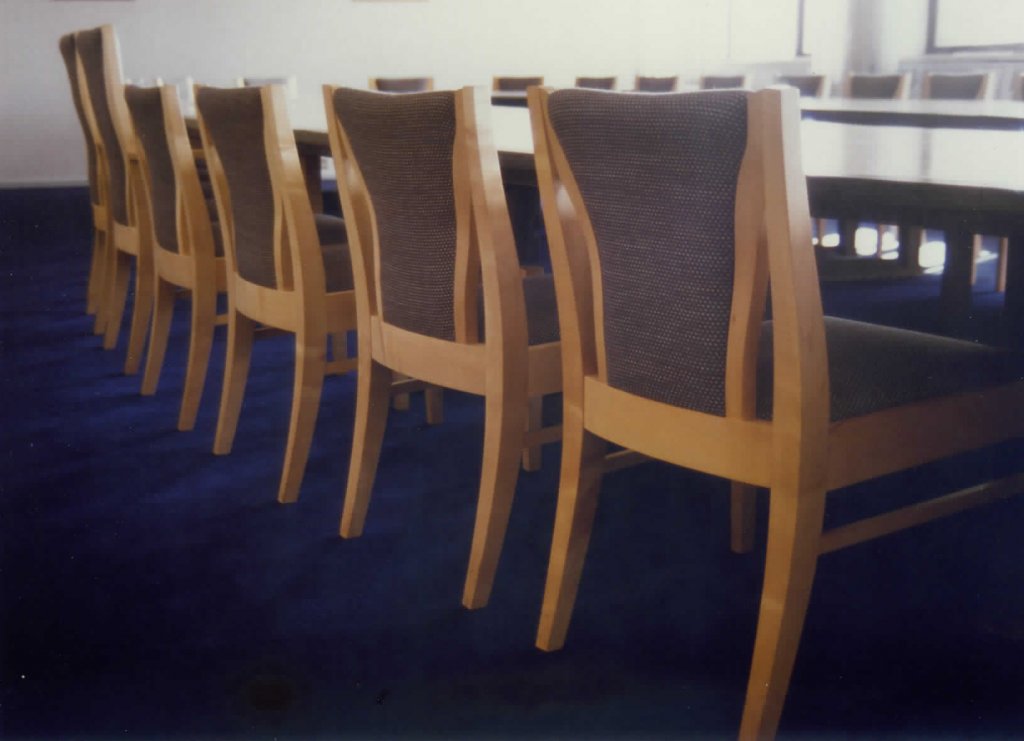 The whitened oak 'Gazelle' high-back armchair at the top of this article was the first prototype of the series. It was the first chair I ever made as well as the first I ever designed. For the production run we made 4 of these in sycamore plus a couple of extras, but we also produced 36 low-back versions without arms. All 40 sat round the huge 10 x 3.5 metre Senate table. We even designed a bespoke fabric specially for the project in collaboration with Bute fabrics who are based on the Isle of Bute in Scotland. The senate room furniture echoed the University's colour scheme of blue and cream: a ferrous sulphate treatment was used on the oak to turn it a grey-blue and create the strong contrast with the creamy coloured sycamore. Given Hooke Park's environmental mission, to find uses for native forest products, it was important we used home-grown timbers and this is an ethos that has stuck with me ever since.
In case you're wondering, the name 'Gazelle' came from the shape of the component that sits either side of the upholstered back panel, inside the back leg. It is shaped with curves on all 4 faces and is very complex to make. Held up on it's own it looks like the twisting spiral antler of a gazelle and hence a series of chair names derived from African antelope.

The 3rd incarnation of this set of chairs was for the main lecture theatre at Bournemouth University. The 'Oryx' armchair was different in the fact that it had a slatted rather than upholstered back, but otherwise it shared many of the frame components of the Gazelle. The curved slatted back was a very conscious decision as we wanted it to have a strong presence as it sat around the one-sided wing shape table facing the auditorium for large or public lectures. In the semi-darkened space with the theatre lighting on the chairs, it had an almost ephemeral look, hovering and white.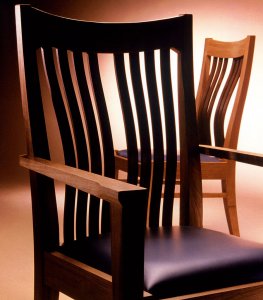 We continued to make Oryx and Gazelle chairs, indeed they were an important part of the early Simon Thomas Pirie portfolio. In fact the Oryx slat-back range expanded with the original 8 slat version designed for the university getting the name 'Grand Oryx' and a new smaller 6 slat version more suited to the domestic dining room carrying the 'Oryx' name. So there are now armchairs and dining chairs (without arms) in both sizes. As well as the Bournemouth University set, Oryx chairs grace dining tables of all shapes and sizes all over the UK with a scattering across Europe. We've also sold plenty as comfortable stand alone armchairs because people have just fallen in love with the look, generosity and exceptional comfort. I'd love to know how many we've sold over the years, it must around 200 including that first Hooke Park set.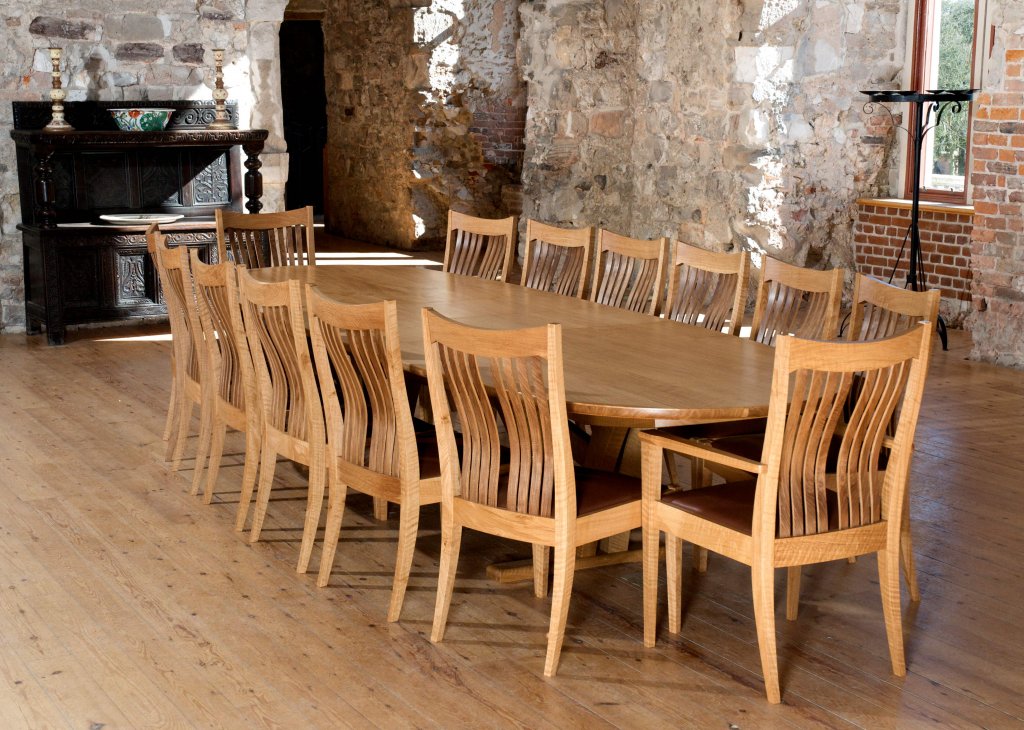 Perhaps the most striking of the dining sets we made was a large set of 'Grand Oryx' for the family who own the Lulworth Castle Estate in Dorset. They commissioned 12 chairs, 2 armchairs and a 4 metre extending oval dining table all made out of a single Scottish ripple oak tree. A really stunning commission where the Oryx chair really came into its own. Gazelle has also been further developed, we have done high and low back versions, with and without arms, in as many different timber and fabric combinations as you could imagine.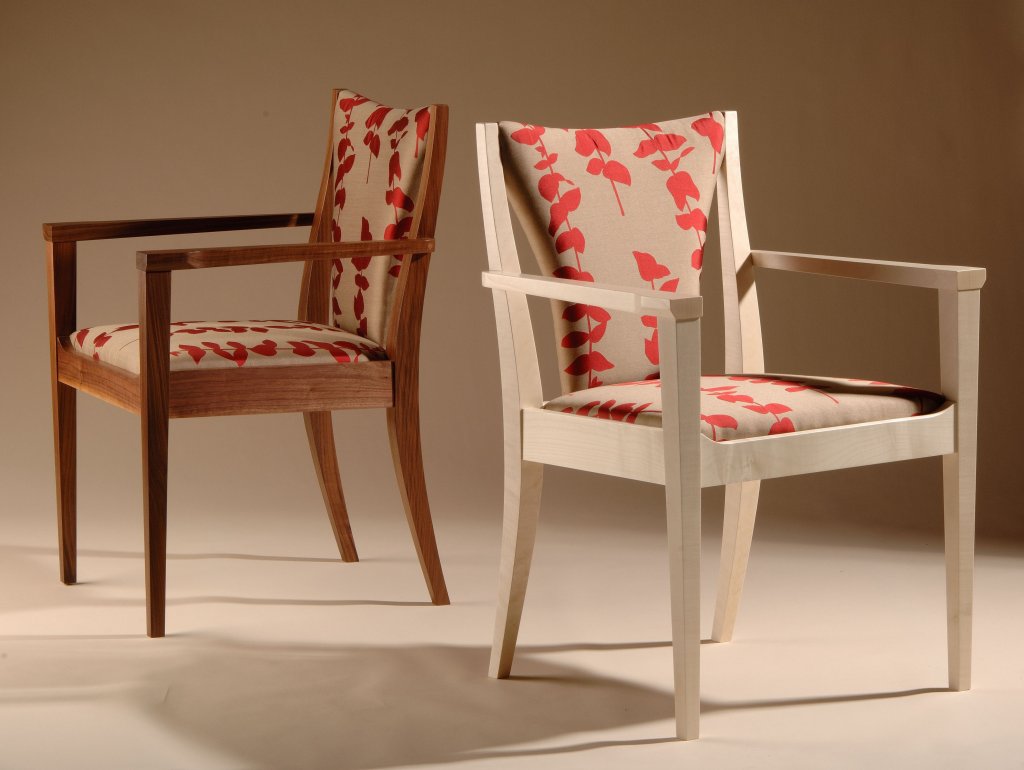 Recently our newer chairs have taken centre stage in terms of our manufacturing and marketing. The truth is Oryx & Gazelle are a quite formal and traditional and the kinds of settings they suit are limited. Because of that complicated component that gave Gazelle its name, they are also relatively expensive to make and even after all these years of refining the production, they take up to twice as long to make as most of our other chairs.
When I designed them 25 years ago it would be fair to say I was still learning the ropes of being a designer. Whilst I did get a lot right straight 'out of the box', I did, of course, constantly refine Oryx and Gazelle over time. Now though, they may not quite hit the spot when it comes to 'hipster craft-revival cool' in the same way Iceni does (though of course, that's not for me to judge!) but in many ways as a piece of design these chairs still have a dignity and gravitas about them that the others don't quite match up to. It's a poise that Ron Carter captured so well in his work, reflecting back to a very English vernacular furniture, through the Arts & Crafts tradition, utility furniture and 1950s and 60s modernism. That's something I feel very comfortable with.
Oryx & Gazelle were with me at the start of my business and the start of my career, so perhaps like a first love, they have an importance beyond rational explanation. I think as a result this will always be my favourite chair that I've designed. We both go back a long way now! I have a few Oryx and Gazelle chairs at home and I sit in one in the office pretty much every day. While we have not made any for 4 or 5 years now, something tells me those won't be the last we make!
If you want to discuss chairs with Simon Thomas Pirie, be it an existing design or something entirely new – just click the enquiry form at the top of the page, email us or just pick up the phone for an informal chat.
Written by Simon
Forward to: Simon Thomas Pirie – A Chair Design History – Part 2
Forward to: Simon Thomas Pirie – A Chair Design History – Part 3