Simon Thomas Pirie is a long-established bespoke furniture maker based in Dorset. Over the last two decades we've designed a large range of high-end garden furniture including some stunning bespoke outdoor benches and seating.
We are able to design unusual wooden garden benches for private clients, or bespoke outdoor benches for public spaces, some of which you can see in our outdoor spaces portfolio.
We've highlighted just a few examples of our most recent work below…
Bespoke outdoor benches for gardens
A lot of our bespoke wooden bench work is designed for private clients who want something completely unique and handmade for their garden. Here's a small selection of some of our recent handmade wooden garden furniture.
1: Floating Bench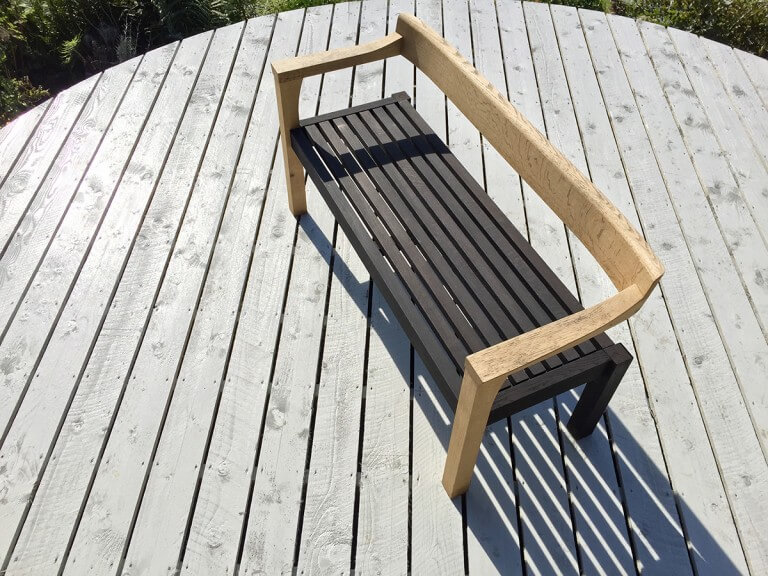 This floating bench has been sold in Liberty's as part of their 'Outdoor Living Collection' and was hailed as a "design classic of the future" by the Independent Weekend Magazine. More recently in collaboration with Sitting Spiritually of Lyme Regis it was shortlisted for 'RHS Chelsea Garden Product of the Year 2016', featured in two RHS Gold Award winning gardens and was awarded a prestigious Design Guild Mark by the Furniture Makers' Company. It's a design which already has a long pedigree.
In fact the idea started life as a spin off of the Tudor Arcade seating project which is also featured below. As we were designing the public seating project it was clear there was also a stand alone bench for the garden that would come out of it. It uses many of the same textures, materials and design details but this time with that 'pure' floating arm and back rest which give it the name and its most distinctive visual feature.
The bench really came into its own at the Chelsea Flower Show through the collaboration with Sitting Spiritually and has been a firm favourite of some of the UK's best garden designers ever since. Floating Bench is made entirely from sustainable European and English oak. The two-tone finish is oak in its natural colour with the black surfaces scrubbed and scorched to create that deep, contrasting textured tone. It is available in generous 2 and 3 seater variations with bespoke versions also available.
To find out more about the Floating Bench including prices and dimensions click here.
2: Thinking Bench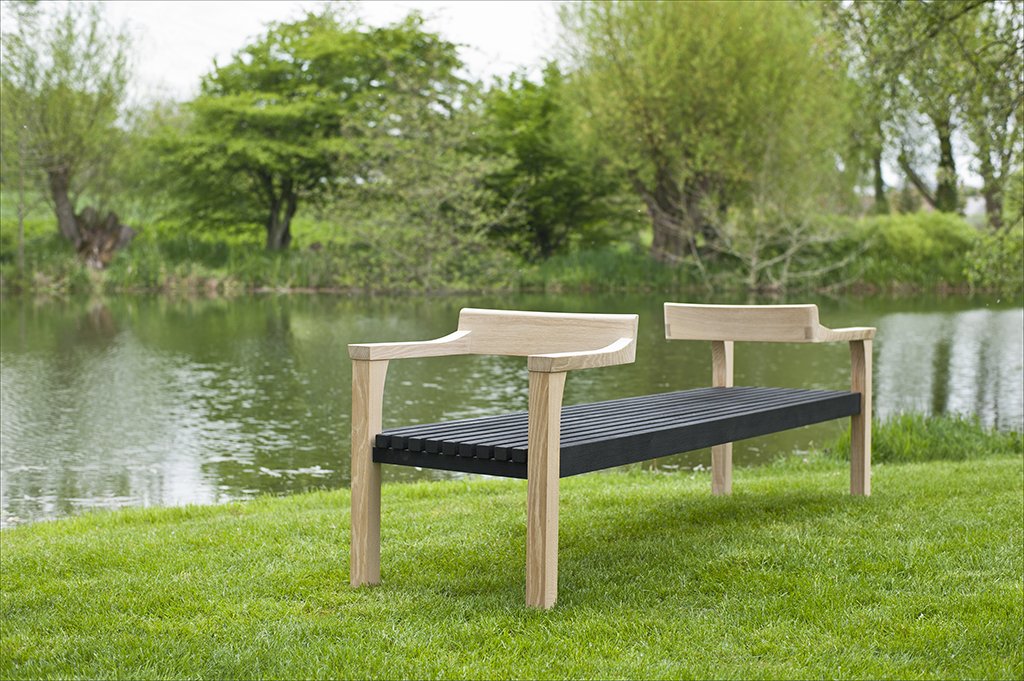 The Thinking Bench is another off-shoot from the Tudor Arcade project and illustrates a 'bespoke' reinterpretation using many of the original elements. Many have commented that it looks like it was designed for people who don't want to talk to one-another! It was actually conceived to form lines of curved and straight versions where the armchairs at the ends faced each other, so quite the opposite. By itself we always imagined this being on top of a hill with views (and seats) looking in all directions. The options are only limited by our imagination – and perhaps the landscape!
If you want to discuss a bespoke garden or landscape furniture project contact us now.
3: Yakisugi Swing Seat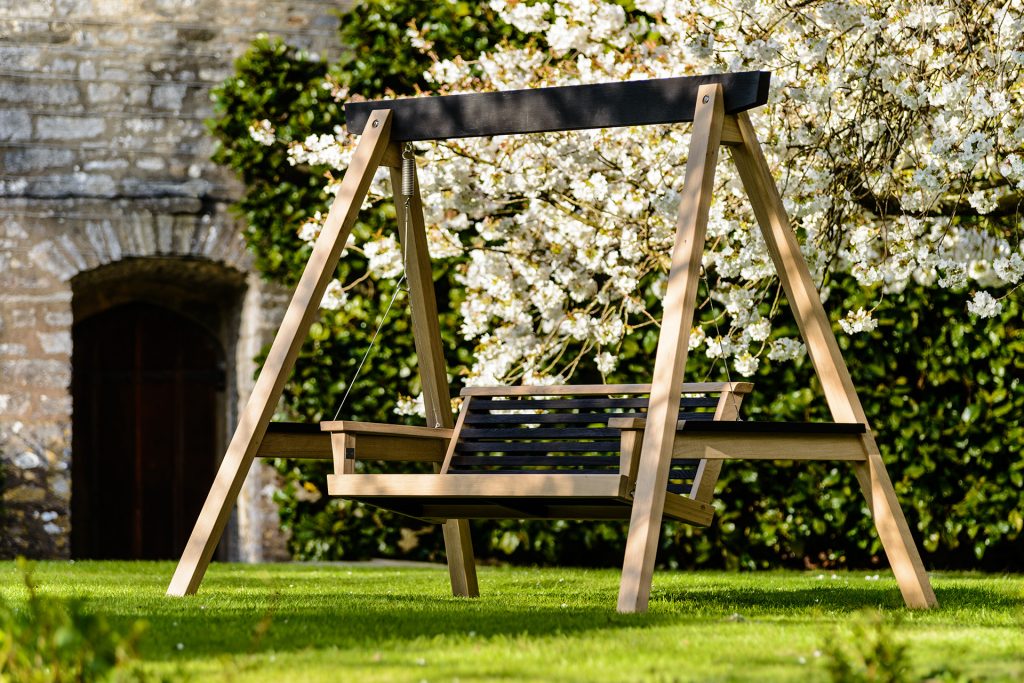 A true collaborative design venture with Sitting Spiritually who contacted Simon Thomas Pirie because they loved the Floating Bench and were looking to add a contemporary swing seat to their existing but more traditionally styled swing seats. Yakisugi used that two-tone black and natural oak treatment to bring a striking and very different looking swing seat to the market. It was featured in the Jardin Blanc, the Raymond Blanc hospitality area at the Chelsea Flower Show in 2016.
The Yakisugi swing seat is part of the 'Simon Thomas Pirie Contemporary Range', available exclusively through Sitting Spiritually of Lyme Regis as a 2, 3 or 4 seat version. For more information on the Yakisugi swing seat visit the Sitting Spiritually website.
4: Blonde & Noir Special Edition Floating Benches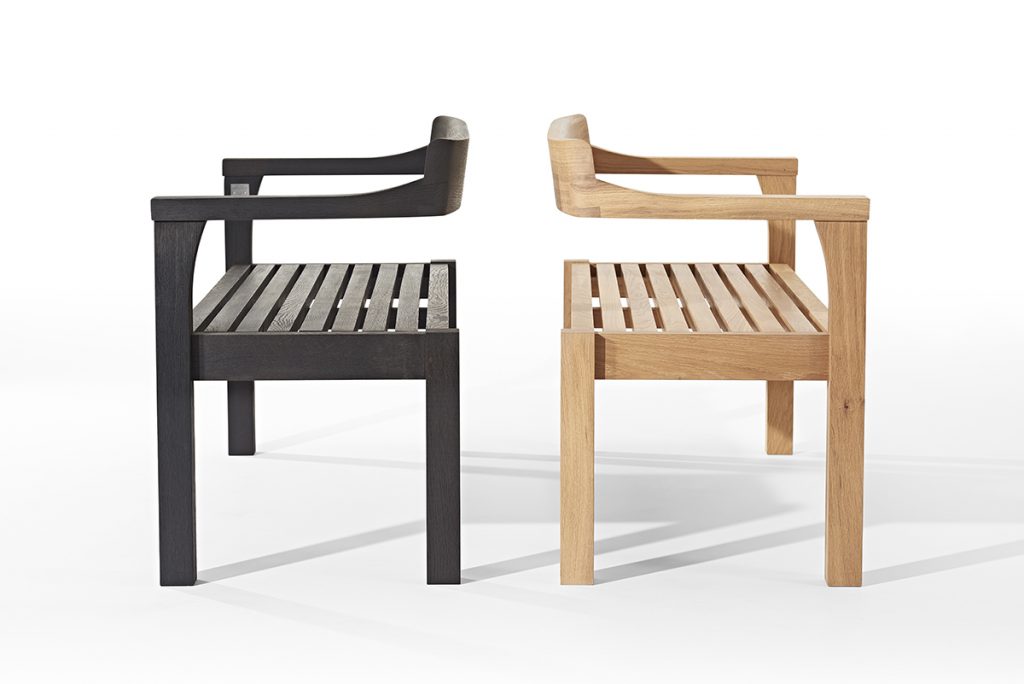 Blonde & Noir were conceived as special edition versions of the floating bench and launched ar RHS Chelsea 2017.`We had been asked a couple of times if we would produce an all natural oak version for clients who found the original two-tone version 'a bit too contemporary'. However it also made sense for us the explore its dark alter-ego – an all black more sculptural scorched incarnation and play the two off one another visually. It's always really exciting to see how different a piece looks with contrasting finishes and in the case of Blonde vs. Noir the results are pretty dramatic. Interestingly despite no one ever asking us to produce an all black variant Noir has outsold Blonde 2 to 1!
To find out more about the special edition Floating Benches including price and dimensions click here.
Bespoke outdoor benches for public spaces
As well as designing bespoke outdoor benches for private gardens, we also increasingly work with architects, interior designers, private companies, and public organisations.
We collaborate with these partners to create beautiful yet functional outdoor seating areas for public and private spaces. These high-profile installations hark back to Simon's early days studying sculpture on his first degree.
This background lets us integrate those skills into our practice. The end results are stunning outdoor seating configurations for parks, public gardens and shopping centres or in private gardens.
5: Tudor Arcade Public Seating, Dorchester, Dorset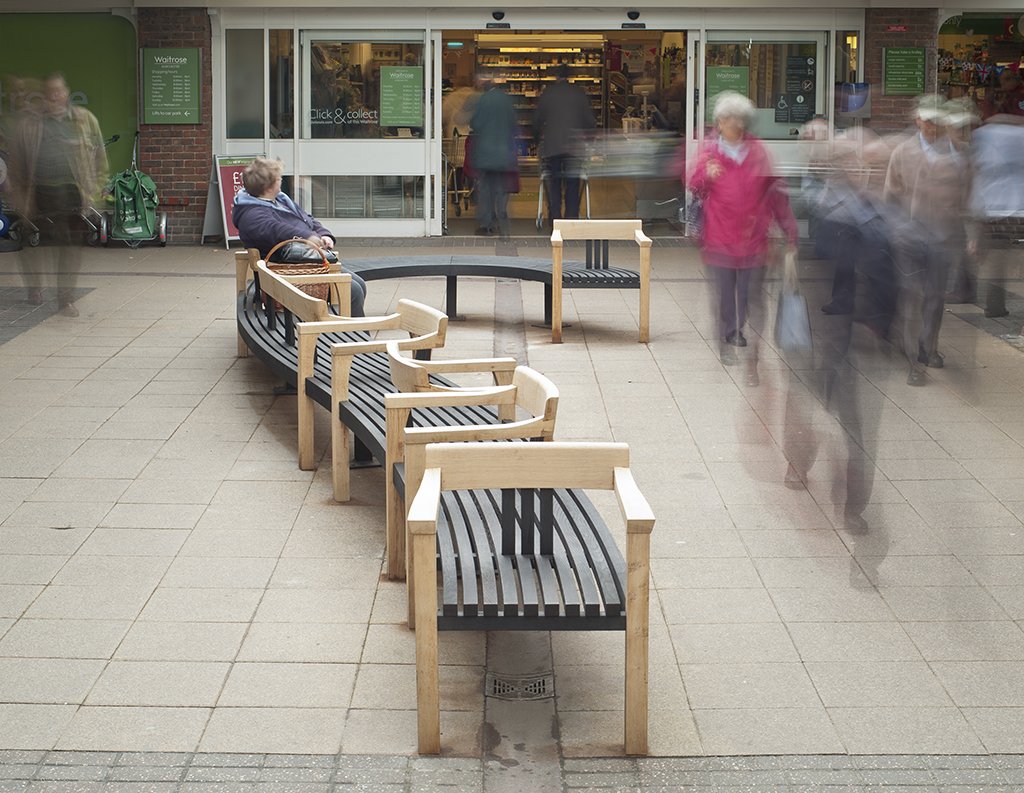 Some projects become keystones to a creative design led studio like Simon Thomas Pirie. Tudor Arcade was one such project – a kind of 'mothership' that led to other designs like the Floating Bench. It came through a London Architects who had been commissioned to revamp a rather tired looking shopping centre in Dorchester, Dorset. We were asked to come up with seating that would be a focal point and meeting place with a variety of seating options all in one bench. It has single armchairs, benches, love seats and double-sided open areas to sit on all within this 12 metre long snaking question mark shaped intervention.
Tudor arcade utilised high tech CNC manufacturing techniques as well as very traditional methods like steam bending all in within the same piece which made it particularly enjoyable to make. Much of what was to appear in future pieces like the Thinking Bench and Floating Bench were trailed here.
It is still the piece that gives the studio a lot of pleasure as we walk past and see children playing on it, the elderly taking a moments rest from their shopping, while others use it to meet, chat or eat their Waitrose sandwich.
There is a full 'Case Study' including a film of the making process for Tudor Arcade. Click here to read more.
6: The Rickyard in Shaftesbury, Dorset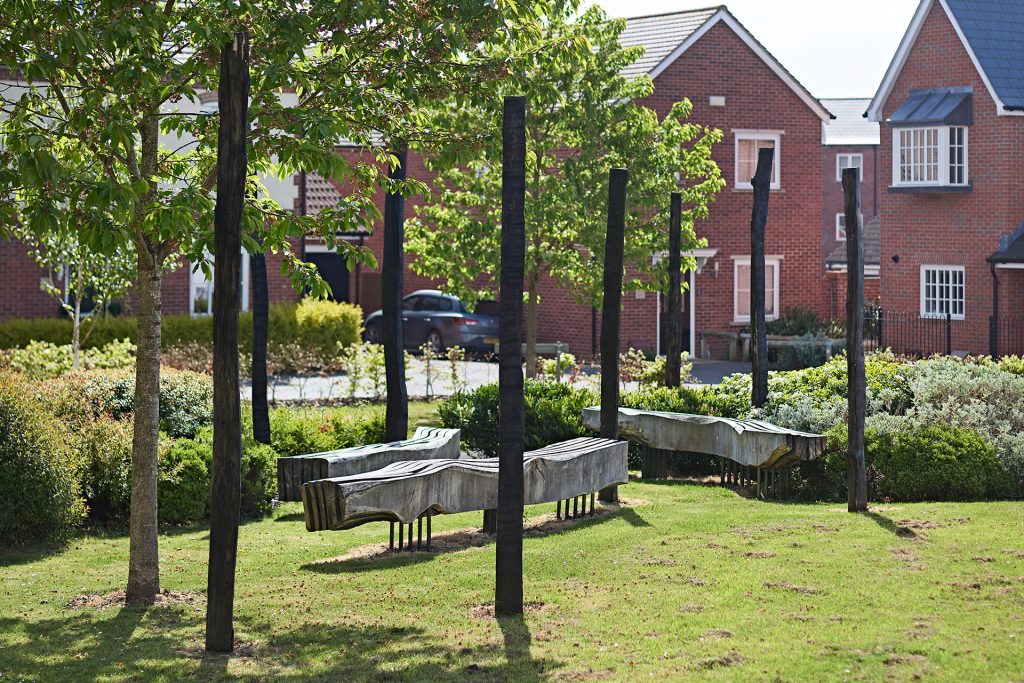 Another key project and collaboration – this time with ZMMA Architects, another London based practice. This involved working with a major House Builder and the county planning team of public art / seating for a new housing development in East Shaftesbury. The green space in the middle of a new square was surrounded by new houses, it was also dissected by an existing footpath. In was our aim to create links between the ancient North Dorset landscape and this fresh intervention on the land. A focal point for those that live in the new development and a place to stop and ponder for those walking through.
This is a much more organic piece of seating which took Simon back to his fine art and sculpture background. The selected curved logs are horizontally cut to follow the shape of the way the tree grew. The blackened uprights echo cut and scorched forests or henges where ancient people would have worshiped over millennia. It is a modern art installation with layers of meaning – but it's also somewhere to sit!
Click here for the 'Case Study' and more images of The Rickyard project.
7: Dolphin Centre public seating, Poole, Dorset.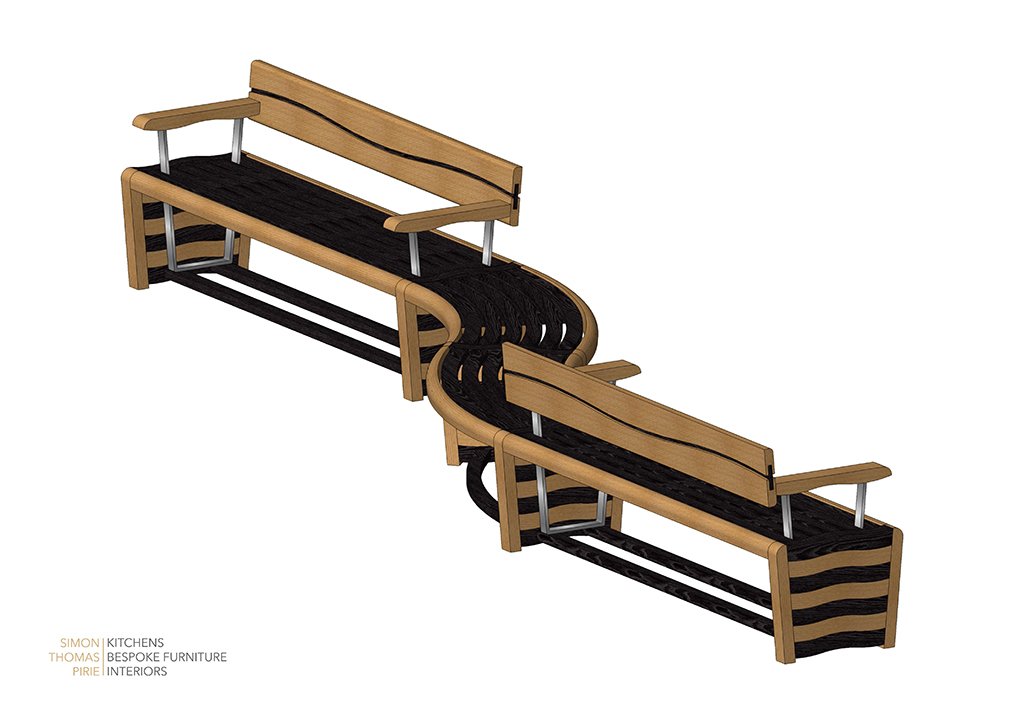 Still in the final design detail stages our latest project is very fresh off the drawing board! We are just about to start making a series of benches for the Dolphin Shopping Centre in Poole which is celebrating its 50th birthday this year. Like all retail spaces it is constantly having to reinvent and refresh itself and these benches across 5 sites within the Dolphin Centre are part of that refresh. Shopping has to be experience based nowadays as an antidote to the isolation of on-line experience. Again our emphasis is on creating sociable and interesting places to sit, meet, rest and socialise. Needless to say they will also be comfortable to sit on and stunning to look at. As always there is plenty of thought and research in the background with references to Poole town's long maritime history and Coat of Arms reflected in the designs.
These benches can be connected together and arranged in all sorts of ways to create different shaped installations; one for example will be a 'horseshoe' shape made up out of 5 of the curved sections. They can also be used as stand alone benches to offer huge flexibility.
We are using oak again as a sustainable material which has not travelled too far or come from questionable tropical sources. All our timbers are FSC certified and whenever possible we use UK grown timbers.
There will be more to come on this exciting project in the coming months. Keep your eye on the blog pages…
Commission Simon Thomas Pirie
If you are a private client who would like to talk to us about our handmade wooden garden furniture or an organisation wishing to commission a seating design for an outdoor space, please contact us now.
We will take your idea for an unusual garden bench and make it reality. Even if you don't yet have an idea on how a bespoke outdoor bench could transform your space, our design team will be happy to work on a concept with you.
Find out more about commissioning Simon Thomas Pirie…