Floating Bench holds only the 193rd Design Guild Mark and when you search through the list of designers who have been previously awarded – well-known names like Robin Day, Rodney Kinsman (OMK), Simon Pengelly, Rod Wales, Mark Gabbertas, Sarah Kay and Samuel Chan, it's very refined company. This is actually Simon's second Design Guild Mark, he also holds number 142 jointly with Makers' Eye for the Poon Desk from 2014.
The judges recognised the beauty and innovation in the design of Floating Bench which is unique in the way the gently curved back rail appears to float, unsupported, whilst at the same time being robust and comfortable to sit against. The construction of the bench required a great deal of creativity and the team at Simon Thomas Pirie Ltd had not only to develop new techniques for steaming and scorching the timber but had to build their own equipment with which to do it. One of the biggest challenges to overcome was to devise a method of scorching the timber for the seat whilst ensuring that there was no possibility of black ash stains on light-coloured clothing. Having successfully solved this problem, we believe that we are the first garden seat maker to combine these techniques in outdoor furniture.
The commitment to overcome the challenges faces by wooden furniture exposed to the elements was also acknowledged by the judges. Alex Gifford, chairman of the Design Guild Mark, commented that "Floating Bench is designed specifically as a garden bench and is not, as is often the case, a standard bench which can be put outside."
The contrast between the scorched, black seat and the natural oak back and arms of the original Floating Bench enhances the effect of the back rail hovering unsupported above the seat. The open back allows a view through the bench, minimising its visual impact whilst at the same time beautifully framing its backdrop; be it lush green foliage, brightly coloured flowering plants or a characterful dry stone wall.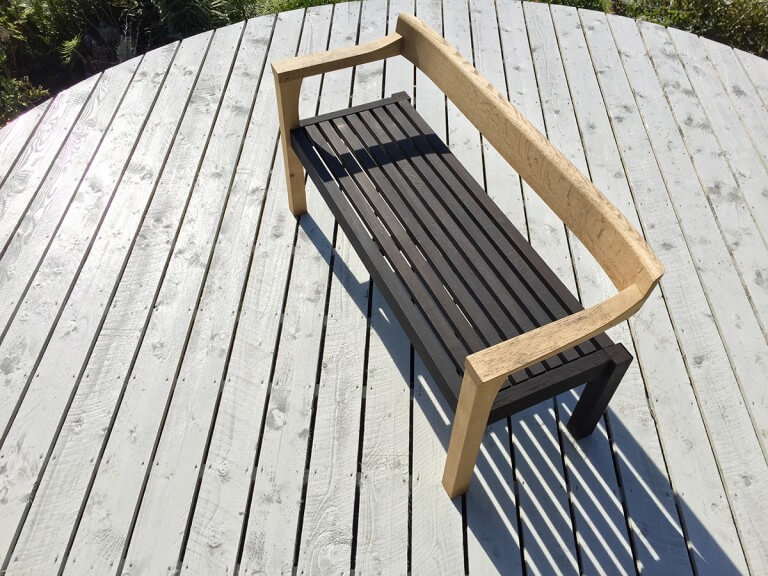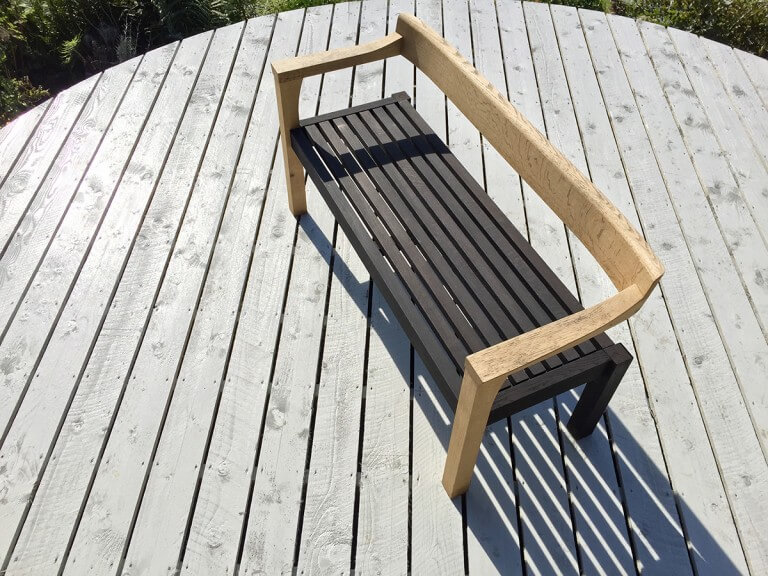 To provide the gardener with yet more choice, two new editions of Floating Bench were unveiled at RHS Chelsea 2017. Blonde is entirely un-scorched and adds an understated contemporary twist to a traditional or naturally planted garden. Its natural oak silvers over time and melds into the garden as it rests, unassuming, inviting the weary to rest awhile. Noir on the other hand is a sculptural statement piece appealing to the more adventurous gardener. It looks spectacular when positioned against a background of green or brightly flowering plants and its jet-black scorched timber holds its own as the centrepiece of a more minimal garden.
The Original 'Two-Tone', Blonde and Noir versions of Floating Bench are available as two or three seaters and sold exclusively through Sitting Spiritually. Ltd Prices start at £3,120.