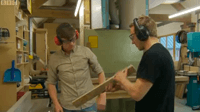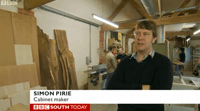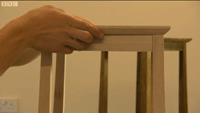 It was an off the cuff remark to Jonathan Hudston from Watershed PR when he was in filming us last week. Now look where it's got us – on the telly!
I mentioned to Jonathan about our new apprentice, Connor Clark-Short, and how he had chosen to come and work with us rather than take up the provisional university places he had been offered. There was a twinkle in his eye and before I knew it he was on the phone talking to a contact at the BBC about a new and rather topical angle on the coming A-level results day. Sure enough they liked it and within a couple of days we had a cameraman and the journalist Roisin Gauson in filming for a morning. We're getting used to having cameras around now, we'd only just said goodbye to Jonathan and Stephen a couple of days before – they are filming the whole process of the design, making and installation of the English walnut and sycamore kitchen for clients near Bath.
This piece for the beeb was very much focused on the apprenticeship we are running for Connor; about why he choose this more vocational route rather than University, and about what we saw in him. The segment looked great. They talked to Connor and me but also got lots of shots with John instructing and Mike making. Some good shots of furniture around the place as well.
You can see Connor, who has just left the Thomas Hardye School, Dorchester working on his first apprentice piece at the end of the video segment. It's a pair of our 'split top' side tables in ash. Considering they are the first piece of fine furniture he has ever made he has done really well. We will probably get him to make another set in 6 months to a years time – just so he can see how far he's come in terms of precision and speed.
The tenticles of the BBC stretched further so Connor and I also found ourselves in the BBC Radio Solent studios early on Thursday morning talking to the DJ Julian Clegg about similar issues. A manic 24 hours, but good fun nevertheless.