Our latest kitchen is a bit different from our previous projects. This is entirely made out of solid native wood; English walnut and sycamore. In many ways it is also the most subtle kitchen we have ever made, being in a beautiful Georgian rectory on the edge of Bath, it needed to sit comfortably with the period architectural detail and yet be modern and practical.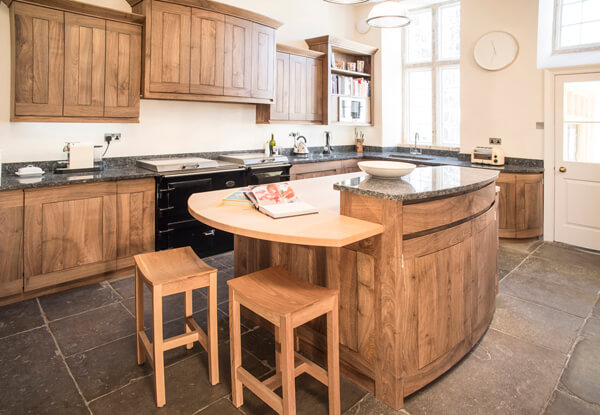 We have made film that follows this project all the way from cutting the first boards of walnut, through the months of cabinet work, to the fitting and final completion in December 2012… It was recently described as "the best kitchen video ever made" by KBB kitchen journalist and blogger Grahame Morrison. See what you think!
The project came about through having already made a number of pieces of furniture for the clients, including a stunning pair of English walnut pivot drawer console tables. It's through this I realised they had a love of native walnut, not only commissioning these but having a number of very high quality antique pieces in the same material. It was some months later when they contacted me to see if we might be interested in designing a new kitchen.
Unusually they had a very clear idea of what they wanted with lots resolved, even down to some basic CAD floorplans and an appliance list. Despite being a big Georgian house with high ceilings the kitchen space is relatively small, so the design needed to be compact. It was the island that still needed the most resolution but we quickly came to a conclusion on a shape that would fulfill all the storage, seating, work surface and practical needs, whilst being an impressive focal point. Needless to say we couldn't resist adding soft curves to make the space flow and circulation around the island easier.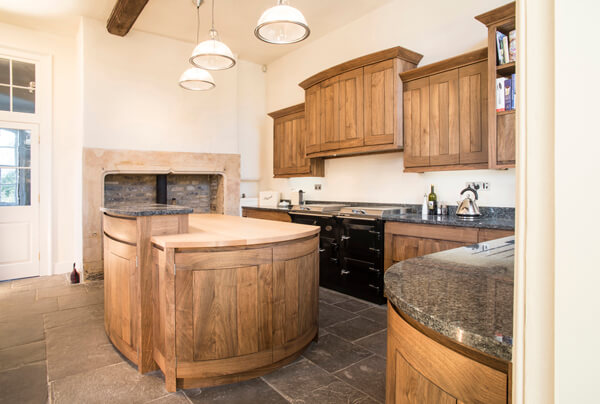 The key question was still material. They wanted something warm and rich, but not too dark. The list was narrowed down to oak, elm of English walnut, much lighter and more characterful than the American Black walnut which is widely available. All these woods are from the UK, I was (I always am) keen to use native timber, as were the clients. Now it just happens that we had a good stack of native walnut that we had sourced and cut ourselves in 2009, it was ready to use and the colour was perfect – light compared to many trees. This is one of the challenges using the walnut, every tree is full of individual character, colour and texture. Finding two that match can be hell. The other issue is that they have a very high wastage factor – you do end up throwing alot of it away due to faults, knots, shakes, and a light and sometimes ugly sapwood. On top of that the woodworm love it! So not an easy material, and we only just had enough by the look of it.
We also had to find another timber for the internal solid timber panels and interior elements. In the end we fixed on sycamore, partly because it added visual lightness but also it was a beautiful partner to the walnut. The main island worktop was also made out of sycamore. I like the fact that there is a strong tradition of using sycamore for tops – you often see it in the kitchens of large estate houses where it is scrubbed daily, creating a lovely patina.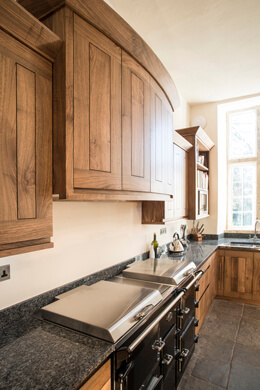 But if this kitchen is about one thing – it is celebrating what I believe is the most beautiful timber on Earth, English walnut. Ironically, because it is so full of character it actually makes it very difficult to use: For example laying up 3 pieces to form the centre of a door panel – sometimes one piece just won't work because of grain or colour, even though it's stunning it gets rejected (hopefully to find it's place in another panel somewhere). Of course the same issue arises between sets doors on a run and individual cabinets that are adjacent to one-another, it all has to appear visually harmonious which is much more difficult to achieve than you might think.
At first glance the kitchen furniture looks quite traditional, but look a little closer and you will realise there are subtle things going on. We have created solid frame doors with a solid centre panel, but the panels sit flush with the frame, highlighted by a 3mm recess all round the centre panel that creates a crisp, graphic shadow line. Also instead of the stiles (the vertical rails running up each side of the door) going the full length as is normal, it's the top and bottom horizontal rails that are dominant. This means we can use one piece of timber across 3 or 4 doors with the grain running through. These long runs create 'landscape pictures' in wood. These details also carry across the curved doors which we made by cutting up solid timber into a pack of consecutive veneers then laminating them back together over a curved mould. Lots of work to make sure there is no visual difference in appearance. The other reason for using those horizontal rails across door sets was to help balance the very tall squat nature of the room – strong horizontals making the kitchen seem lower and wider. It works!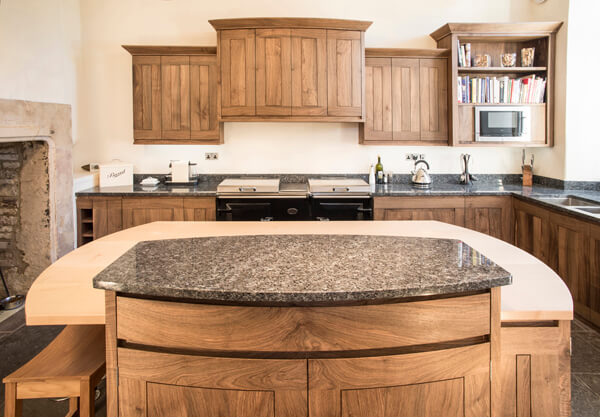 The clients selected a granite called Antique Labrador from Bristol Marble, they went with a sample of the actual timbers so they could get a good idea of what it would look like. Like the timber this is a subtle choice. It has strong blue/grey tone which does not make an obvious partner to the warm orange/green/browns of the walnut, but it does work. We also picked out the blue by using a similar blue leather on drawer linings throughout. As far as other colours go, the other major feature of the space is the impressive Black Everhot range cooker. This is the largest 150cm version and looks much more contemporary than the traditional Aga. The top of the cooker has lots of visible stainless steel which links it visually to other appliances and items around the room. The walls are a warm off white and then off course there is the sycamore top on the island. The dominant colour and theme of the room is that rythmic walnut though.
From a design perspective it's a really cohesive space, but as always there are favorite bits that stand out to me. The real triumph is the addition of a sideboard type piece into the island. Sitting higher than and protruding from the rest of the island helps give this element a separate identity – a piece of furniture within a piece of furniture. Because it has a granite top it also acts as a serving area for hot plates and dishes before they get taken to the adjacent dining area. The drawer at the top is a single wide cutlery drawer which shimmers with shinny silver things when opened.
What else, well I love the fact there are no handles to distract from the purity of the timber, that big slab of very slightly rippled sycamore on the island top (too much ripple would have been overpowering), the bookshelves over the microwave, the bespoke walnut trays in the tray alcove and even the recycling bin cabinet! That was the last piece in, it's free standing and looks just like a tall boy cabinet, but it's life is as a glamorous bin – well 4 bins to be precise, such are the complexities of modern life!
I love this kitchen, because at first sight you might just walk through, but like the best music, it has depth and grows on you. Using solid hardwood to make anything other than a very traditional looking kitchen is a challenge, it's no accident they look that way. What you see in a Shaker style kitchen for example is very efficient use of the material; working with its strengths and aesthetics. In many ways our cabinetry is also bound by those tried and trusted rules but, we subtly changed them, using the limitations of designing in solid wood as a positive start point to develop from.
Is a solid wood kitchen better than a veneered one? I think this is a question I will come back to and explore in more detail. As a designer I can certainly be more flamboyant using veneers – playing with grain direction, using woods and combinations of woods in a more decorative way, forming curves and shapes more easily. But there is something honest about real wood that I feel as a designer, I know the makers also feel that on the bench. It has soul, it feels like a priviladge to use, especially English walnut.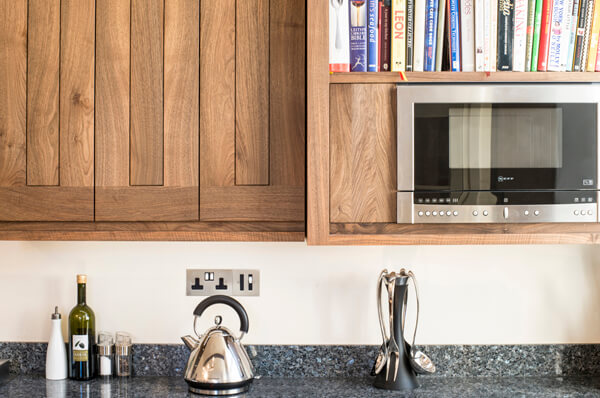 If you'd like to talk to Simon about a kitchen project please get in contact, initial conversations and ideas cost nothing. For more of our kitchen case studies click here.
Appliances:
Tap: Triflow Filtered Water Tap
Sink: Smeg Stainless
Ovens & Hob: Everhot 150 Electric Range
Fridge & Freezer: Siemens Undercounter Integrated
Microwave: Neff Integrated
Worksurfaces
Natural Antique Labrador Granite from Bristol Granite
Cost Guide (all including VAT):
Kitchen Cabinetry £75,000
Appliances £17,500
Granite £6,500
Photography by Double Exposure Photographic
Video by Watershed PR
Written by Simon Pirie