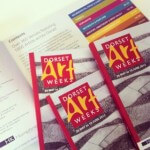 OK, I was intending to write something every day, but every day seems to have slipped away, mostly for good reasons; spending a bit of time with the wife and kids who have not seen much of me the past few weeks, but also there has been lots of talking to people who are visiting the Courtyard Gallery.
This year DAW is a bit back to front, with what is traditionally the quieter week (non-half term) coming first. Visitor numbers are on a parr with previous years but in theory the second week should be even busier. Not sure if we will break the 970 through the door in 2010, but it looks like we won't be far off. It's all too easy to get caught up in the numbers – how many visitors, how much you have sold etc. etc. Of course all of that is important but it shouldn't be at the expense of just enjoying talking to people who have made the effort to visit. Being a furniture maker out in the sticks can be bit a of an isolated existence, same old faces every day, so it's good see some new ones.
Not sure what to expect from the big Jubilee weekend in terms of visitors, could go either way. I'm sitting here writing the blog on Saturday morning and it's been fairly slow so far, but is picking up now.
So highlights of the past week; well the auction seems to be working, we have sold two pieces outright and have a good bid on a third, lots of people going away and planning to keep their eyes on a specific piece on-line, so things could get busy over the final weekend. You can stay up to date with bids on the blog by clicking here. If you want to place a bid that happens via our Facebook page: Just click the 'BID' image for the individual piece you are interested in up in the top right of that page.
Guess the other feature of the first 7 days was the weather. Never quite know what we are going to get at this time of year and the weather does effect if people come or not – too hot and everyone heads to the beach, too wet they don't head out at all. So my ideal DAW day is about 19 degrees with the old cloud in the sky – bit like today really.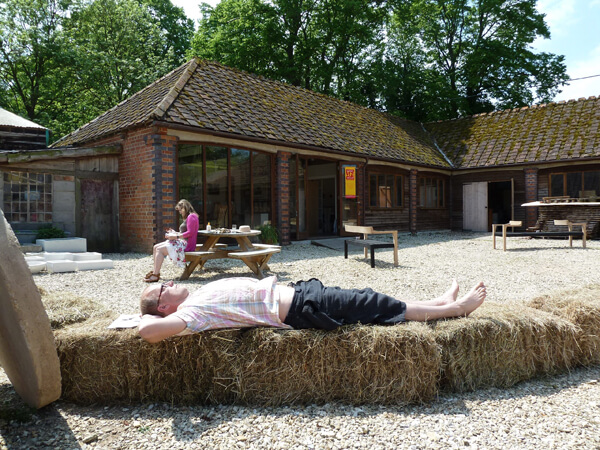 It has been good to find the odd moment to relax, although you can take these things too far – Peter claims he's not felt so relaxed in years!
Of course as well as being open to the public John and Mike are also getting on with work, at the moment we are doing a 'back kitchen' (I suppose I'm avoiding calling it a utility room because it sounds unglamorous, but it is a rather nice job in maple and mazur birch!) So we have the day to day designing and making happening as well, that makes the place buzz on a week day.
I'm hoping to get out and visit some venues next week but did also manage to sneak a couple of relatively local ones in over the first 7 days. Got to Dorchester on Wednesday and did brief visits to Barbara Kranefeld & Armin Hermann, Alice Blogg and Rebecca Lardner & Jill Thompson. All a bit rushed but had to get back to pick up George from school. Makes the day a bit short! Also got out to Slepe on Friday to see Fabian Madison and Susannah Hubert. Slepe is where my old workshops were until we moved to Briantspuddle in 2007. Nice to see some familiar faces and to see what Susannah has done to the barn – now a fabulous studio space.
So that gets you up to date with proceedings so far, got the family coming for an outdoor lunch any moment, maybe the last for a few days!