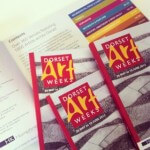 I finished my last Dorset Art Weeks 2012 Diary entry looking at the weather forecast for the week ahead thinking it couldn't really be that bad. Hmmm….
Out of my window at home where i'm writing this from I'm looking at a field of flattened wheat, all twisted and contorted from wind and rain tearing through it. It looks a mess. The rain and wind have had a similar effect on visitor numbers this week. Actually we have done fairly well all things considered, but that leaves me wondering what the week would have been like if the elements had been kinder.
I started Dorset Art Weeks with a sweep stake on what time on the first day we would get our first visitor – 10.42 as it happened – Liz won that. My other game is spotting the first Honda Jazz. I have a picture of a typical Art Weeks visitor – a woman in her mid 50's, exploring with her friend, dabbling in the arts and crafts themselves and driving, yes you guessed it, a Honda Jazz (it was a Nissan Micra until 2008). It's terrible creating such a stereotype, but invariably all stereotypes are based on something. I had the first Jazz down for mid afternoon on Monday, which as it turns out was a bit wrong, by 11 days! Another theory out the window.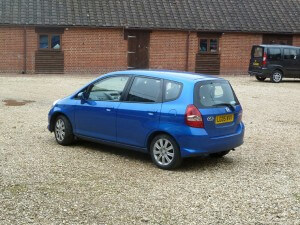 The other highlight of the week was on Thursday, a day of biblical rainfall. We'd had a few brave souls through looking slightly drenched. As this point a rather battered Leyland minibus drove into the yard and parked up. I could tell it was full, but only because every window was so steamed up you couldn't see inside (nor could they see out more worryingly!) Nothing happened for the next 10 minutes apart from a bit rocking and creaking. When the doors did finally slide open a group of adults with learning difficulties plus carers descended on us. They were meant to be on a boat trip out of Weymouth which the weather had put an end to, somehow they found us!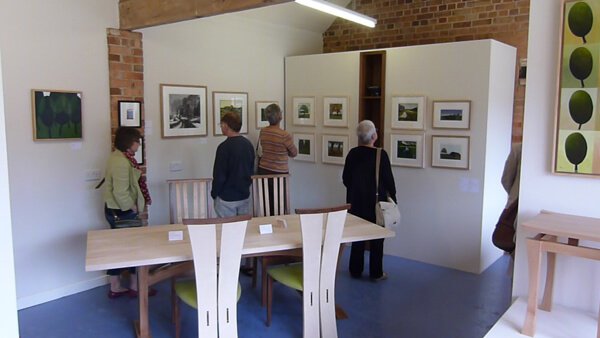 For the next 20 minutes I had one of them saying hello to me every 20 seconds, another telling me his life story and one asking me technical furniture making questions. The others I couldn't understand. As if things were not hectic enough at that moment a car drew up to the doors with an old friends John and Caroline Ellis, both talented makers and involved in the early days of DAW. John is wheelchair bound and we had a manic few minutes getting him into the space and out of the deluge. The minibus crew departed and it was lovely to have a bit of relative silence and time catching up.
Managed to get out briefly on Friday afternoon to see a few venues in Shaftesbury. It's really frustrating to me that I've not got to see more this year, the two children factor has rather put an end to that – partly they get priority of my time and partly when we do decide to go anywhere it takes us forever to get out of the door. Still enjoyed Charlie Baird and Hannah Scott, just wish we could have got to more.
Will everyone be saving themselves for the last weekend now the weather is a little better, do hope so.