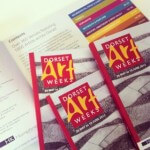 Well here we go, last weekend after an eventful week: Minibuses full of adults with learning difficulties in the rain, illness in the family and, oh yes, Liz being violently ill as she was filling her cabinet with her jewellery. Don't think those two things are related! Gut feeling tells me it should be busy this weekend, but I've been wrong about most things during the event. The Dorset Art Weeks auction comes to an end on Sunday at 5pm so things could liven up.
It's been a funny old event, after weeks of rain the weather finally warmed up to such an extent that most of the population of Britain headed to the beach during week 1. Then it was the Jubilee weekend, with seemingly 1 event going on for every person in the country. Then in week 2 the rain came back, with Biblical vengence. Net result of this is a drop in visitor numbers to us of around 25% over 2010. You have to be philosophical about this stuff, there is nothing Peter, Liz, myself or Dorset Art Weeks could do about those factors.
Like many artists and makers I work hard on the marketing of my work and the shows I do at the Courtyard Workshop and Gallery. On top of being in the DAW brochure and websites, this year I've hired PR, I'm pushing the social media like Facebook, Twitter and writing this blog, doing extra ads, magazine coverage and working my mailing list for the private view and the jazz event. It never feels like it's enough! I'm my own harshest critic so there is always lots I feel we could have done better.
I've been very sceptical about the whole social media thing but we are giving it a good go. I really enjoy Twitter because it feels very instant and intuitive. Facebook is not something I've got into personally, so it's not coming easy. It also feels like it was designed by PC users, I'm a Mac person, always have been. To me Facebook lacks that intuitive clarity. Saying that, I can see its power and potential, but we have not unlocked that yet. The DAW facebook group was huge fun and added a new social dimension to those who were a bit studio bound. Make you realise you are not alone.
Back to the final DAW weekend and the Saturday was busy. Nothing really happening for me but both Liz and Peter seemed to be selling work. We ended the day with around 60 coming through which is what I'd expect of a good weekend day. Any reason why Sunday shouldn't be the same…?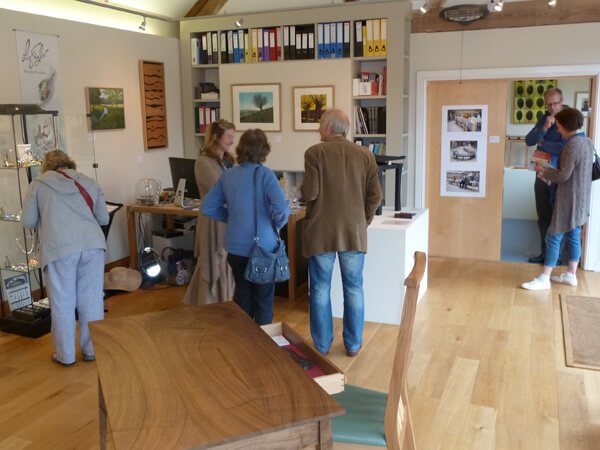 My heart sank when I saw the dull steady rain falling on Sunday morning, but the first two sets of visitors came up trumps and were seriously interested in items in the auction. Over the course of the day we had good numbers and good conversations, with Peter and Liz both selling work again. Turns out we had less people than I thought by the end of the day – around 45, but we had had good conversations with many of them and that filled the day out.
As we were winding down for the day the phone rang, it was the couple who had come in first thing and fallen for one of the walnut console tables. He wanted to come back and buy it, so my last sale of the day was at around 5.30, after DAW was over. That put a nice sweetener on the end of an event which had been a bit disapointing. I eventually waved Peter and Liz off just after 6.30 and headed home. The end…
No, not quite the end! Once home I checked the email at home and there was another bid from someone who had visited over the Jubilee weekend for the drinks cabinet. After a few emails had been exchanged to deal was done, so my last DAW 2012 sale was actually at 9.30pm. From this you might deduce that the DAW auction idea was a great success, but we never got to a frenzy of people trying to out bid one another. Pieces sold for on or near to the reserve price, so buyers got genuine bargain prices. While I didn't get big money for these pieces what I did get were new clients and some space again.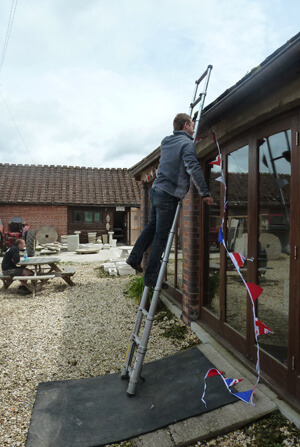 We got 750 people through the doors over 16 days, that compared with nearly 1000 in 2010, but it is better than the 560 in 2008. It's hard not to have very high expectations of this event, we normally pull good commissions out of it which usually result in 6 months of work or more. That's not the case yet, but stuff tends to come up afterwards so lets see when I do a 'Dorset Art Weeks Diaries 2012 – The Long View' in a few weeks time.
I'm talking to a couple about a bridge over a river, if that comes off it will make DAW 2012. I'll also be overjoyed because I've wanted to do one for ages – I had the model out in the show of the Charmouth Bridge Project. I got shortlisted for it in 2010 but just missed out. I need to get that bridge building itch out of my system!
Bunting comes down, they think it's all over, it really is now…