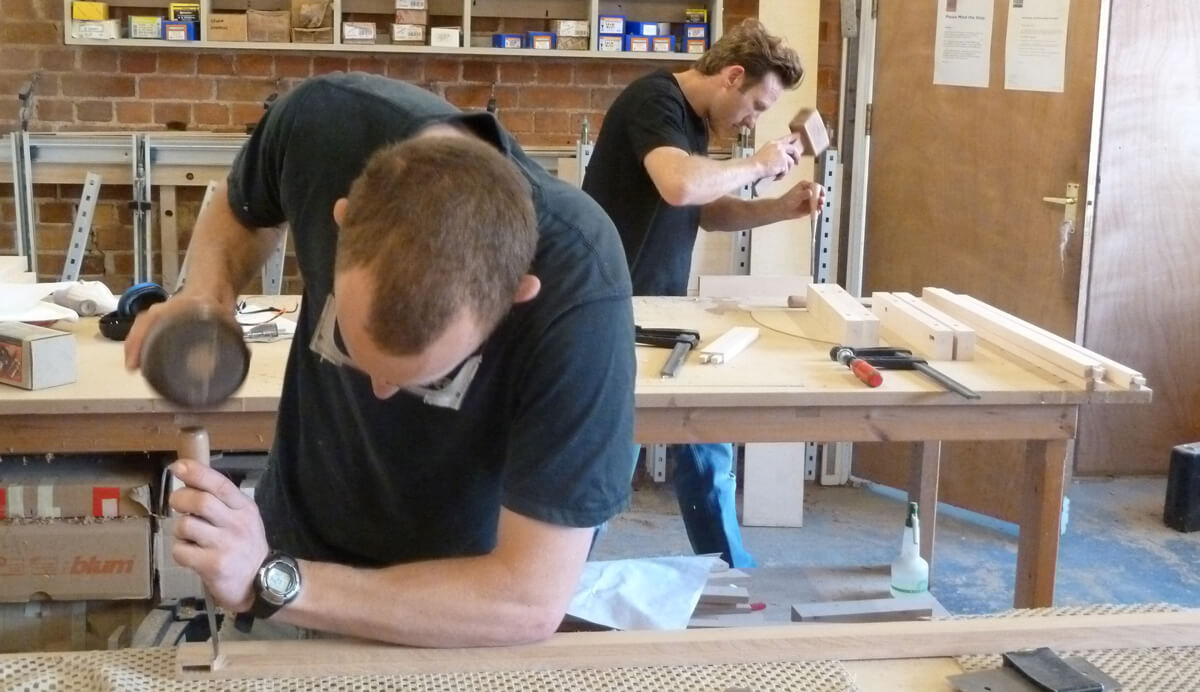 I tend to use the twitter and facebook feeds for our general workshop updates these days rather than writing on the blog, but I though it would be nice to do a 'best of 2014'scrapbook with some of my favorite images / projects from the year.
It was pretty well on the last working day of 2013 that we had confirmation of two big projects – the elm and walnut kitchen and the Makers' Eye / St Hugh's College Oxford furniture. These two projects have dominated 2014 and taken up most of our workshop time. In a sense they bookend the year and bring us right up to date…
The Makers'Eye St Hugh's College job had taken months to organise and prepare for and although we only had confirmation a couple of days before Christmas we were also ready to take delivery of our first lorry load of oak before the break, so we could hit the ground running in January. The timing was always going to be very tight to meet the delivery schedule so we took two new members of staff on from January, Dale and Harry. Although I'd had a strong hand in designing all the furniture for the new Dickson Poon China Centre at St Hugh's (co-designing with Tony Portus of Makers' Eye), we took on the signature pieces – the two drawer desk and folding study tables, 75 pieces in all to be finished by early March. Needless to say we went like the clappers but by about half way through we were confident we would be on time and on budget. It was the largest job we had taken on and we were pleased to see our hunch come true that large scale batch production really does make the time tumble – it had to because the budget for this solid oak furniture was tight.
Our biggest challenge on this project was transport and storage – we thought the workshop was large until we started stacking the desks and tables in the office. By the time we had completed 25 we were full to the brim. As it happened the building was running late so all the desks & tables went into storage off site. By early March all 75 pieces were away, as were the pieces being made in the 3 other Makers' Eye workshops connected with the project. This is not quite the end of the story of the St Hugh's project, but more on that later…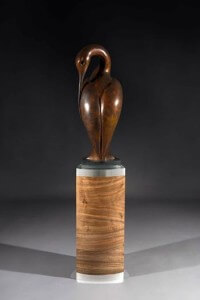 We have fitted plenty of other smaller furniture commissions around the bigger projects. There are a couple that stand out: We have been working with Simon Gudgeon of Sculpture by the Lakes a lot over the last few years and built some pretty interesting plinths and stands for his work. Among them was a walnut and silver plinth for one of his 'Isis' bronzes. It's a combination of materials, techniques and forms that ended up being particularly pleasing.
Perhaps the commission that stands out is the 2.0m diameter English walnut dining table with a 'lazy susan' centre. This was such an elegant looking table, perhaps even more so when you could see the elegant structure of the skeletal framework made of laminated strips, it had the look of a growing tree. We also made our first large set of 'Gabriel' chairs to go with the table which complimented it perfectly. Even the tree was special, a very beautiful Walnut from the Hampshire Dorset border through my old friend George Morgan. The client has ordered other furniture and used up the whole of this rather special log.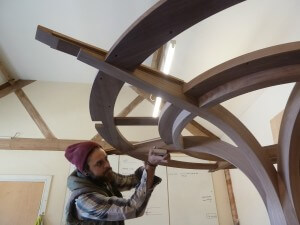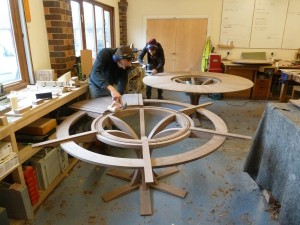 We were lucky enough to be able to use this dining set as the the centre piece for our Dorset Art Weeks open studio show in May / June and it certainly won many admirers. We also made a prototype in American walnut which sold almost immediately, it was almost as beautiful as the English walnut version! As soon as the show was over it was time to get stuck into our next big challenge – the biggest and most complex kitchen we have taken on to date.
Our client has bought the house in Branksome Wood, Poole which is being built by Colmar Construction. They are a company who seem to be building the biggest and most flamboyant properties around East Dorset, although this one is hardly small it is fairly understated.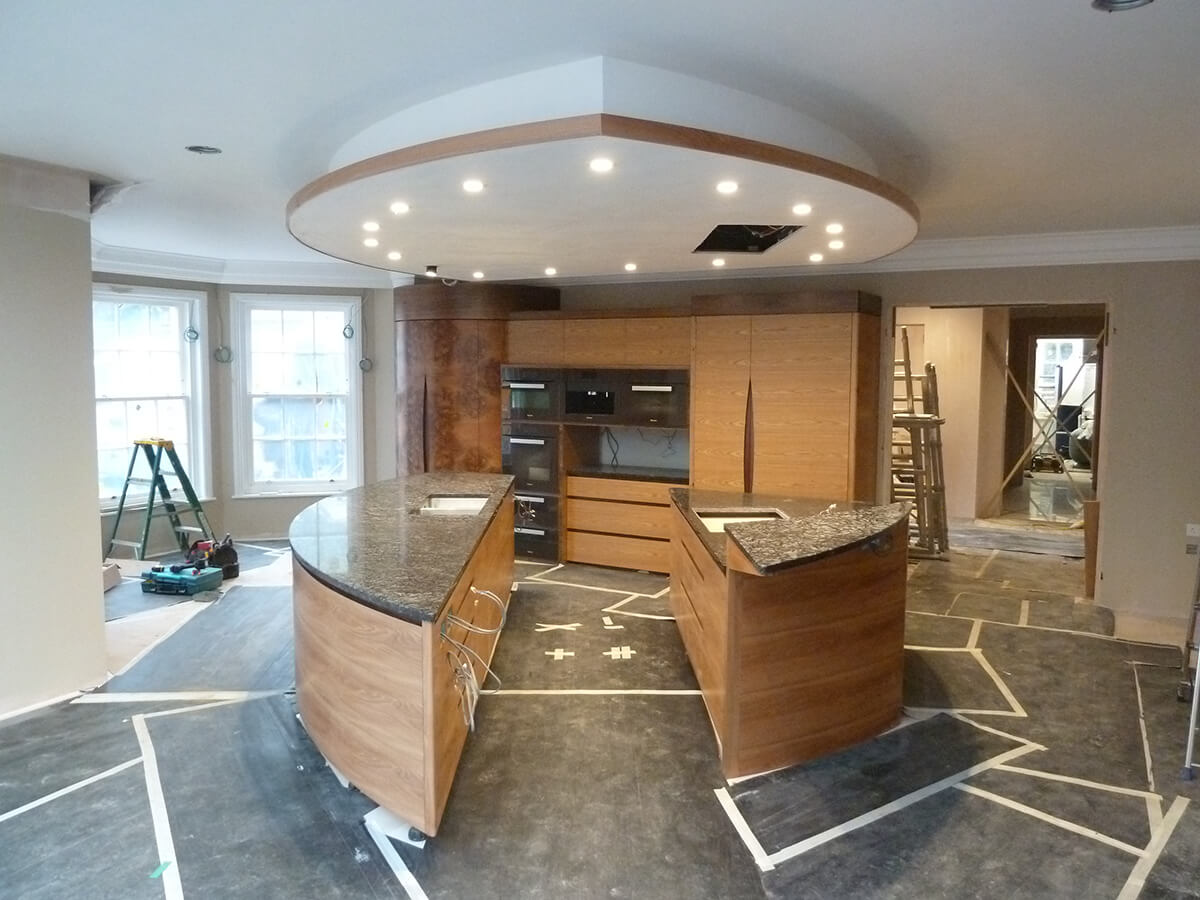 I pushed the boat out on this coming up with a design that incorporated two islands called 'fire' and 'water', one focused on the cooking and the hob, hence 'fire', the other based around all the wet services – sinks, dishwasher, boiling water taps etc. Brilliantly, I called this one 'water'! I also used the only clear wall to create a very idiosyncratic collection of units that includes an 'L' shape bank of Miele 'Havana brown' ovens – 5 in all, plus machine coffee machine, a big drum walk-in larder and Gaggeneau integrated fridge, freezer and wine fridge as well as lots of storage.
We also designed some more 'furniture' like pieces – a tapered, curved-fronted corner cabinet with pivot drawer, a large display / drinks cabinet with yet another fridge within and a round dining table with another set of 'Gabriel' chairs. These were in the two timber combination of elm and black walnut which runs throughout the whole of the kitchen cabinetry. There are a number of 'feature' pieces – the drum larder cabinet, the centre sideboard section of the 'water' island and the curved fronted drinks / display cabinet that have a really stunning burr elm on. These pieces create focal points around the room, effectively using the burr as a contrasting texture to the other horizontally laid timber.
For all sorts of reasons out of our control the site is running very late. Originally we were meant to be finished by late August. Actually although we have basically fitted it now we won't be going in to do final snags until well into the New Year. You can see a time-lapse video we took of the two week fit here. There will also be a more lavish feature length video that follows the project from start to finish out in Spring 2015.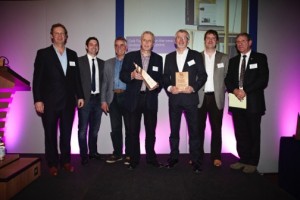 I mentioned this and the Makers' Eye / St Hugh's project effectively bookending our 2014 year. The kitchen because it has just taken that long between long periods of inactivity, but what about St Hugh's, after all that was finished back in March!?
Well, Tony Portus had entered it into the 'Wood Awards 2014', a kind of Oscars of the wood world. Prizes for the best use of timber across the fields of furniture and architecture slug it out for these nationally respected gongs and – we got shortlisted! At the end of November we all went up to the Carpenters Hall in London for the awards ceremony only to win the 'Bespoke Furniture' category. It was a massive high and a real credit to a truly collaborative effort between Makers' Eye, Us and 3 other bespoke furniture workshops. To read more about the project click here. But that wasn't quite it for 2014 yet. We still had a few really nice furniture commissions to deliver, in fact during December we have completed two lovely dining sets, a sycamore display cabinet and a set of oak library shelves.
As for 2015, well it's looking exciting. We are working on proposals for at least 3 big kitchens, museum furniture, fine architectural models, and even furniture for one of England's great Cathedrals. January sees us straight back into making a new walnut version of the St Hugh's desk for Maker's Eye, a very large ash and elm dining set bound for London, and 30 of our 'Gabriel' chairs. So 2015 starts as 2014 ends, busy!
Saying that, we are never so busy that we can't fit an extra job in for you, so why not have a browse through the portfolio pages for some inspiration…