Our old friend has found a new home. The prototype Tudor Arcade bench has been in our courtyard since completion in December where to be frank, it has been a bit wasted. It needed to be somewhere striking, somewhere where lots of people could enjoy it. Turns out that place is just a couple of miles away at Pallington Lakes.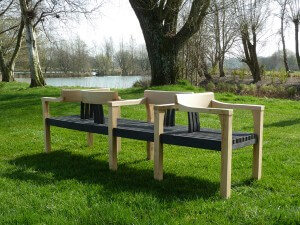 Well known sculptor Simon Gudgeon bought the ex-fishing lakes a few years ago and has turned them into stunning sculpture gardens, a setting for many of his own dramatic works. Sculpture By The Lake is open to limited numbers of visitors by appointment, it's a great place to just wonder around, relax with a picnic, go for a row in a boat and enjoy the interaction of Simon Gudgeon's work in the landscape with all its watery reflections. This bench is perfect for the location as you can choose your vista, then change your mind and face an entirely different direction, with just as much to see.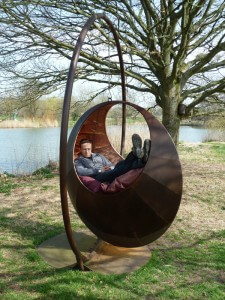 I'm afraid the tranquility of the place rather got to John who didn't want to leave after finding this unusual place to rest his legs. Stupidly we didn't bring our lunch along, although perhaps that's a good thing!
Sculpture by the Lakes is open to unrestricted numbers during Dorset Art Weeks, from 26th May until 10th June 2012.
There are lots more beautiful images of lakes and Simon Gudgeon's work at the website, along with details of admission and opening times. Treat yourself to some tranquility by clicking here!