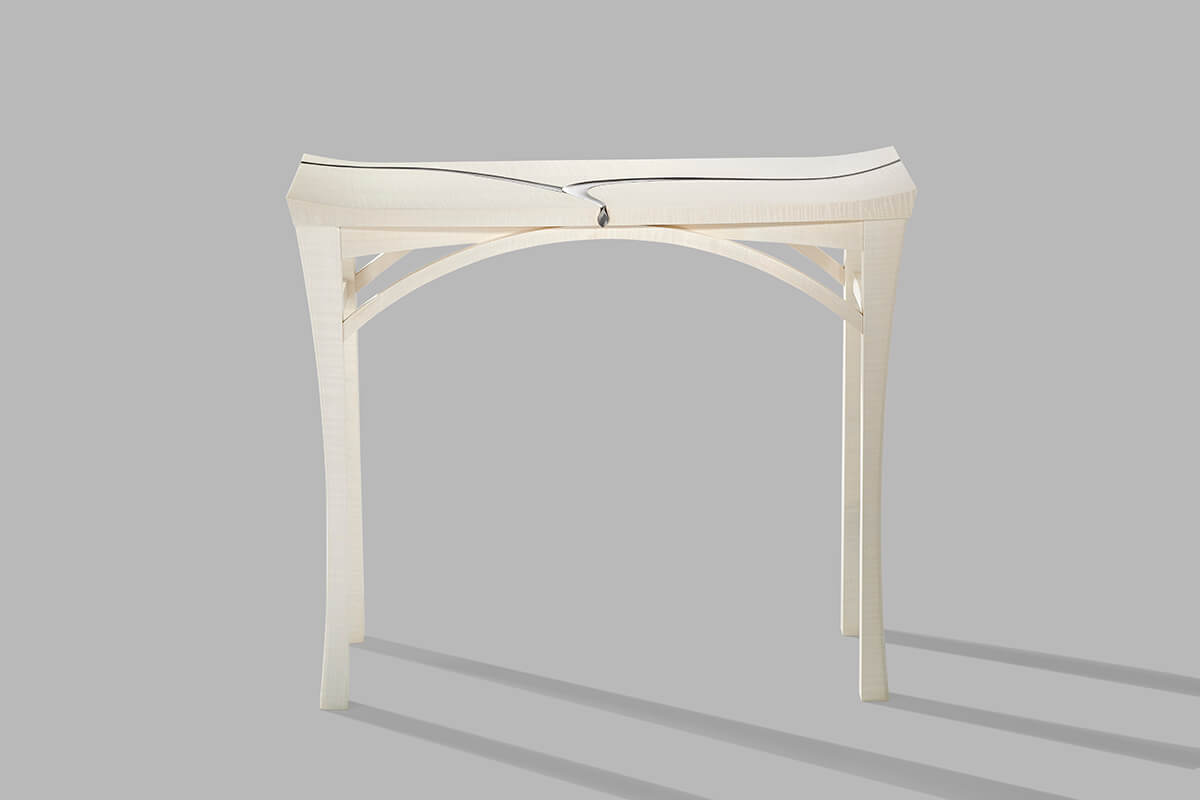 Who said furniture can't be romantic? Some of our valued clients, who have already had a number of pieces from us over several years, challenged that idea when they contacted us to ask if we would be able to work alongside their friend, silversmith and jeweller Liz Tyler, to produce a completely bespoke, deeply personal celebration table to commemorate their silver wedding anniversary.
We already had a connection of our own with Liz as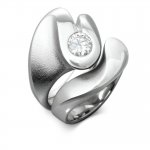 she had designed and made engagement and wedding rings for Simon and Bridget and we have exhibited with her on several occasions during Dorset Art Weeks. This provided us with the perfect excuse to sit around our dining table with Liz and her husband, Andrew, one stormy February night, eating pizza and coming up with lots of exciting possibilities for how we might make this extra special.
Our clients had each spent many years travelling before they met and continued their love of globe-trotting after they married.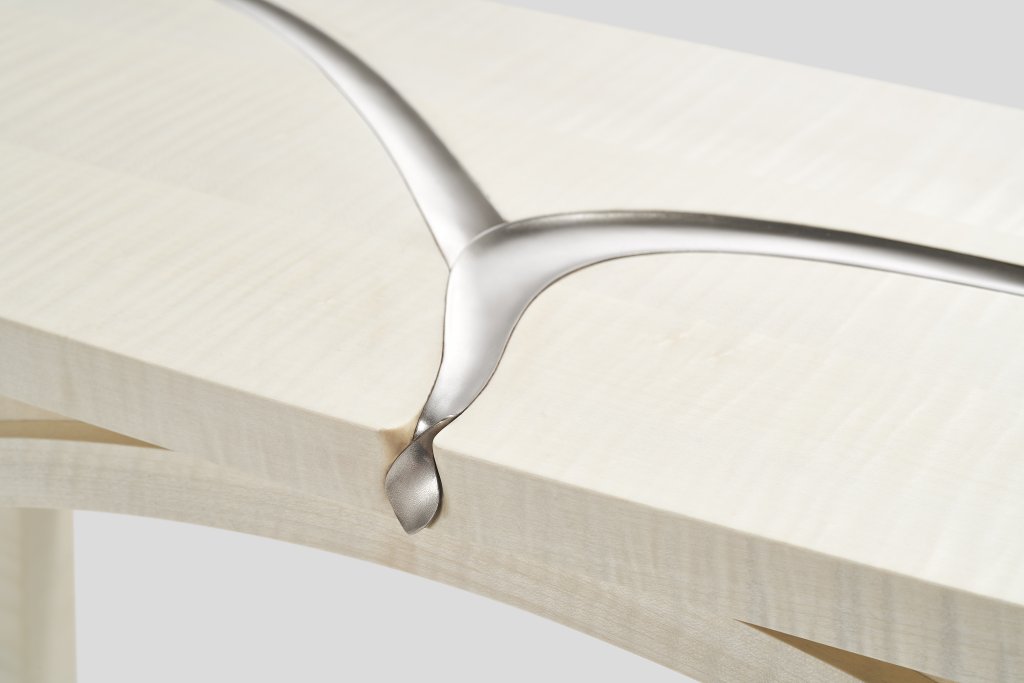 Their family home is situated close to where two rivers join and this gave us the idea of creating two rivers of silver which start at opposite ends of the bleached, figured-sycamore table and meander towards the middle where they meet. After the confluence they flow as one forwards towards the front of the table and spill together over its edge into an unknown and exciting future. These silver rivers therefore locate the piece in place as well as time.
Having come up with the conceptual design, we then had to devise a way of setting the silver into the table top so that it nestled perfectly into the timber. A period of to-ing and fro-ing with complex templates ensued until we had a table top with a channel of the exact form and dimension as the silver. Combining them was a challenge because the timber needed to have its smooth lacquer finish applied before the silver was fixed in place and then of course, the metal needed to be fixed carefully in place without scratching or marking the white sycamore top.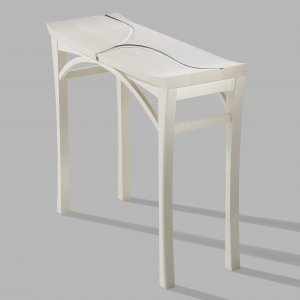 The final piece was fitted with a discreet plaque commemorating the initials and anniversary date of the clients. On delivery, the clients were so delighted with it they decided to redecorate the entire room in order to show it off to its best advantage. They now have a beautifully romantic little table which subtly tells the story of their marriage and will eventually be passed on to their children as a symbol of their parents' enduring love.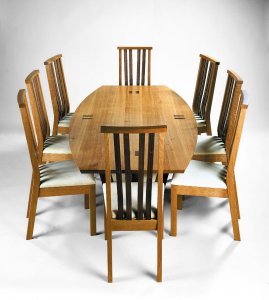 This was not the first romantic piece of furniture we had designed for clients. One couple asked their wedding guests for contributions towards the purchase of a dining table and were thrilled when the generosity of their friends and family meant that they could also afford a set of our impala chairs to accompany it. Also fitted with a plaque, this too will be an heirloom for their children in years to come. Similarly a console table was presented to a groom and his bride from their best man and his future wife; another plaque serving as a reminder of the circumstances of the gift for generations to come.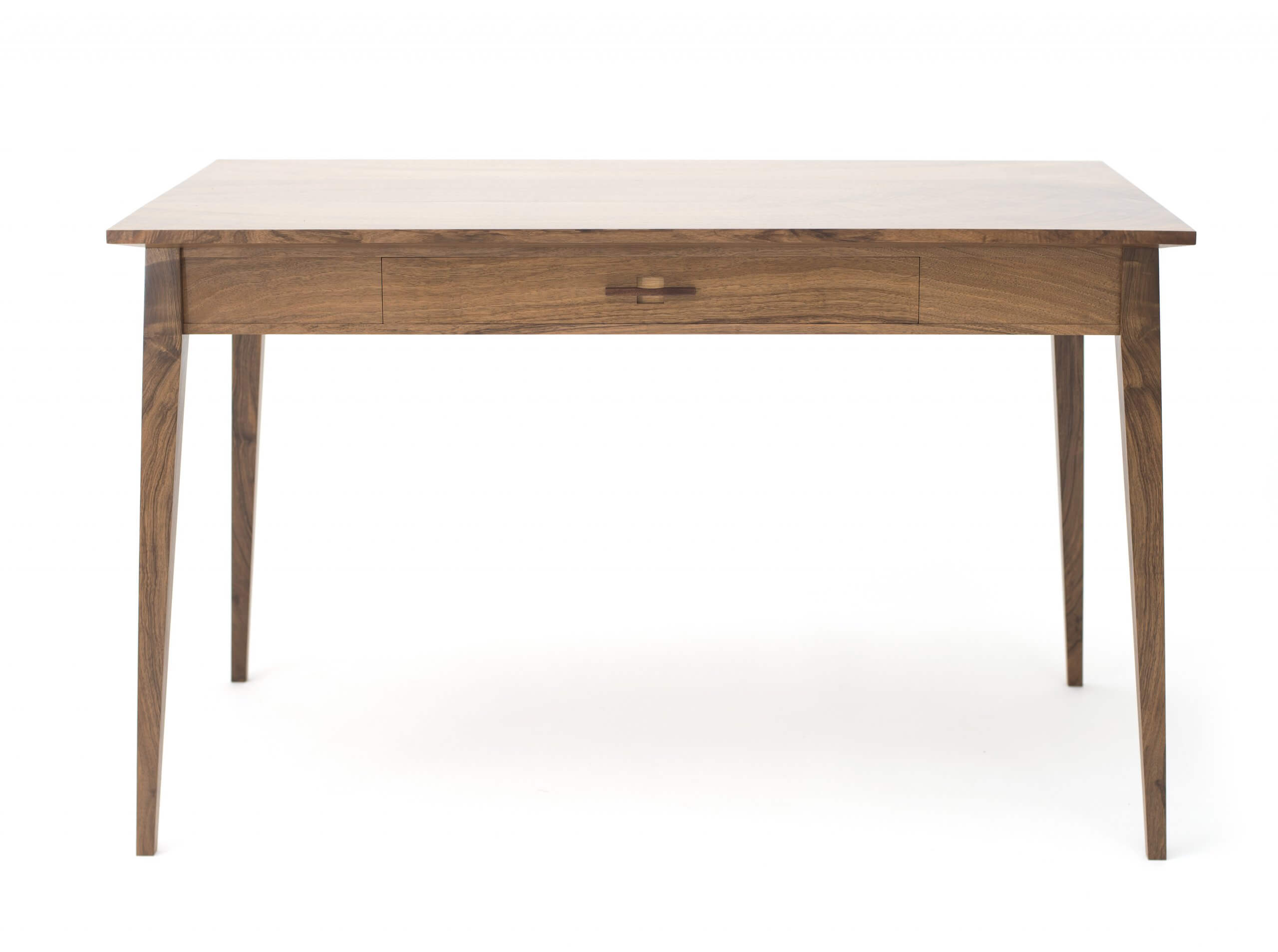 This stunning English walnut desk, known affectionately to us as 'Ronald' was bought by a wife as a gift for her husband for a special birthday. Meanwhile Ronald's sister piece,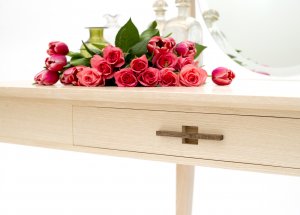 a native ash dressing table called 'Rosa', was purchased by a husband as a gift for his wife just because…
A family kitchen dining table was commissioned by a couple who were celebrating their ruby wedding. This time, instead of a plaque they elected to have their initials hand carved into the legs of the elm table, reminiscent of those lovers who carve their initials into trees; a symbol of everlasting love. Later, the husband surprised his wife by secretly commissioning some chairs to go with it, this time with plaques.
So, if you're feeling the love and want make a grand romantic gesture, why not spoil them with furniture? There are several perfect pieces available now on our website. We can add a plaque to any existing pieces or you can commission a special piece just for your special someone, add a plaque or an engraving, or just keep it a secret between you two (and us of course!)
You can read more about Ronald and Rosa here or take a look at our website to find out more about our bespoke furniture, kitchens and interiors.