Some very exciting news for us at Simon Thomas Pirie Furniture, we have just landed another commission for a public art / seating, this time in Dorchester.
Our other ongoing project is the Shaftesbury Persimmon Homes public artwork that we are doing in partnership with ZMMA architects. That project is in itself the bi-product of the 'Common Places', the Shaftesbury town centre project that we won with ZMMA through an open competition. It's strange (well perhaps not) that the projects that rely on public funding are moving very slowly, while those that are privately funded are progressing at pace. Still if we get the private initiatives done then perhaps they can in turn influence the those in the public realm.
In fact the Dorchester public seating job came about as a result of me talking on this blog – a bit of video of me talking about craft / public art / Shaftesbury. This got picked up by architects Hutchison Kivotos who then contacted me earlier this year. I didn't mention it before because I didn't want to talk about it until I knew it was really given the formal go ahead. In those six months we have been busy consulting with the architects, doing site surveys and doing the design work.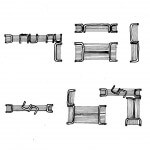 The outline concept from the architects was a long winding seat with lots of different seating options, something that was much more than just a row of benches, a real statement – a piece of artwork. What a great brief!
It's part of a major redevelopment of Tudor Arcade in Dorchester, one of the towns already better shopping areas with some very well known brands present like Waitrose, Fat Face, Farrow and Ball, and a great local brands like The Fridge deli and Town Mill Bakery. There is lots of development going on in Dorchester so I guess the management company are keen to keep their status as the 'prime retail location'. To achieve that they will need to update the slightly dated feel and appearance of the environment. Part of that is our job…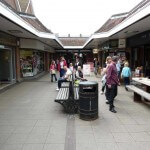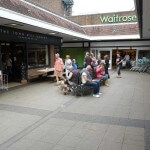 There is some current seating, there is not much else you can say about it, it's the same dull stuff found in most town centres, the result of no budget and no imagination (we are facing a similar curse of retro black cast iron and gold in Shaftesbury – some of it is actually plastic!) It's fine for people to sit on, but people don't linger, it won't stick in their minds or make them smile. They won't say "i'll meet you at those great seats outside Waitrose".
So that's our challenge, yes it's seating, but it is also something to lodge in the mind. We want to make people think about the quality of their environment, the quality of the design and materials, to smile and take a moment or two more.
The first concept sketches capture the idea of creating those quirky seating moments, back to back, facing different ways, love chairs, bench seats, open seating. We also wanted to make the chair elements look eye-catching and funky. So they seem to float about the benches on different angles.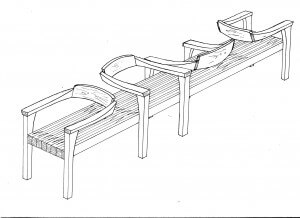 Following further consultation with Gavin Hutchinson we decided it would make more sense to make it 1 large striking instillation, instead of a collection on 'benches'. We also played with more organic curved forms which has really helped to create something special. Now we are looking at an 8.5 x 2.5 metre curving snake of a piece with all sorts of sociable and intimate seating posibilities. It will have a real wow factor.
Materials wise we are using locally sourced oak from one of my Hooke Park College contacts, he is in charge of the management of many of the county's large estate forests, so the timber used will have good local provenance. The finish will be in scorched black oak for the benching and natural oak for the seat elements. We are just about to start on prototype bench where we will resolve many of the issues like vandal proofing the structure and surface finish. One thing we do need to solve is a back slat between the back hoop and the bench surface. The purest in me would love to keep it free floating but that is probably unrealistic.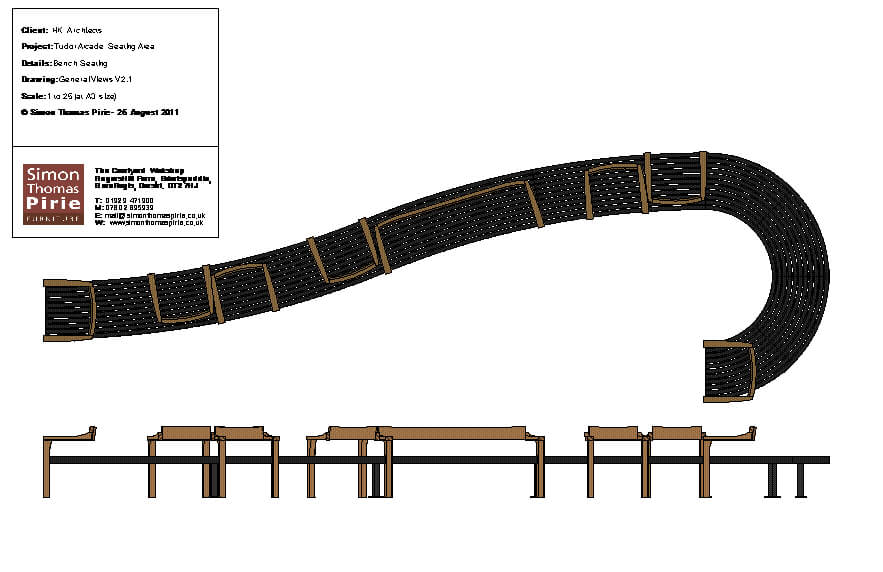 It's a very exciting project for us, using techniques that I haven't used for some time like steam bending and scorching. I don't think John and Mike have really used them at all, so it will add to the skill base of the workshop and in turn feed back to other projects that we already have and help us to win new ones.
We will be on the prototype bench throughout October, on site completion for the project is in the spring of 2012, so making of the actual seating will be from Christmas onwards. Keep following the blog for updates and images of progress.