It's just days to go to our 'Open Workshop Weekend' on the 15th & 16th October now so we are busy getting the space ready, having a tidy up and getting prepared to answer all your questions.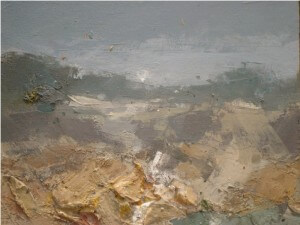 As well as our bespoke furniture on display, work by Colin Bishop will also be show. His extraordinary paintings of surrounding Briantspuddle Heath are painted in one session, out in the elements, whatever the weather.
Locally produced cheese and breads will be available for visitors along with drinks and a warm welcome over the whole weekend.
There will be dining tables, chairs, console tables, and cabinets on show, as well as some of our Japan inspired 'Torii' side tables. Made as a limited run of 12 pairs we have them currently available in sycamore/stainless steel, elm/walnut and cherry/walnut. These and 1 final set in 2012 are the last we will make.
Some exquisite ex-show pieces will be on sale at up to half price to clear the way for new designs. You will also be able to wonder around the Courtyard Workshop, seeing current work in progress, including a large curved public seating piece for a shopping centre in Dorchester made from locally sourced scorched black and natural oak.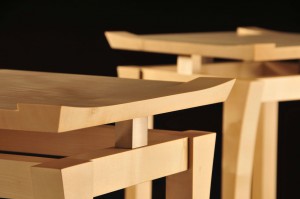 It will also be a first chance to see our new 'Gabrial' dining chair. I talked about it in the blog back in August and showed some sneak previews of the first prototype. We have now made our first showroom pair in walnut and bleached birds-eye sycamore. It will be interesting to hear the reaction they get from clients that know us well, they are very different to our 'Oryx' and 'Impala' chairs.
I hope you can make it along. There will be lots to look at and a rare chance to pick up a real bargain, relatively speaking!
A quick rundown of some of furniture that will be reduced in price: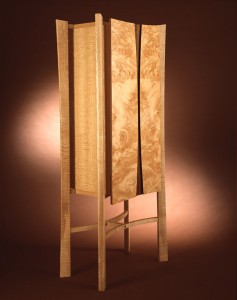 A burr sycamore, ripple ash and walnut drinks cabinet
Price to commission c.£6250 / OWW Price £3500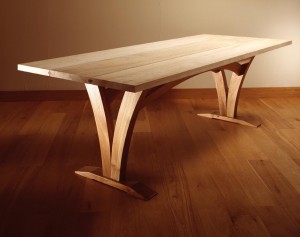 The 'Banquet' dining table in scrubbed and bleached ash with elm legs and frame (to seat 8 to 10)
Price to commission c.£6250 / OWW Price £ 4000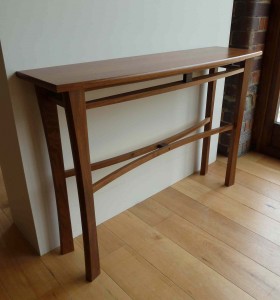 A console table in English walnut with ebony details
Price to commission c.£1850 / OWW Price £1200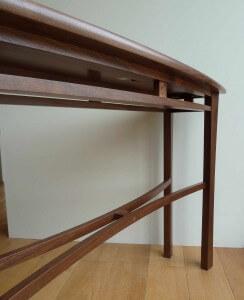 A console table in English grown black walnut with burr elm details
Price to commission c.£1850 / OWW Price £1200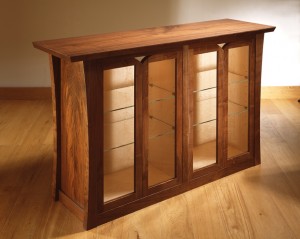 The low display cabinet in English grown black walnut with lit sycamore interior
Price to commission c.£6350 / OWW Price £3250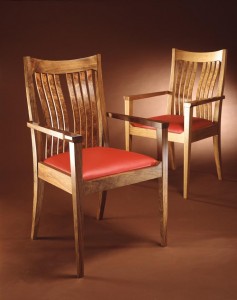 A pair of Oryx2 armchairs in opposite timbers – sycamore and English walnut
Price to commission c.£1600 each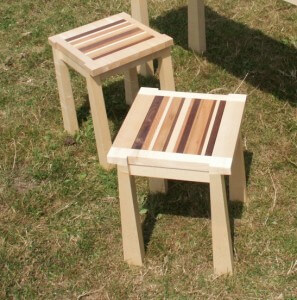 A pair of coda side tables in sycamore with ramdom timber insert panel.
Price to commission for pair c.£1450 / OWW Price £750