What a great weekend, thanks to all of you who came along to our open workshops over Saturday and Sunday. I guess we had about 70 though the doors and quite a number of potential commissions as a result. It felt very much like a Dorset Art Weeks weekend. I guess the only slight disappointment was that we didn't sell any of the speculative / ex show pieces on display. So if you've ever been tempted by one of them, now's the time to make me an offer!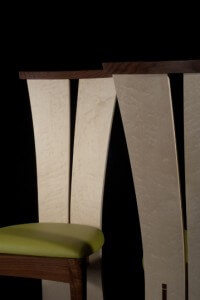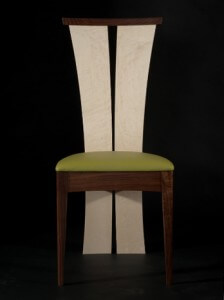 It was also the first public outing for the new 'gabriel chair'. It's always good to get reaction to something new, we got as many people to sit in it as possible. Without wanting to sound smug, I do design very comfortable chairs. One of my pet hates is chairs that look great but feel like they belong in a torture musuem. Gabriel is as comfortable as it is good looking.
During the weekend we were also demonstrating steam bending. That makes it sound all very slick – like we knew what we were doing. Actually in front of a pretty big crowd our first bend didn't work, so we had to re-design the jig. Worked fine on Monday when there was no-one around to watch us!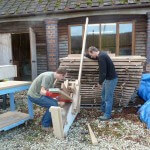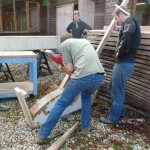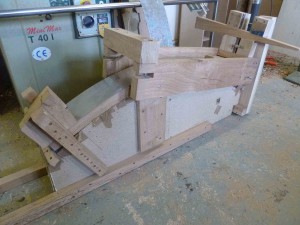 I have to thank Petter Southall from iTre for his advice, he is the guru on all matters steam bending and his generous tips probably saved us days of experimentation and false starts. This was all for components for the Tudor Arcade public seating project which we are building our first prototype bench for.
It's been great rediscovering an old technique I've not touched for over a decade, and for John and Mike it's completely new. It really is a very different way of thinking and working to how we normally bend wood – using lamination. Steam bending is a much more organic, it only suits a certain way of designing which allows for inconsistancy. Lamination on the other hand can give real precision, it's just a lot less fun!