I've been out sourcing my favourite timber again, English walnut. I always like to have an English walnut timber log or two lined up and in stock but as a result of making a kitchen in this relatively rare wood last year our stock got completely used up.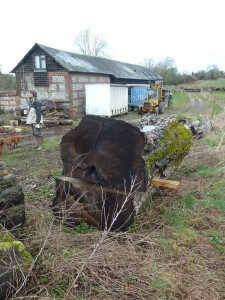 Since then I've been trying to secure new stock and my old pal and fellow furniture maker George Morgan came up trumps with a log he found in Stocksbridge Hampshire. When I first saw it it had already been sliced down the middle, but it was a substantial walnut log, about a metre wide and 2.3 long. Although a log may look promising, it's very hard to tell exactly what you've got, at least with this one I got a sense of what it was like through that original centre cut.
It had all the key things I'm looking for: good grain character, colour and a small sapwood edge (the sapwood can be very wide, ugly, prone to worm attack and is pretty unusable.)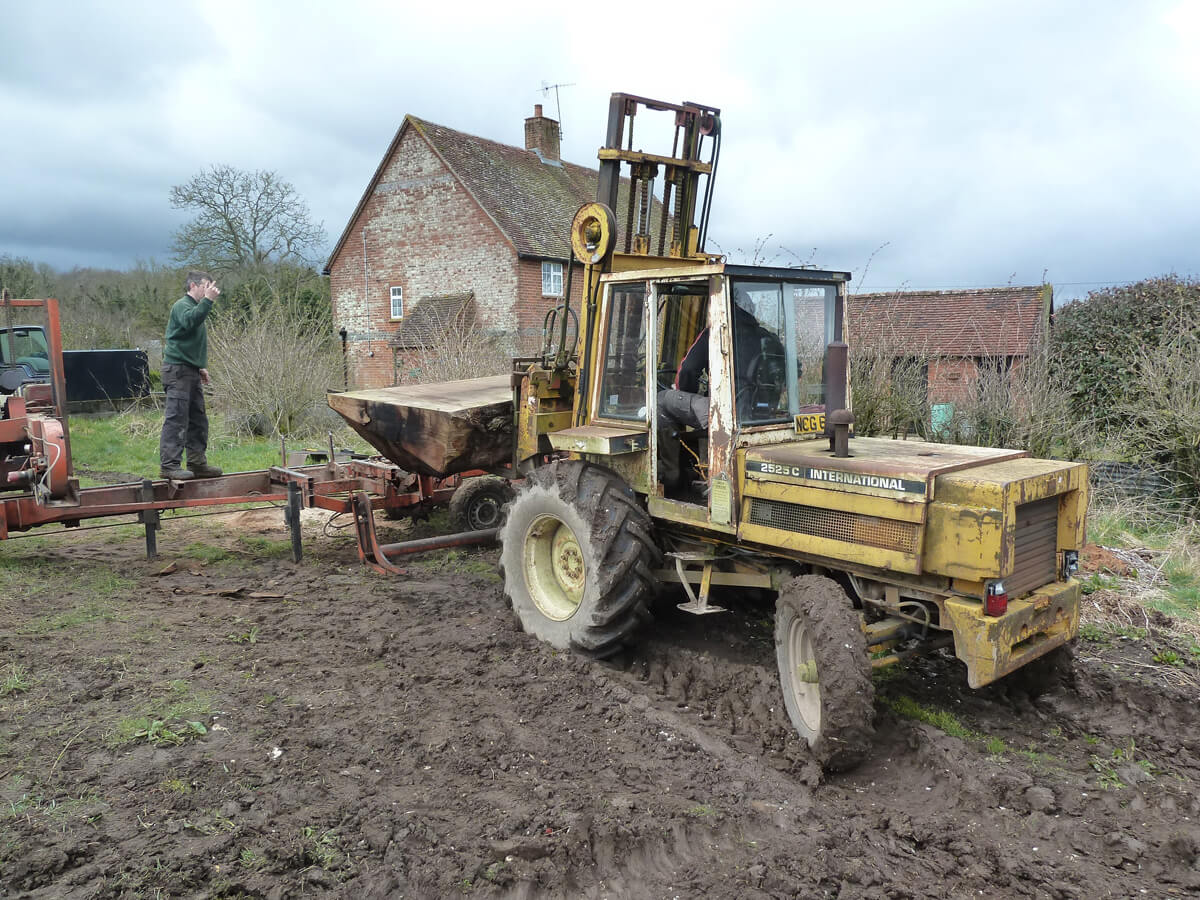 So it's a few months later and I'm at George's have arranged to meet Will Miller there with his Woodmizer portable sawmill. He's also cutting some stuff for George so it's a full day for all of us. First up is the walnut log and size wise it is about as big a diameter as the Woodmiser can handle (even after it has been halved). Luckily George has a forklift which makes this whole process much easier. Like everything he does it has a twist, this old mechanical beast has a Dukes of Hazard 'General Lee styley' airhorn, all it needs is the right paint job.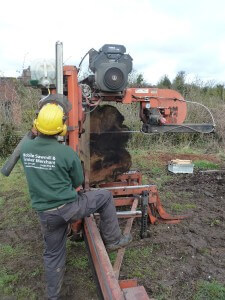 The first cut on a walnut log always makes me nervous, despite having an idea this log was a good one it's only now with a fresh saw cut the truth will be revealed. I'm pleased to say it was even better than I expected, with the only surprise coming in the form of a nail which must have been a good 70 to 80 years in. Cost Will a new blade and of course it came on the first cut just after we put a new sharp one on. Always the way.
The first half of the butt gave me two nice stacks of inch and a quarter and inch and a half boards. The second half was even bigger so we focused on 2 inch with a couple of 3 inch boards from the centre. I always need a bit of 3 inch if I'm making legs on tables, desks etc, and English walnut is a devil to match if you have to go out and find a bit later. Best it comes from the same tree, although the down side is it makes the drying more complicated. We still had a bit left to cut so I got 7 more boards of 1 inch out plus a few falling boards – mostly sap but a component or two in there as well.
My 4 finished stacks add up to about 45 cubic feet of English walnut timber. Not all of that will be usable but it will yield about 75% of that. For English walnut timber that's very good. It will need to air dry for a month or two now and then go into George's Kiln for a further 4 to 6 weeks. Then all I have to do is find the right client and turn it into beautiful English walnut furniture!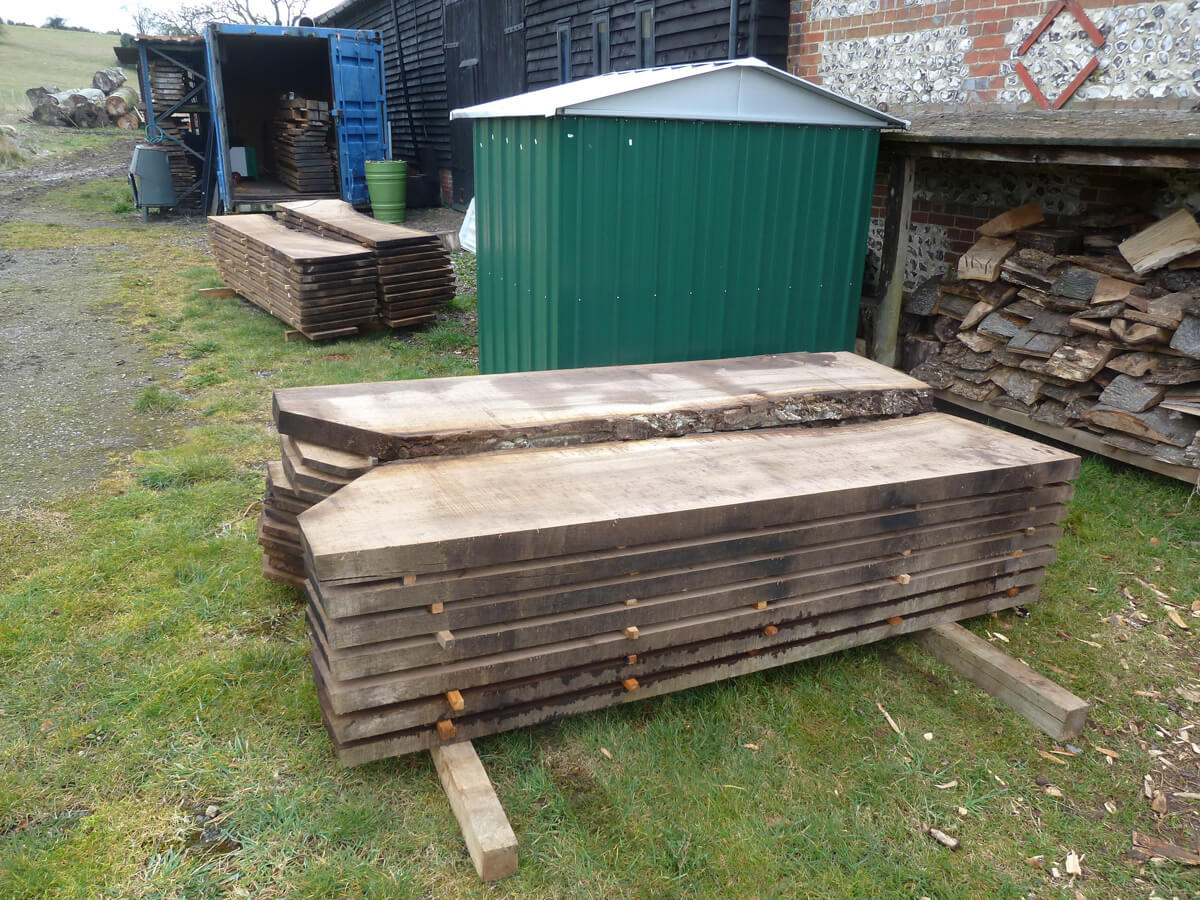 Other related English walnut furniture stories on the blog:
To see the film that follows us making that stunning English walnut furniture and kitchen from cutting the first board through to it's completion click here.
You can also read about and see images of all the English walnut furniture we made from our last large walnut butt that we bought back in 2007. We made our last piece, the Ronald desk from it last year: Click to go to the story.