Well I've been talking about this kitchen almost as long as I've been writing the blog, so it's lovely to finally be able to show it off properly. A job like this isn't complete in my mind until the photographers have been in and done their stuff.
I say it's a 'kitchen' but it spun on into major office and bar area projects as well, taking just about every hour over an 18 month period. It does look great though. Let me take you for a walk through…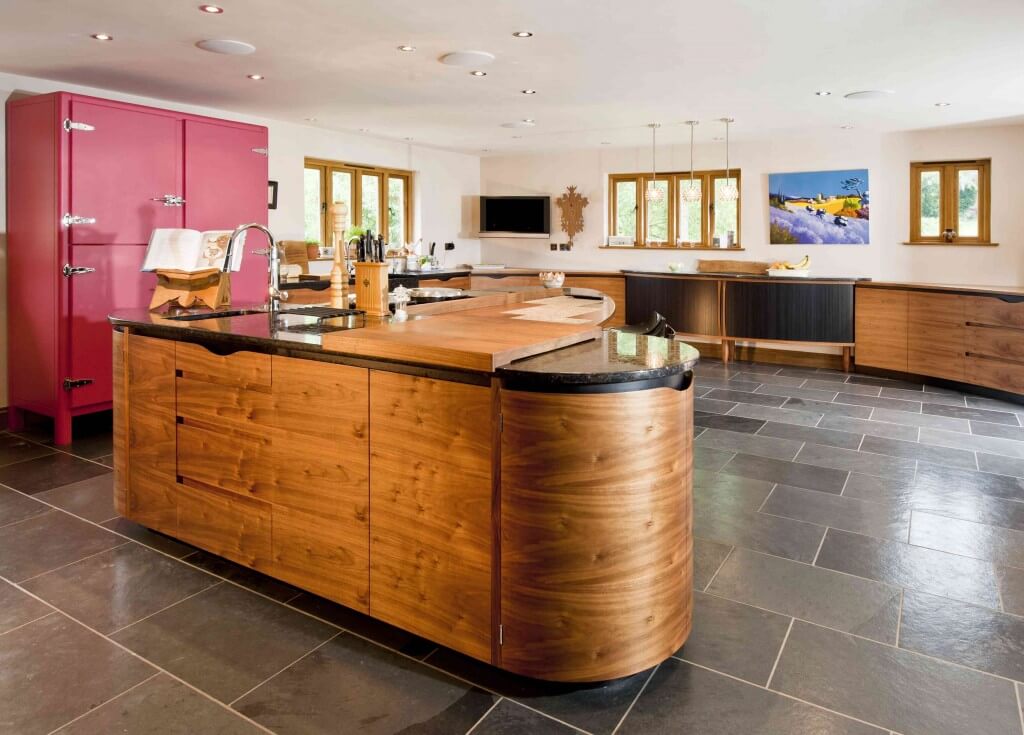 This is what you see as you enter from the dining hall, that sounds a bit grand but it does feel like one of those medieval hall buildings, just on a more intimate scale. The clients also commissioned friends of mine Zoe Cull and Alex Evans of Stoneform to make a magnificent fire surround in that room as well. As a house it's hard to place period wise, it feels very arts and crafts from the outside, bits of it are very old cob construction, while much of it was a 1980's addition. The kitchen is an entirely new build element along with a new master bedroom and a pretty major reworking of the upstairs spaces. The work done ties it all together, but as a house it retains a quirky, idosyncratic and homely feel.
So back to the kitchen; the brief was simple; the heart of a family home – to socialise, chill, eat and be merry. It had to be beautiful but practical, modern but sensitive to the architecture, have great gadgets but only those that would get used, but most of all, have that 'wow' factor.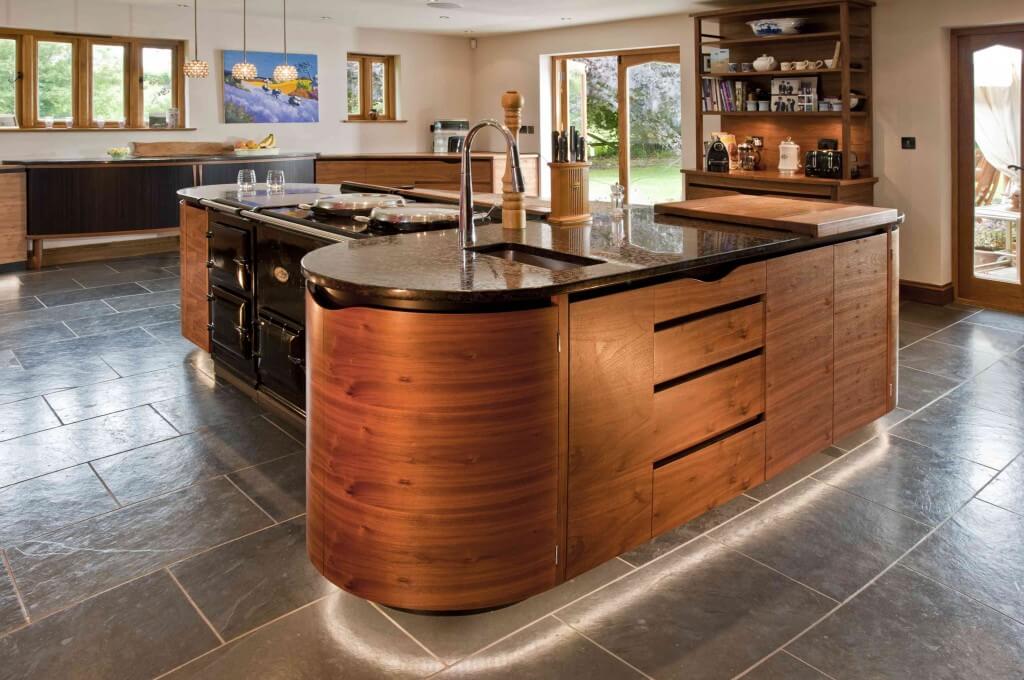 Needless to say, it's that island, built round an Aga that is the first feature that hits you. Lots of storage in doors and drawers, as well as a breakfast bar to seat 4. It has three soft 'D'-end cupboards which helps aid flow around the room (both visual and physical). The sharp eyed may notice something odd about the Aga – no flu pipe breaking out the back disapearing through the ceiling. It's one of the new generation of Electric AIMS Agas and we were able to hide the flu under the floor to an outside extractor. It puts the Aga in a very different context to how you normally see them, hard up against a wall or in a chimney alcove.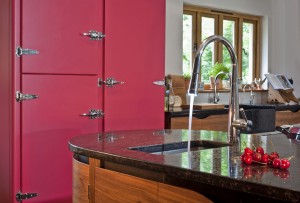 The island contains slide-out spice and oil racks, a prep sink with pull-out hose tap and an induction hob, which for most of the time is covered by a sliding chopping board. The hob is a back up in case the two hot plates on the Aga are in use.
OK, we can't ignore it any longer, the 'small' pink fridge thing… Actually it is quite big and technically it's 'rose' coloured. Made by Meneghini it oozes Italian retro style with those big chunky handles. Getting the cheese out becomes an event like opening a bank vault. As well as the fridge and a freezer there is also a wine cooler within. It's what you might call a statement piece, but it's also great fun and acts as a counter-balance to the darker tones and colours in the room.
The timbers used on most of the cabinetry was a specialy selected black walnut. I was looking for something that had character, but not so much it became distracting. It runs horizontally and is 'slip' matched (without being turned), rather than the more traditional book-matched method. We also used a couple of dyed Itailian 'Tabu' veneers – a very simple black for the handle details and kick-boards, and a rather more vibrant pink ripple sycamore. But more of that later…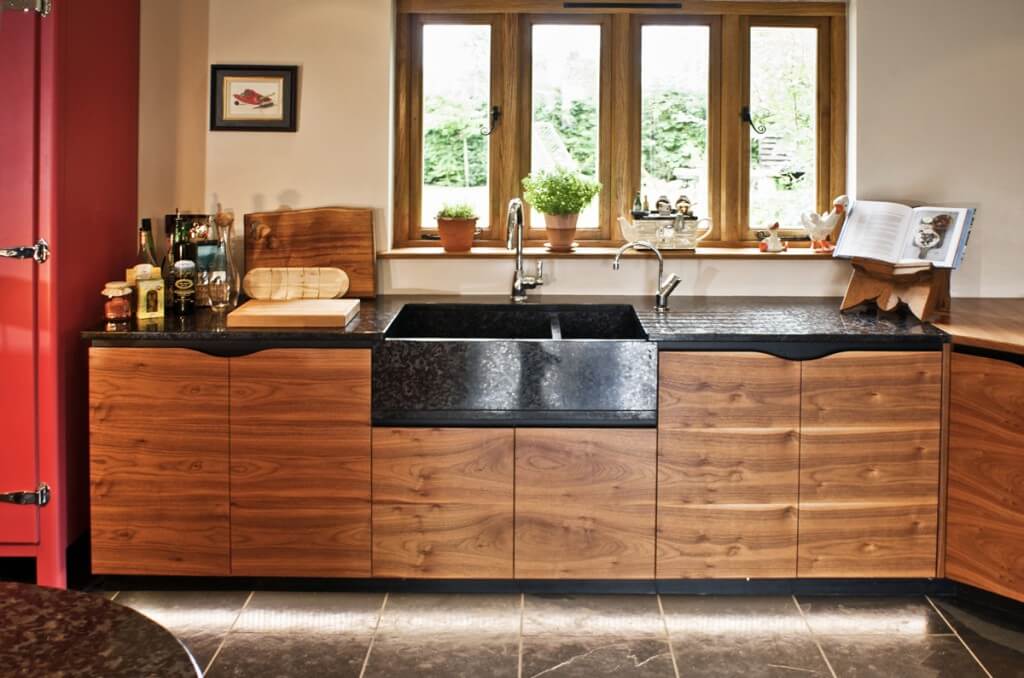 It is also worth mentioning the beautiful and unusual granite called 'Meteorus'. I'm not sure any of these shots do it justice, close up it is black, grey and silver with layers of what look like bamboo shaped leaves cris-crossing. To top it off there are cherry red berry shaped flecks throughout. It's like on of those Japanese screen paintings made by some Zen master with a sweep of a brush stroke. Stunning!
Before we move away from the granite I should also mention the double sink, made from that same material, a bespoke piece made by Stone Circle. That sink has two taps on it, one of which is a Quooker instant boiling water tap, making the kettle all but redundant.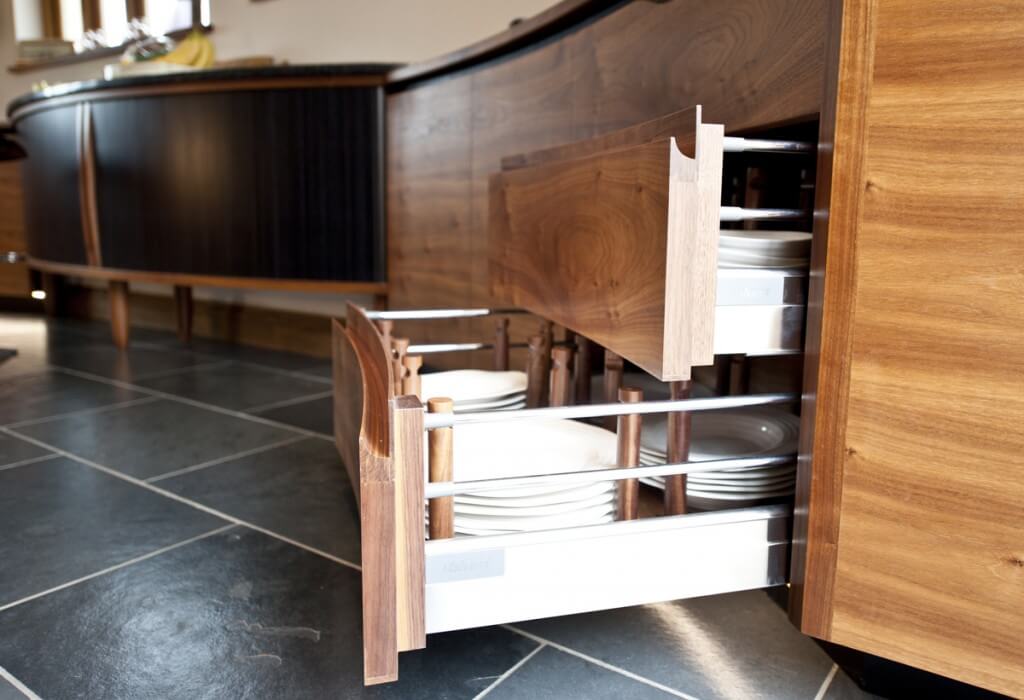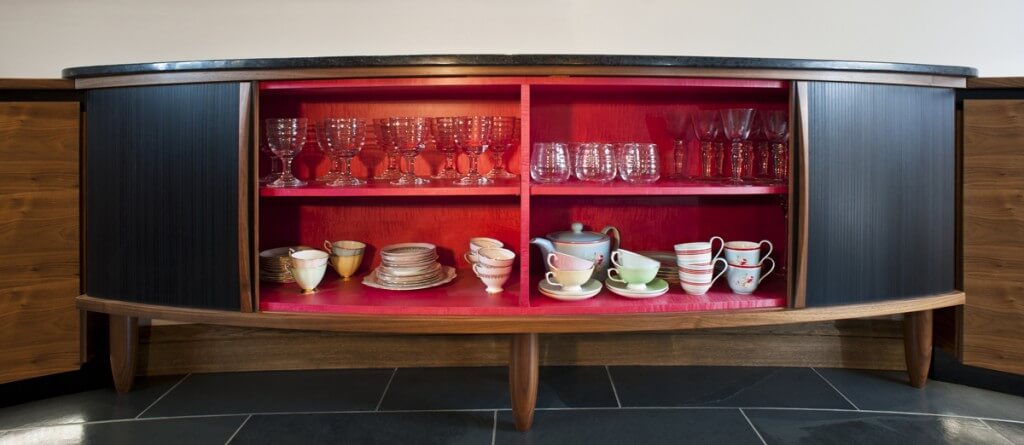 If we keep walking round we get to the curved units at the back of the room. The two outer corner cabinets contain general storage, the dishwasher and the large crockery storage drawers. In the centre is one of the feature pieces of the kitchen, a tambour fronted sideboard. I love throwing in items that break up that fitted look, pieces that visually and in this case, actually, stand alone. The tambour uses the flat black veneer but reveals that bright pink ripple sycamore within when the doors are slid open. It's like a beautiful tailored jacket lining.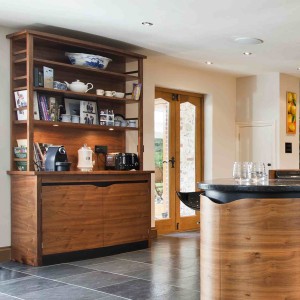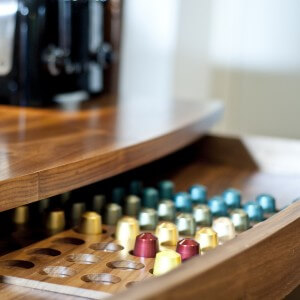 In between two pairs of double doors that lead out to a patio with views of the North Dorset countryside, is another 'piece' of furniture – this one a modern twist on the kitchen dresser. It is actually my favourite element, perhaps because its proportions work so well, or maybe its the isolated stand-alone simplicity that appeals to me. As for function, well apart from displaying stuff on the shelves its role is to house all the breakfast items, including the all important Nespresso coffee machine. The narrow drawer is designed to store those enticing little coloured capsules in perfect order. Arranging them became a mild obsession during the photoshoot. I thought I was over it until I saw the images again! The dresser is located closest to the breakfast bar on the island. I've rarely gone into the house without seeing one of the family sitting there, breakfast time or not.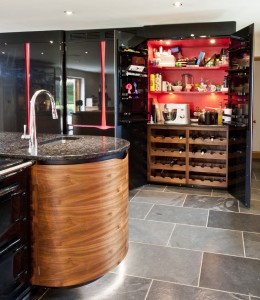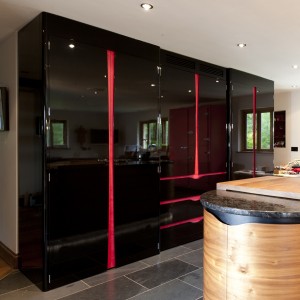 So we are heading back out of the room – but what's that huge shinny black thing! Well, it's the larder actually, full height and the best part of 4 metres long. The two outer sections are kind of walk in, at least they feel that way once the doors are open. The centre one contains the microwave and bread maker with the pan drawers below. In the outer two there is space for a generous wine rack, vegetable drawers, a granite work-surface and more storage than a UN warehouse. You get the picture. The clients wanted somewhere they could hide ALL the kitchen clutter.
The gloss black is a lacquered surface, which although dark is highly reflective. We used the same pink ripple sycamore within the handle scollops as a bit of a giveaway to what was inside. As you open the doors the lights come on to reveal the vibrant pink glow inside. A real contrast to the minimal exterior.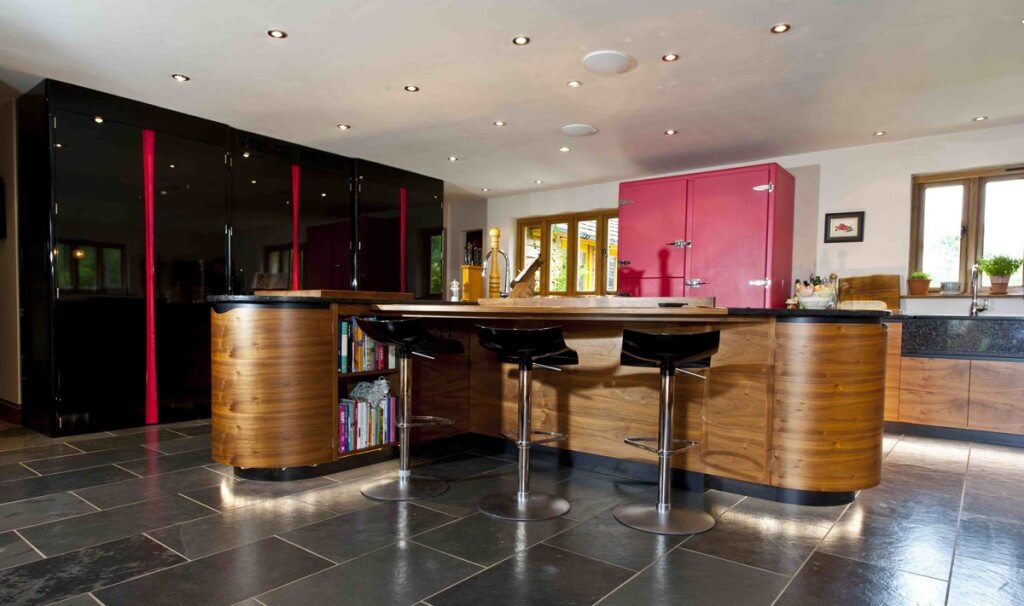 Turning round and looking at what we have achieved here does give me a real buzz. You get that initial 'wow', but it's also all those great little details, many of which only we and the clients know about that make this kitchen so unique. It's a room full of great furniture that happens to also be a practical kitchen, but perhaps most importantly an everyday living space.
I have to thank Kim and Peter for being brave enough to commission something so different. Of course any room like this is a collaboration of ideas between designer and client, but it takes a mutual trust for it to work out as well as this project.
We still have the office and bar area to look at which are located in a converted barn just next to the house. These projects are featured in their own case study which can be found by clicking here.
Appliances:
Taps: Quooker Design / Franke Rolex / Perrin & Rowe Mimas
Sinks: Bespoke Meteorus granite curved front double sink / Franke Kubus stainless
Ovens & Hob: 4 oven Aims electric Aga
Induction Hob, Microwave, Dishwasher: Miele
Worksurfaces:
Natural Meteorus Granite work surface and bespoke sink from Stone Circle
Cost Guide (all including VAT):
Kitchen Cabinetry £68,000
Appliances £34,000
Granite (including bespoke sink) £16,000
Photography by Double Exposure Photographic
Written by Simon Pirie