It's show time for Simon Thomas Pirie and once again we will be taking part in Decorex International with our friends Hillgrove Timber from October 6th to 9th at London Olympia.

Decorex is a four-day interior design show for professionals, celebrating the people taking interior design to the next level. It features international brands and designers, each presenting their newest collections of exquisite furniture, fabric, lighting, decorative craft, contemporary art and much more.
Join the people who conceive and create truly beautiful spaces including internationally renowned interior designers responsible for some of the world's most recognised residential, hospitality and retails projects. Commission bespoke furniture, meet your contemporaries, source interior design inspiration, and chart the direction of the industry. Expect an experience rich in immersive new features, tailored seminars, and a 400-strong exhibition of newly launched products of the highest calibre.
Taking place in and around London every year since 1978, this year the show calls home West Kensington's Olympia London. This marks an exciting new chapter in Decorex's history, and will see it set a new level for interior design finery in 2019 and beyond.
Simon Thomas Pirie & Hillgrove Timber at Decorex 2019
Simon Thomas Pirie and Hillgrove Timber (part of English Woodlands Timber based in Sussex) will be collaborating on another joint stand, much as we did at Decorex 2018. This relationship firmly makes the connection between timber as the raw material and its elevation into beautiful furniture and objects. The stand is taking shape and is significantly larger than last year, reflecting the confidence we felt at the end of the 2018 show. 2019 will see us launching new furniture products and wall panelling (more on that to come…) The stand will also incorporate our 'waney burr bar' area to entertain and refresh visitors and have our stunning elm 'Ziggurat Table' as the stand centrepiece.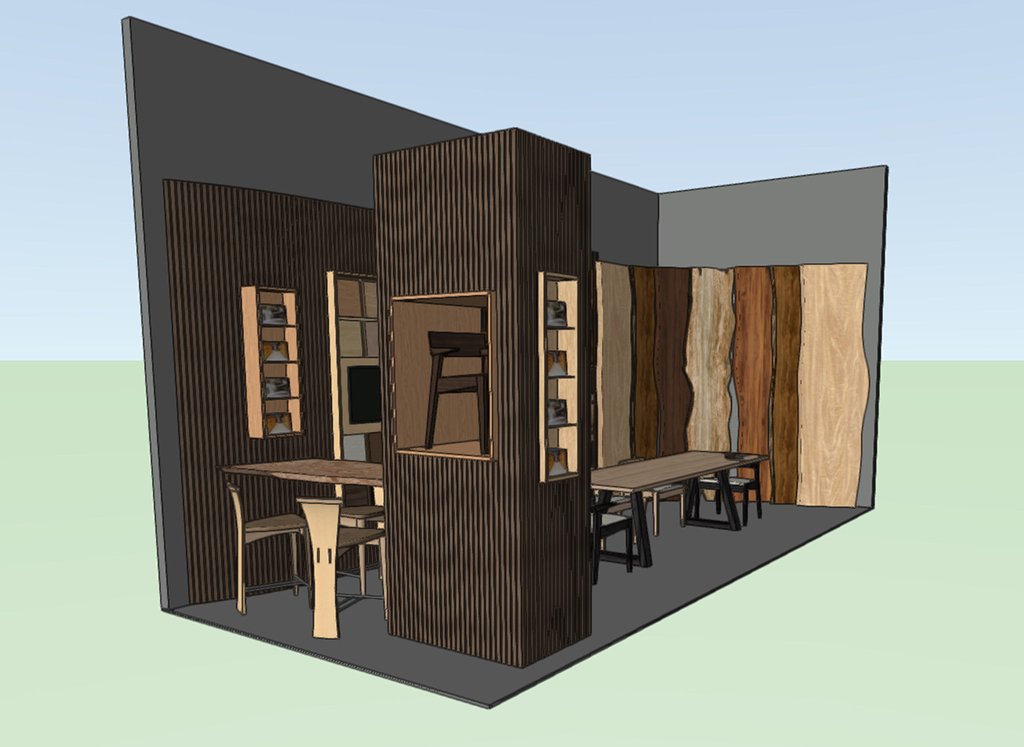 A sneak peak of one of the rendered views of the Simon Thomas Pirie / Hillgrove stand L281 for Decorex 2019.
A Very Special Elm Tree Becomes a Very Special Table
The table is made from one of Hillgrove's very special reserve Scottish elm logs. This log was earmarked by us as soon as it arrived in the timber yard. Once it was dried and out of the kiln we selected the two best boards to create the stunning book-matched top measuring 2.8m x 95cms. We used the rest of the log for the underframe and another large commissioned table we were making simultaneously. You will be able enjoy a film that documents the story of the table from Hillgrove's yard, through making to completion here on the blog very soon…
Hillgrove will have a selection of their reserve and rare boards on the stand reflecting the array of species they hold in stock for those really special projects. All you need then is talented designers and makers to turn them into works of furniture art!
Simon Thomas Pirie and Hillgrove can be found upstairs on stand L281 for the duration of Decorex 2019.
The show runs from October 6th to 9th at Olympia, London. For further details on travel, tickets and opening times, click here!