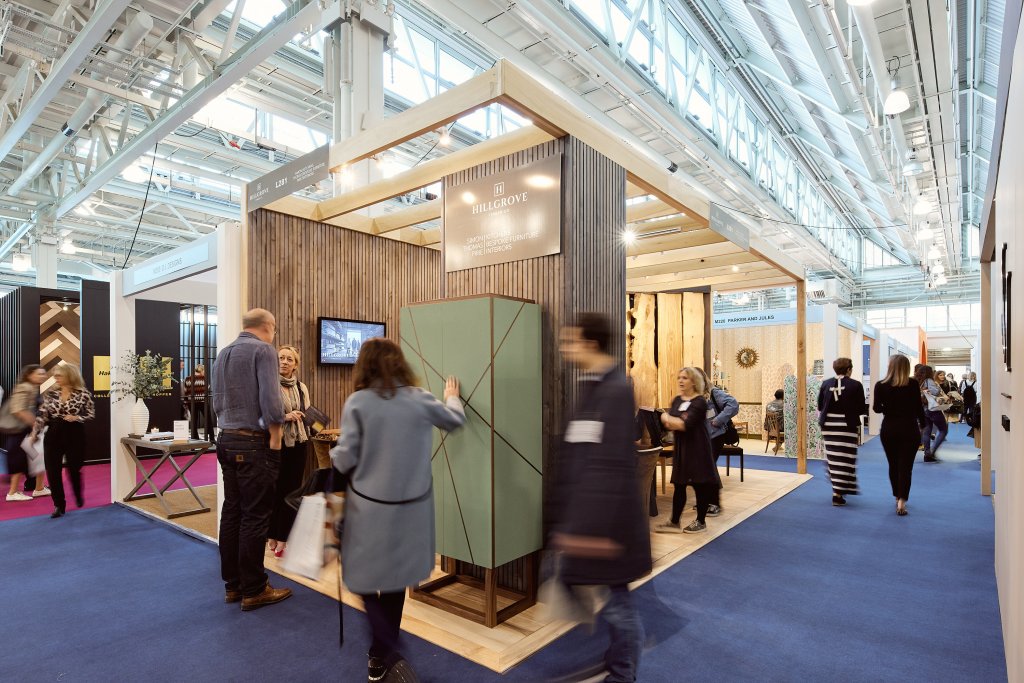 Our Decorex adventure is over for another year. We'd like to thank everyone that visited us on the stand who engaged in such fruitful conversations about the furniture and timber on display. For those of you who didn't make it along – we have already rebooked for Decorex 2020!

The centrepiece of the Hillgrove / Simon Thomas Pirie stand for 2019 was the stunning 'Ziggurat' elm table
A Shared Passion – Hillgrove Timber
For us Decorex is also about the exciting collaboration with the Hillgrove Timber Reserve, with their stunning and often rare timbers, but also with them as a team who we love working with as they share our passion for beautiful objects and interiors made with the world's greatest material – wood.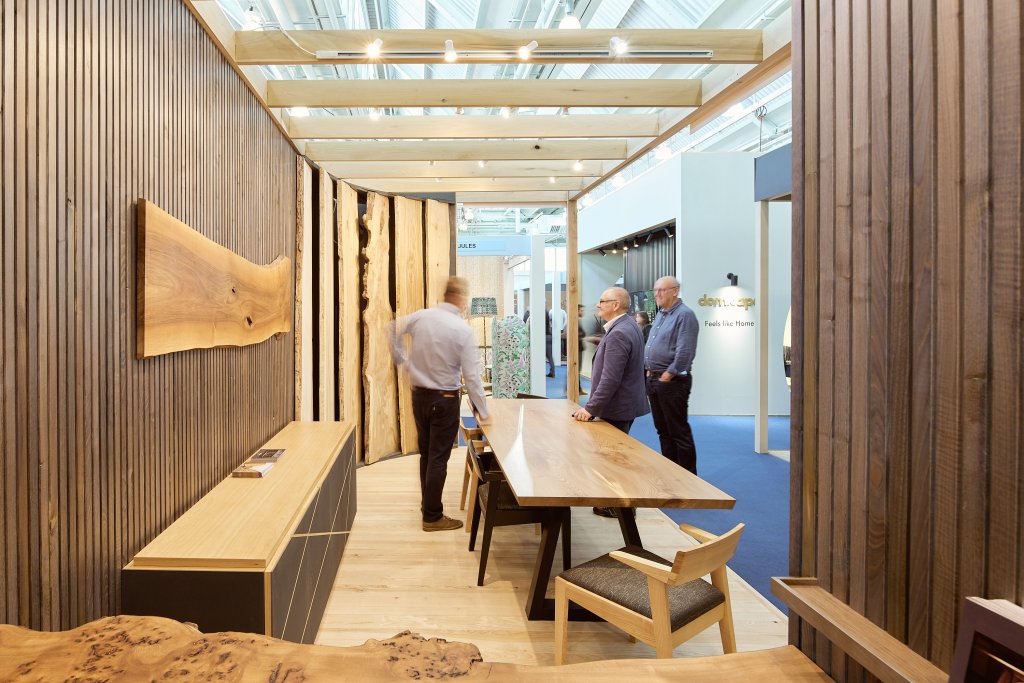 Perhaps because Decorex is filled with so much colour, richness and opulence the raw simplicity of slabs of timber and what we can make from them seemed to really stand out. Many passing visitors were 'stopped in their tracks' which led to exciting conversations about a range of potential projects from boardroom tables to kitchens, from a single chair to complete interiors. It also led to lots of discussion about the use of native timber, sustainability and forestry, something else we and the Hillgrove team are passionate about.
Ziggurat Table in Native Elm
Having the Elm 'Ziggurat' table as the centrepiece on the stand has led to lots of enquiries about tables of every size and shape! Don't forget this particular table (featured in the video above) is for sale at £5625 ex vat and much as we would love to keep it, at 2.8m x 95cm it is fairly big so it would be nice to find its 'forever' home. As a result we may be open to a sensible offer on this unique piece; Remember we and Hillgrove can trace the provenance of this particular tree back to where it grew in the Scottish lowlands.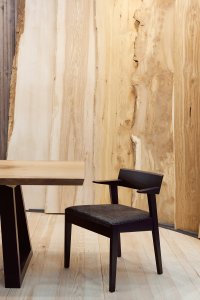 'Iceni Noir' Chair
The table was flanked by 'Iceni' half-arm chairs. Launched at Decorex 2018 it has evolved into a new black or 'noir' version this year which looked really striking next to the black Ziggurat table base. Iceni is available in other timbers like ash, oak and walnut. Prices start around c.£500 depending on timber, finish and batch numbers.
Searchlight Cabinet Series
New for this year was our 'Searchlight' series of cabinets. We had a drinks cabinet and low storage piece on the stand and they certainly provided a talking point, with plenty of intrigue as to what the surface material was. That beautiful textured soft surface is actually a lino-based product called bulletin board – made from cork, linseed oil and chalk. It comes in a range of 15 colours – from the subtle 'black olive' we used with oak on the low unit to the rather more vibrant 'baby lettuce' green we used on the drinks cabinet with a contrasting rich walnut. As a product bulletin board's environment credentials compliment timber well which is why we feel it is such a great combination.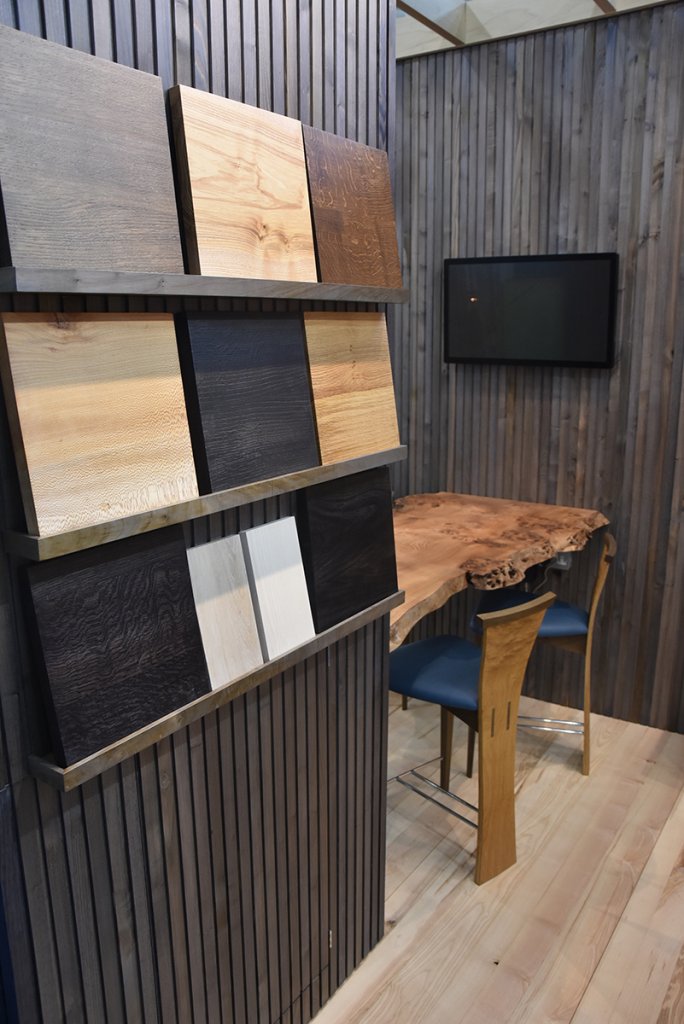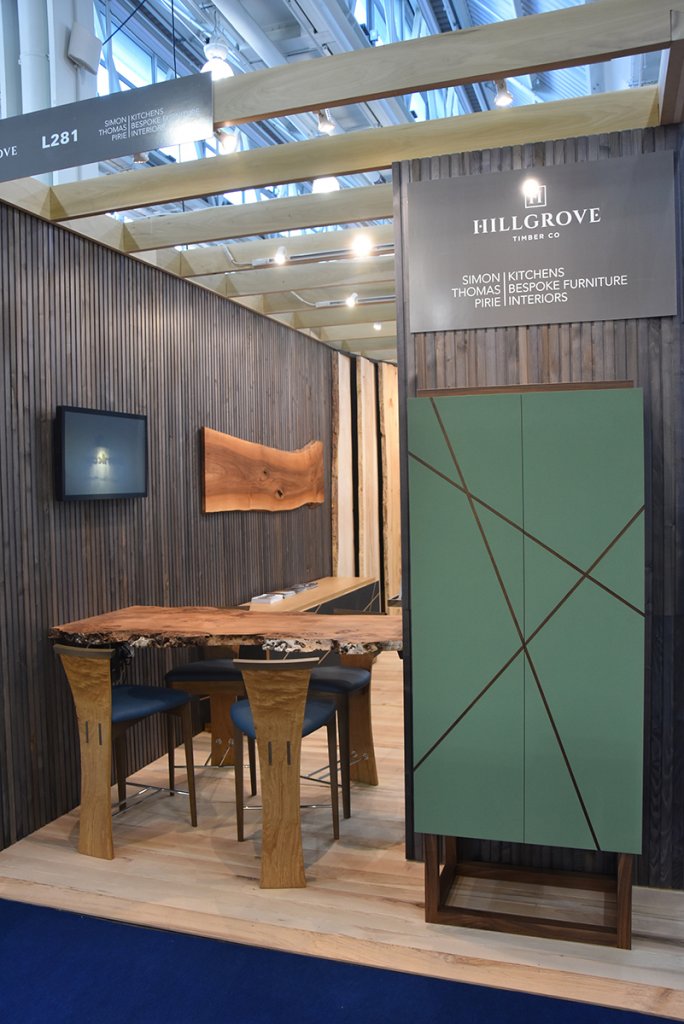 The diagonal lines running across the doors and wrapping around the sides reminded us of light beams searching the night skies – hence the name. The design principles of this series are very flexible so if you have cabinetry projects where you feel this treatment could work do talk to us. The drinks cabinet and low unit that were on the stand start from around c.£5000 ex vat.
Timber Wall Panelling
Remember that we also produce the slatted wall panelling and profiles that decked the pillar unit and back wall of the show stand. This was a grey fumed native chestnut but we do a broad range of timber profiles with unusual finishes you are unlikely to find anywhere else. Prices range from £150 to £250 per square metre. Please contact us for more details.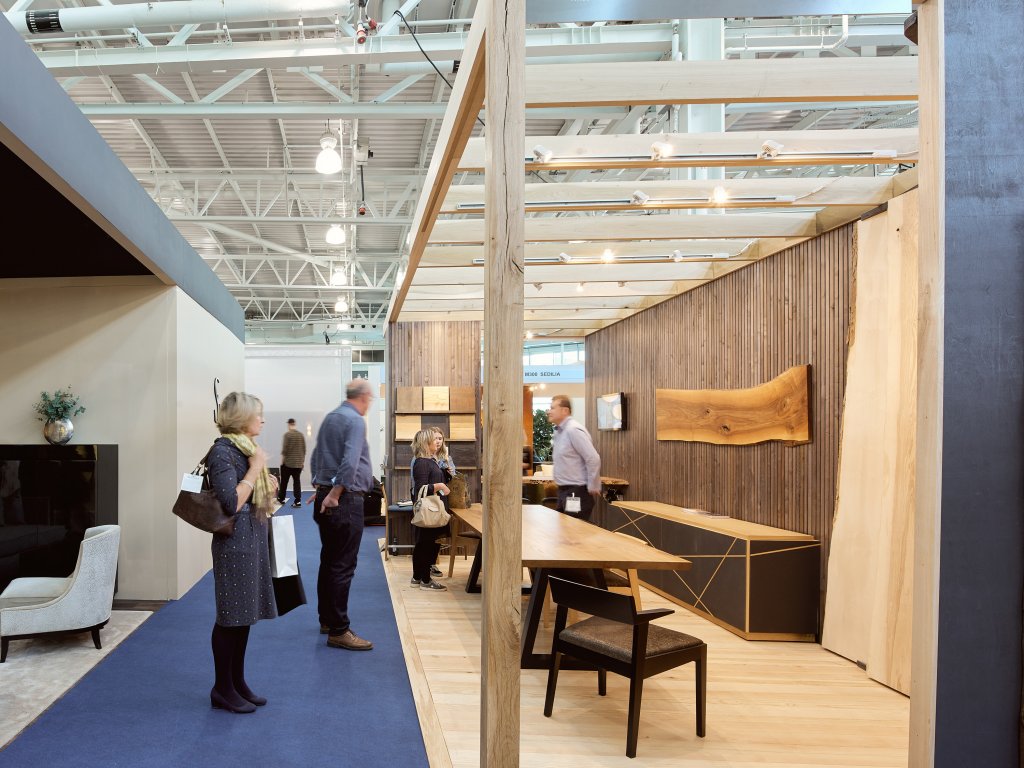 Decorex 2020
We look forward to seeing you at Decorex 2020, from 11th to 14th October, on stand L161 for our 3rd collaborative Simon Thomas Pirie / Hillgrove Timber outing. If there are any projects we can help with in the meantime don't hesitate to contact us.
The Simon Thomas Pirie portfolio including kitchens, interiors and furniture can be viewed by clicking here.
…And if it is stunning slabs of unusual of timber you need than don't hesitate to contact the team at Hillgrove who will be happy to find that piece or burr elm, ripple oak or figured walnut that everyone else says that can't find! For the Hillgrove Timber Reserve click here.