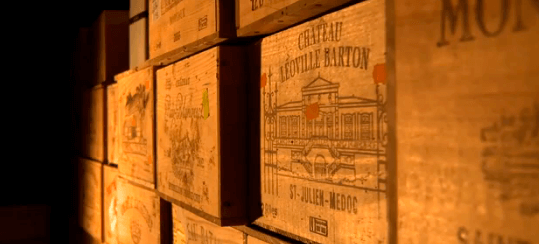 An odd subject maybe, but one I have been thinking around recently due mainly to a couple of exciting commissions coming up, but also on the strength of our 'drinking related furniture' portfolio past…
The relation between food and furniture is often expressed in the dining furniture and kitchens we design, furniture that aids the practical making of and social consumption of food. Food is everywhere, when we are not making it and eating it we seem to be watching others making and eating it. But what about drinking and the furniture we make for it? Well let me show you…
Over the years we have made plenty of bespoke drinks cabinets, kitchens for the wine obsessed and even private cocktail bars in hidden country barns. We've done breakfast coffee dressers and cabinets that act as a sculpture plinth, a homage to the mighty Gaggia expresso machine. Dedicated drinking furniture is a serious genre!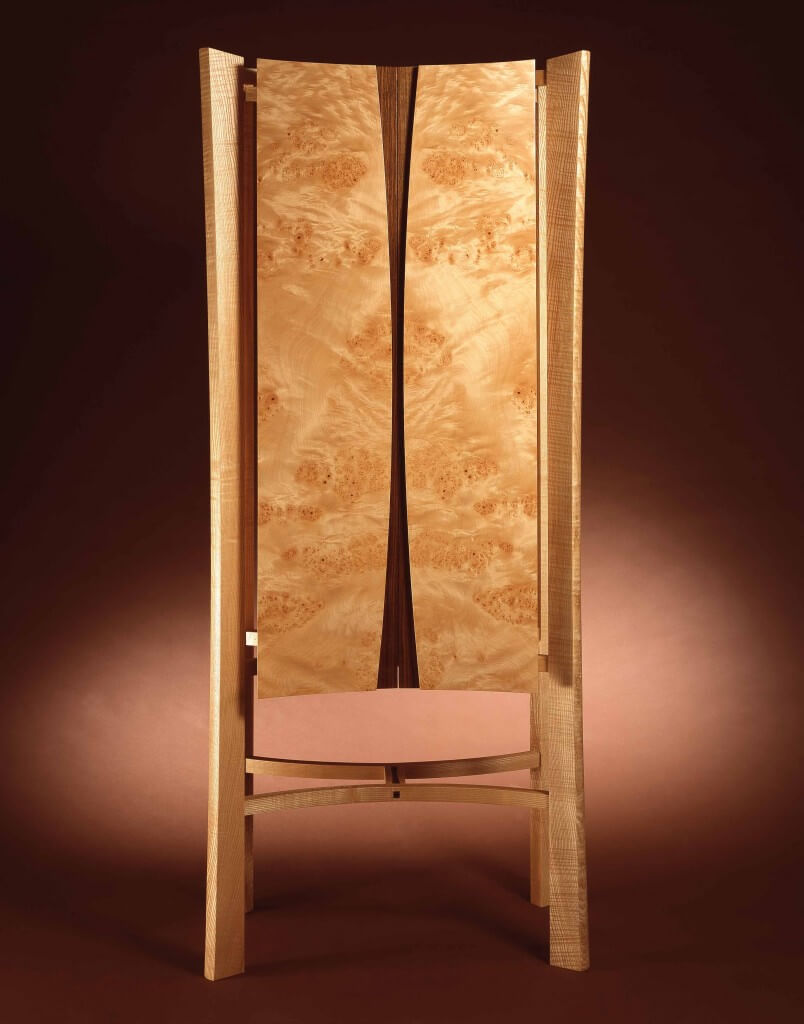 I really enjoy designing drinks cabinets (from a furniture perspective of course), there is something about them that just leads to elegant forms. We have done corner cabinets, freestanding cabinets and those that fit within fitted furniture. My favourite over the years is probably the burr sycamore and ripple ash piece pictured here. We actually made a pair of these, one for a long standing client in Yorkshire which was made entirely of sycamore and this similar showroom version who's frame was in ripple ash instead. The speculative one sold to a London client soon after. Perhaps it is my favourite because it comes closest to the cabinet i'd want to have for my own little weakness – I enjoy fine single malt whiskys' and one day I'll make my own version of one of these.
The really exciting news from my perspective is we have just been commissioned to make this piece's alter ego, a similar cabinet in dark burr walnut with a black walnut frame. Once again we will make a slightly different second speculative piece, this showroom version will be made with an English walnut frame. It's always fun making a piece you know well in a very different timber, it completely changes its character, I can't wait to see it. Both new cabinets should be completed by June 2015.
The other new piece we are working up the designs of is a very large drum cabinet. Normally these have been walk-in larder units within kitchens, but this one is destined to be a bar. Should be stunning – fairly restrained on the outside in fumed oak and greyed ripple sycamore with a blaze of bright lit colour on the inside (still deciding what colour!) It will have curved doors that open up with the drinks bottles on retained shelves on the inside of the doors, a wine rack that pierces the outer skin of the drum, a small mixing sink internally with coffee making facilities and a 'Quooker' boiling water tap. There will be lots of internal storage for glasses, cups, bottles etc and a couple of our bespoke 'Guinness and Murphy' bar stools (yes I know, drinking related again!) to prop up the stone bar top with. It will be a really striking, fun piece to make for the new showroom display for the Big Kitchen Company, whom we work in partnership with on their larger bespoke projects and who we use supply most of the appliances on our kitchens.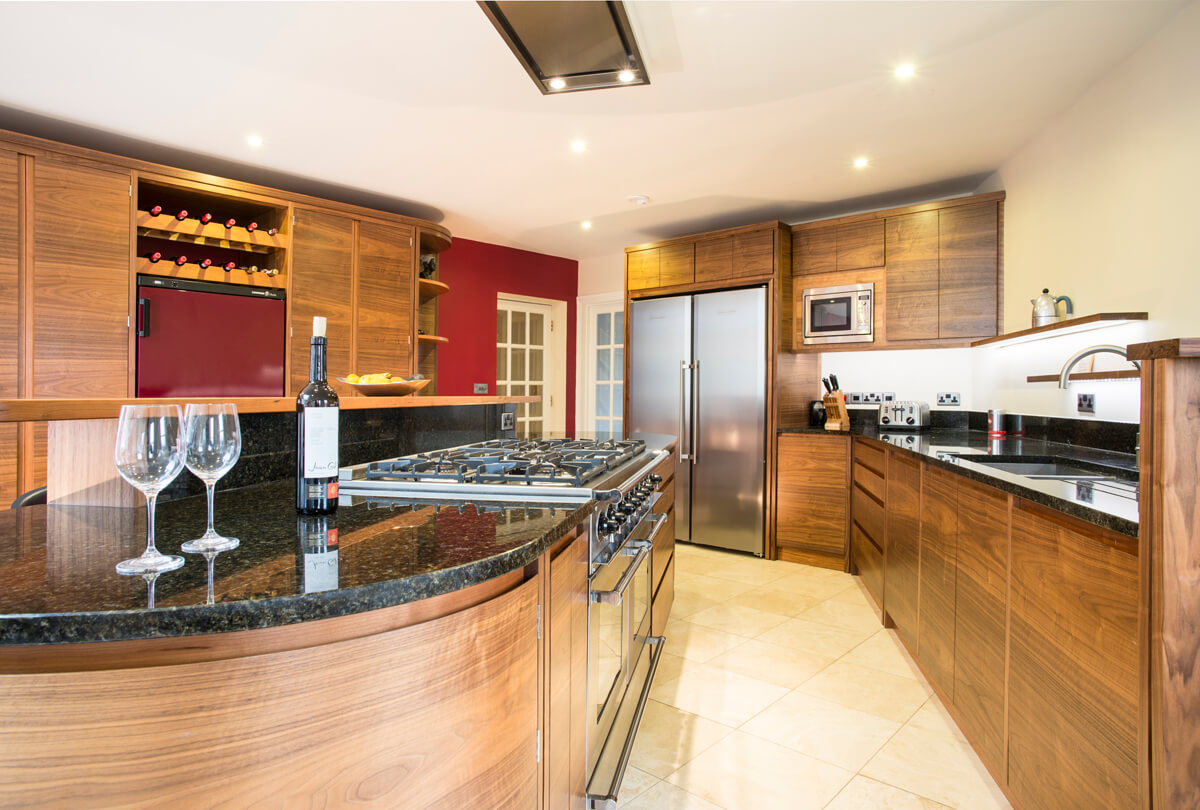 And it's kitchens we turn to next. This is where the relationship between drinking and furniture becomes very serious. It all started as a conversation between me and long-term clients who have become firm friends over a good bottle of wine about remaking the doors on their kitchen. The kitchen had always been too small for the rest of the house, particularly as they loved entertaining, cooking and particularly drinking – very fine wines. I suggested it was pointless just hanging new doors on this miserable little space and that they should build a new space for the kitchen. Over the course of the evening it somehow became a two storey extension – not for a bedroom above though, but for a dedicated wine cellar below! Two years later they got their shiny kitchen, complete with bespoke balestrade and stairs down to the temprature controlled wine cellar. Of course we had to find space for a wine fridge or two upstairs as well. There is a full case study of this project including a film elsewhere on this blog, just click here to read…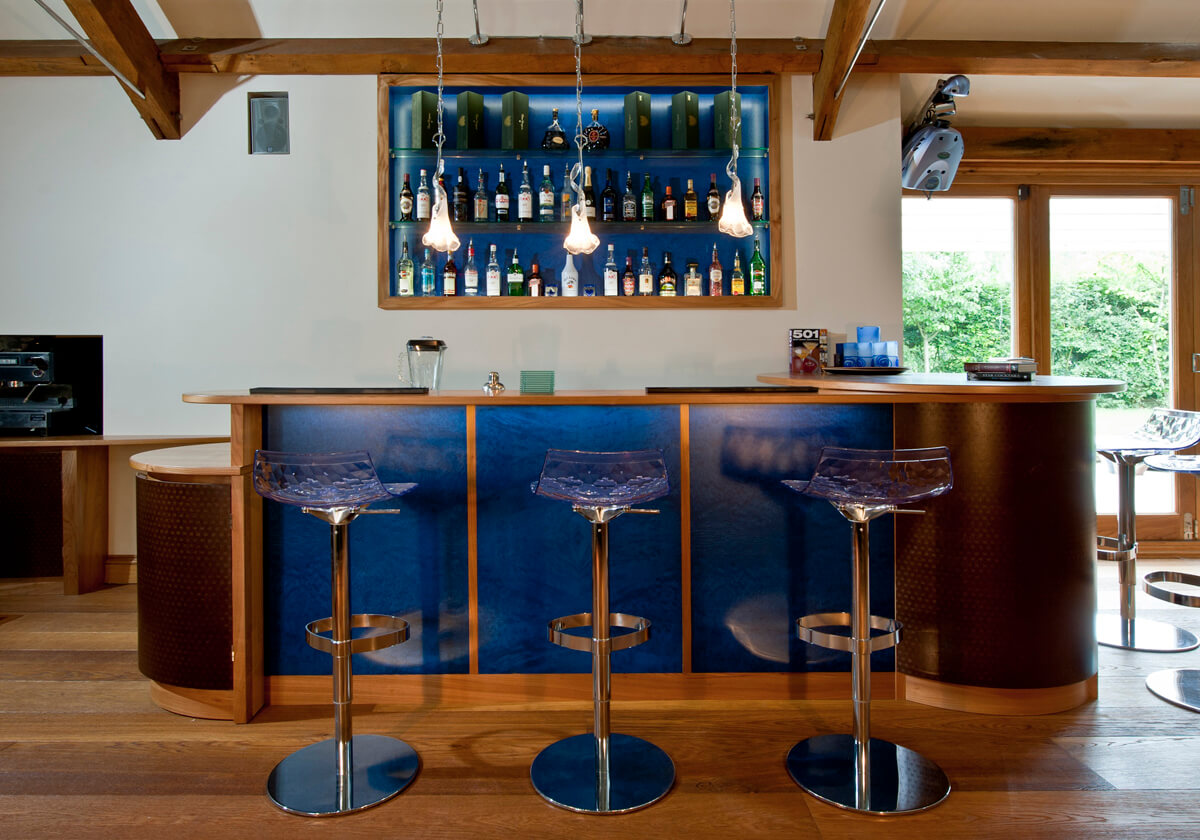 But for serious drinking evenings and sheer exhuberance one project really stands out from over the years. That's partly down to it's scale, but also down to the way it looks and the material palette. This was the barn conversion in North Dorset, half of which was going to be serious office / study, the other half a cocktail bar and entertainment / cinema space. We had a great time designing and making this out of elm, a man-made dark brown check veneer and a blue madrona burr veneer. It feels more like a lush luxury hotel bar somewhere exotic than the Dorset countryside. It had a fully equipped professional stainless steel catering bar behind our warm toned timber work which includes everything you need to serve a complex cocktail to a simple cold beer. For late at night (or early in the morning) there was a proper Gaggia expresso coffee making machine in its own recessed alcove and cabinet.
I love the lighting on this project. That blue burr veneer just came alive with the other elements and has a surprising warmth for something so firmly in the blue scale. I think my favourite part is the drinks display shelves on the wall behind.
The family use the space lots and have 4 grown up children, so i'm sure it's been the scene of many memorable parties over the years! It's always graitifying to know a space you have been involved in designing gets so well used. Again there is a full case study for this project elsewhere on the blog…
The Warnings Bit! Of course I shouldn't be flippent about drinking here, alcohol is a source of great pleasure to many but it is also a drug – remember to drink responsibly. Equal care should be taken with the furniture – choose your drinking furniture responsibly, that of course means coming to us!