Followers of the blog will remember a feature we did last year on an English walnut drinks cabinet whose dark rich colours seemed to enhance and reflect a fine collection of malt whiskies, which just happened to be mine.
Over the past couple of years though it has become very evident that there is a complete renaissance happening in bespoke gin making in Britain, with new brands emerging seemingly everyday producing beautiful tasting and beautiful looking products. So this got me thinking – was it time for a gin collectors cabinet?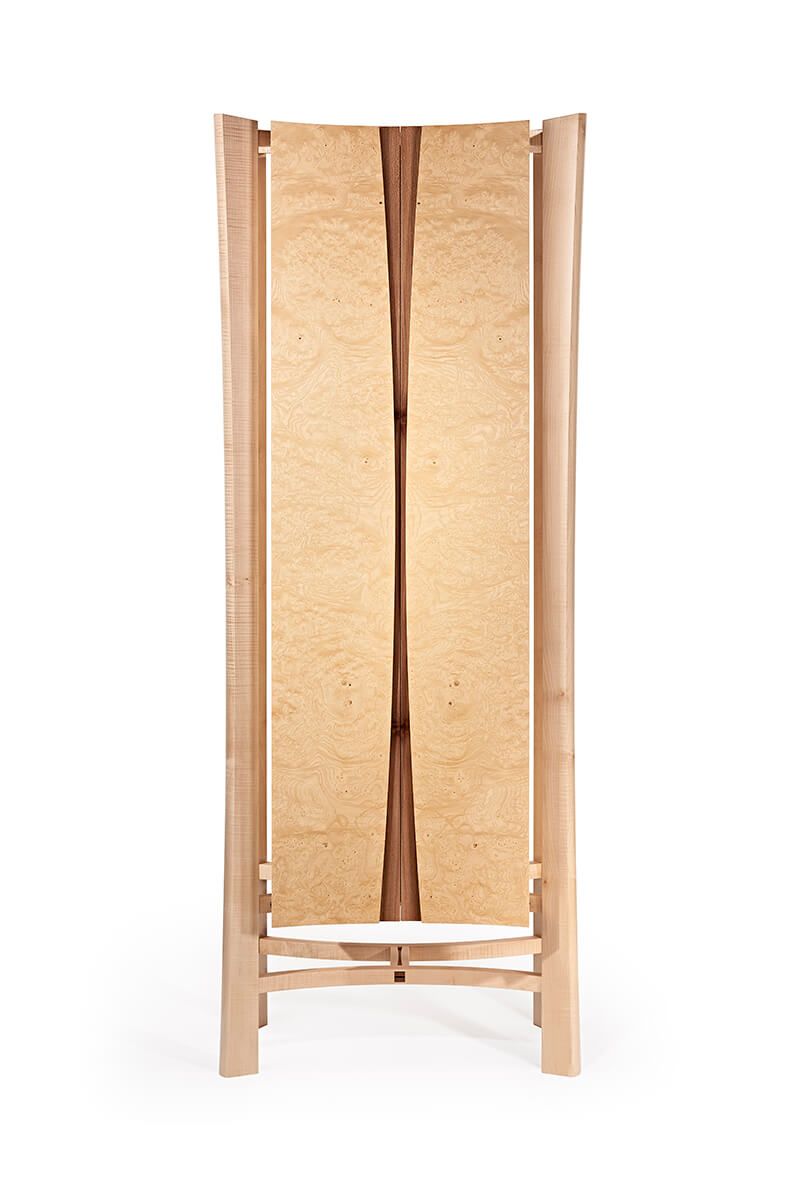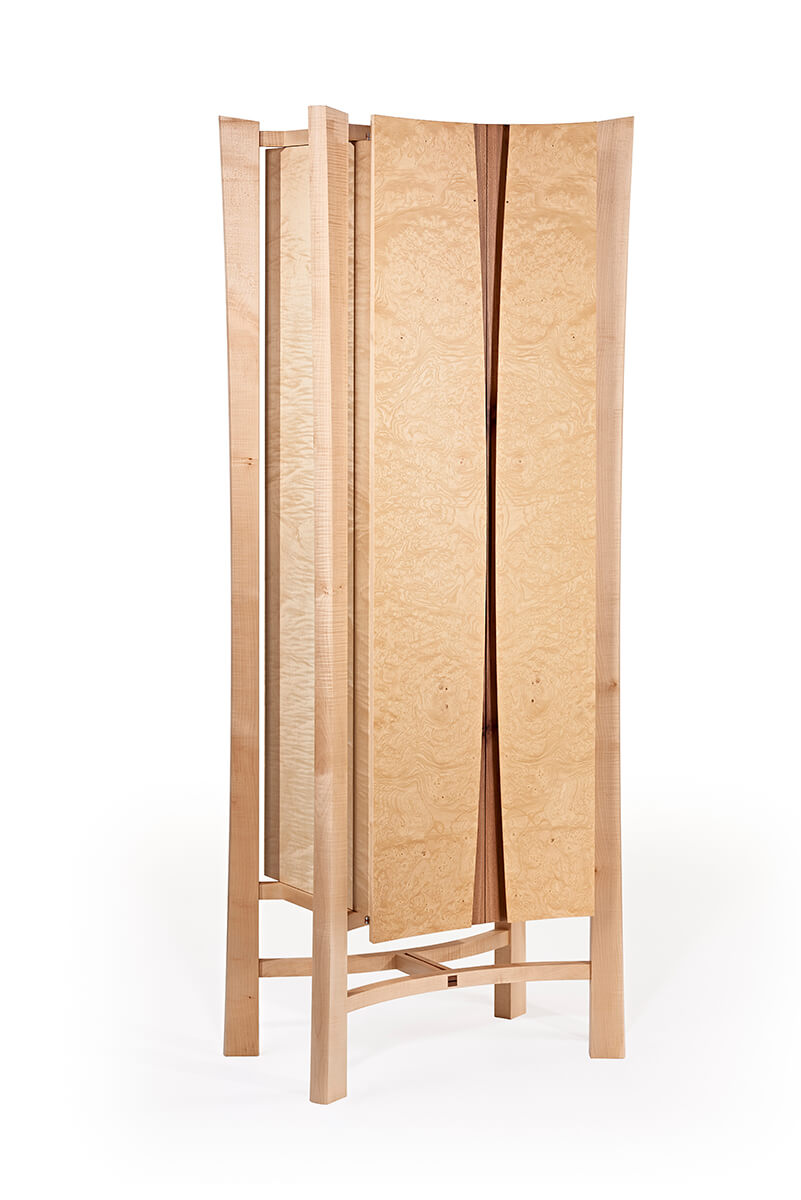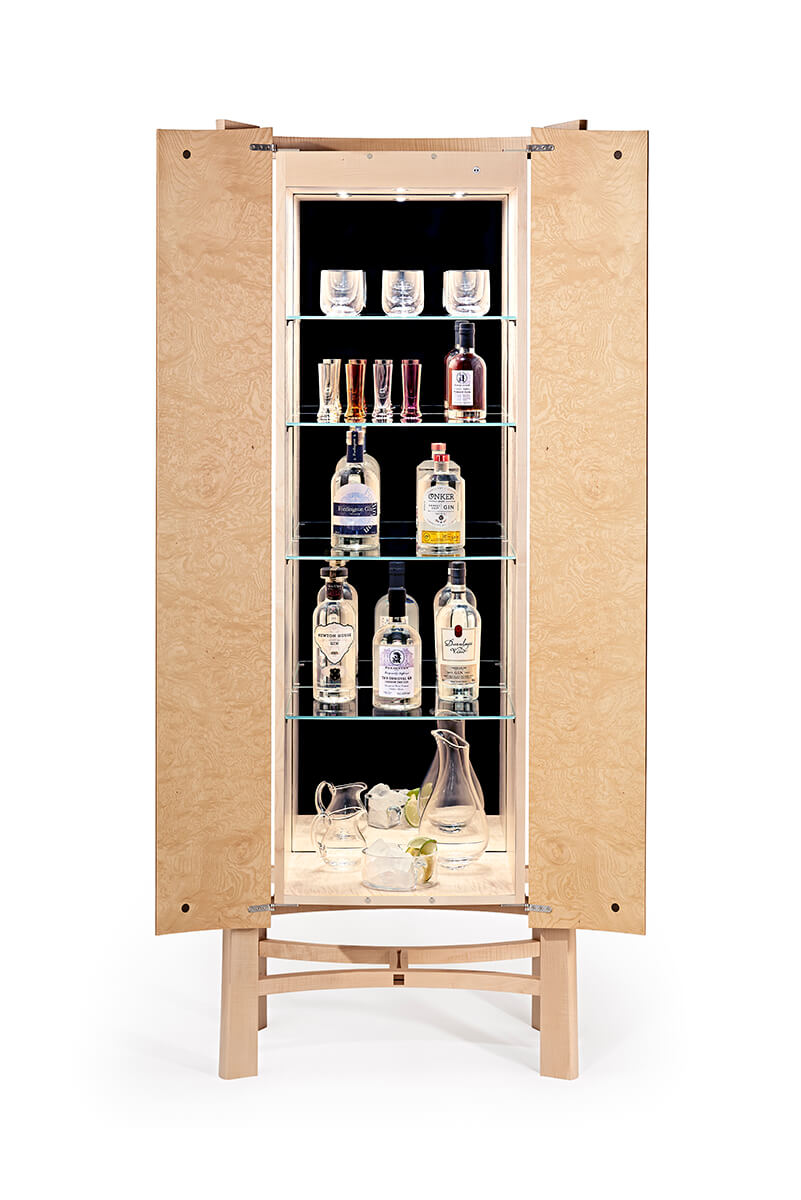 We had in the meantime been commissioned to make another darker, walnut drinks cabinet which had slightly different proportions – taller and thinner. Then came yet another commission for a lighter timber version for a Scottish client, so it seemed to make sense to combine these elements and make an extra showroom cabinet – the alter-ego piece to the dark walnut whisky collector's cabinet in the showroom.
The frame is made in native figured (or ripple) sycamore, as are the sides and interior of the cabinet section which floats suspended in the frame. For the doors we were looking for something a bit different, it needed to be subtle but eye catching. In the end we landed on using a burr ash, similar in colour to sycamore but with a very distinct grain and texture that seemed to suit the piece. The recessed handle detail on the curved front doors is in elm, as are various details throughout the cabinet like the cross rail detail on the bottom curved frame. We designed the bespoke hinges with I.P Engineering. They are a work of art in their own right, made from stainless steel and phosphor bronze.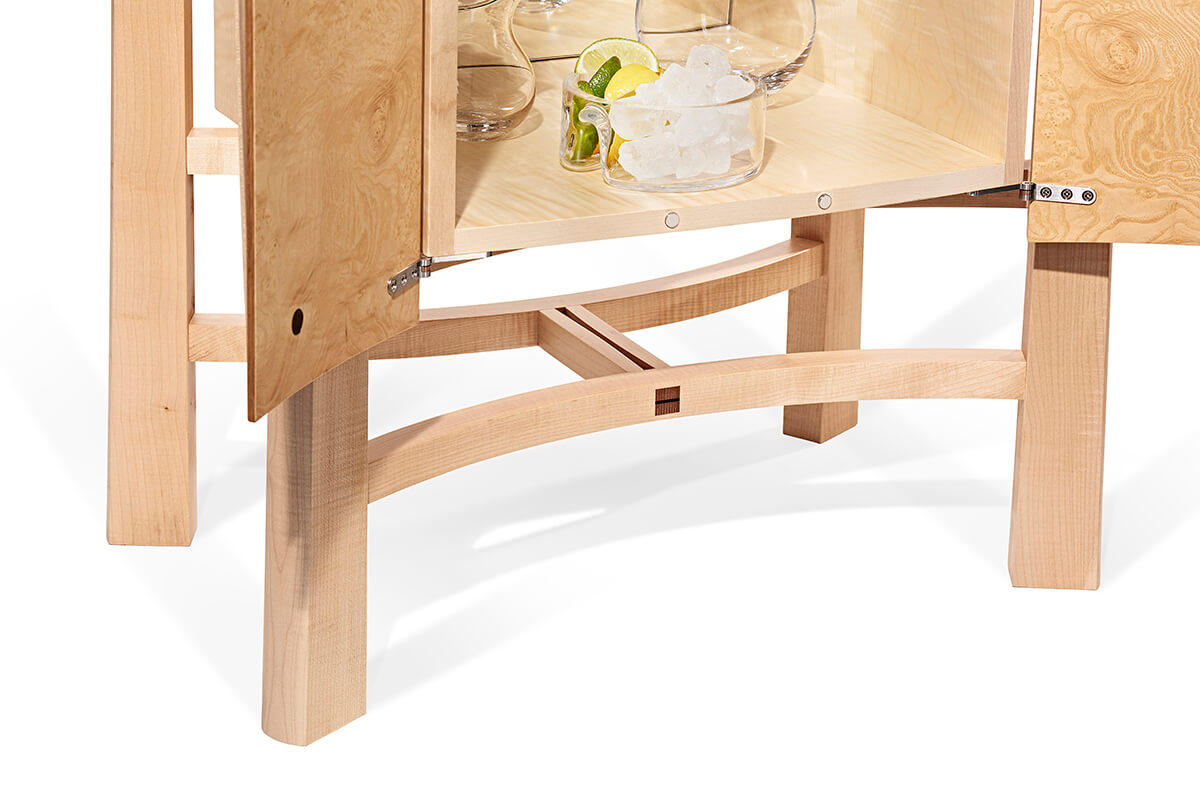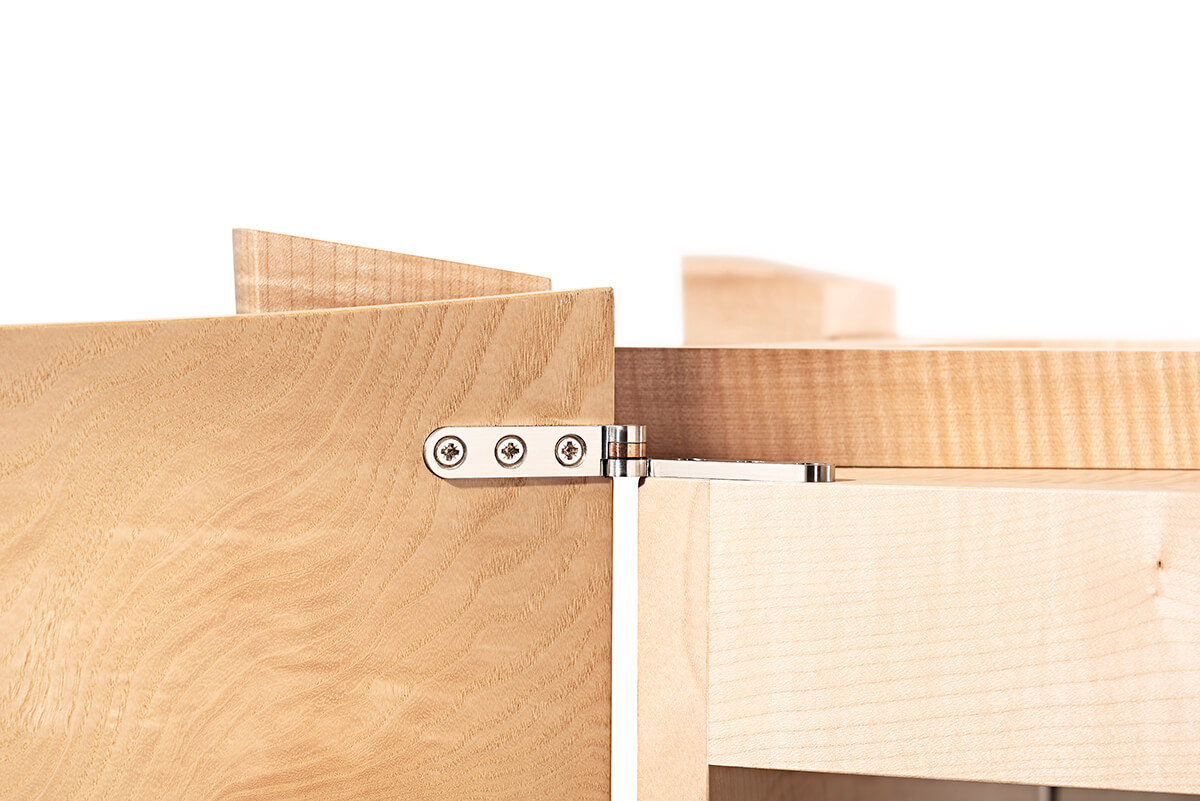 As on the other drinks cabinets the interior is lit with LED spotlights which come on via a sensor when the door is opened. The shelves are fully adjustable and made of toughened glass for maximum flexibility in terms of format. The back of the cabinet interior has mirror glass on it, creating more light, depth and reflection.
We had a lot of fun during the shoot with Double Exposure Photographic trying to get these shots right, playing around with interior and positions of the various gin bottles. We managed to resist drinking any of it, although not all of them made it back to the shelves of Morrish & Banham Wine Merchants in Brewery Square Dorchester! I'd like to thank Mark Banham for his expertise on the selection, but also for trusting us with so much of the clear stuff, with just my word he'd ever see me again.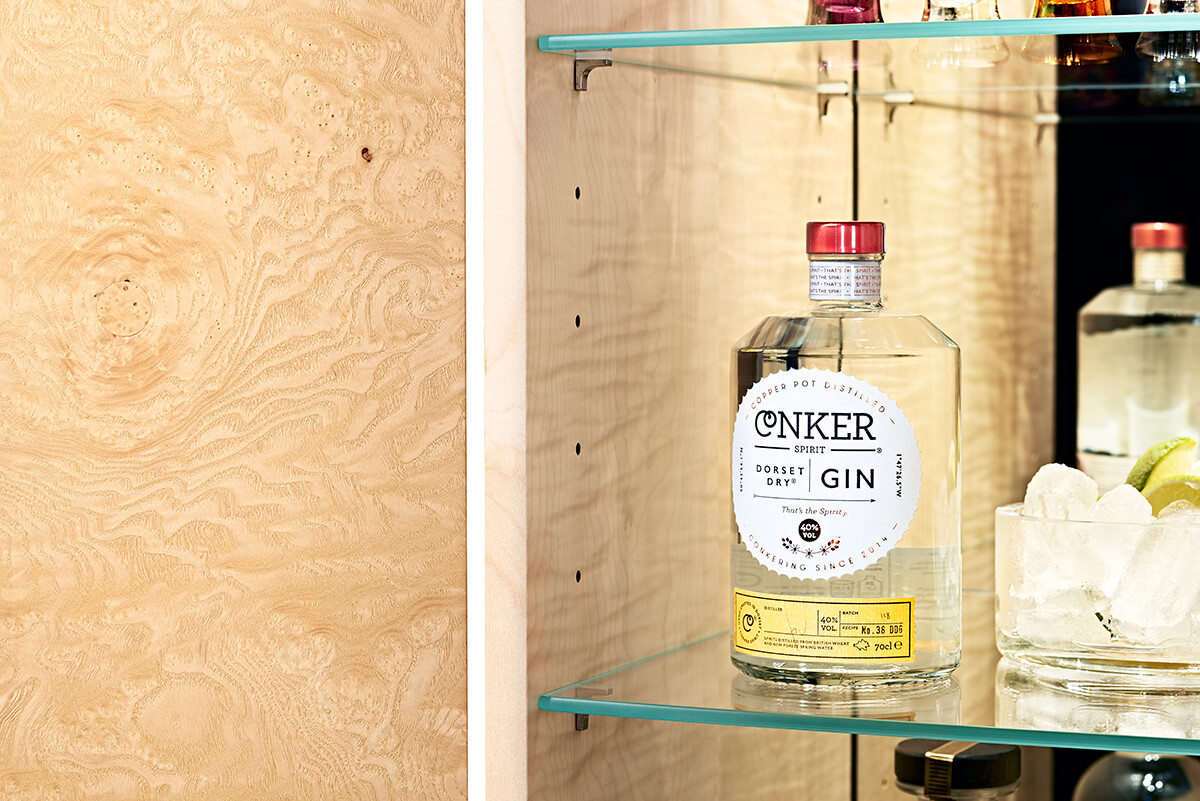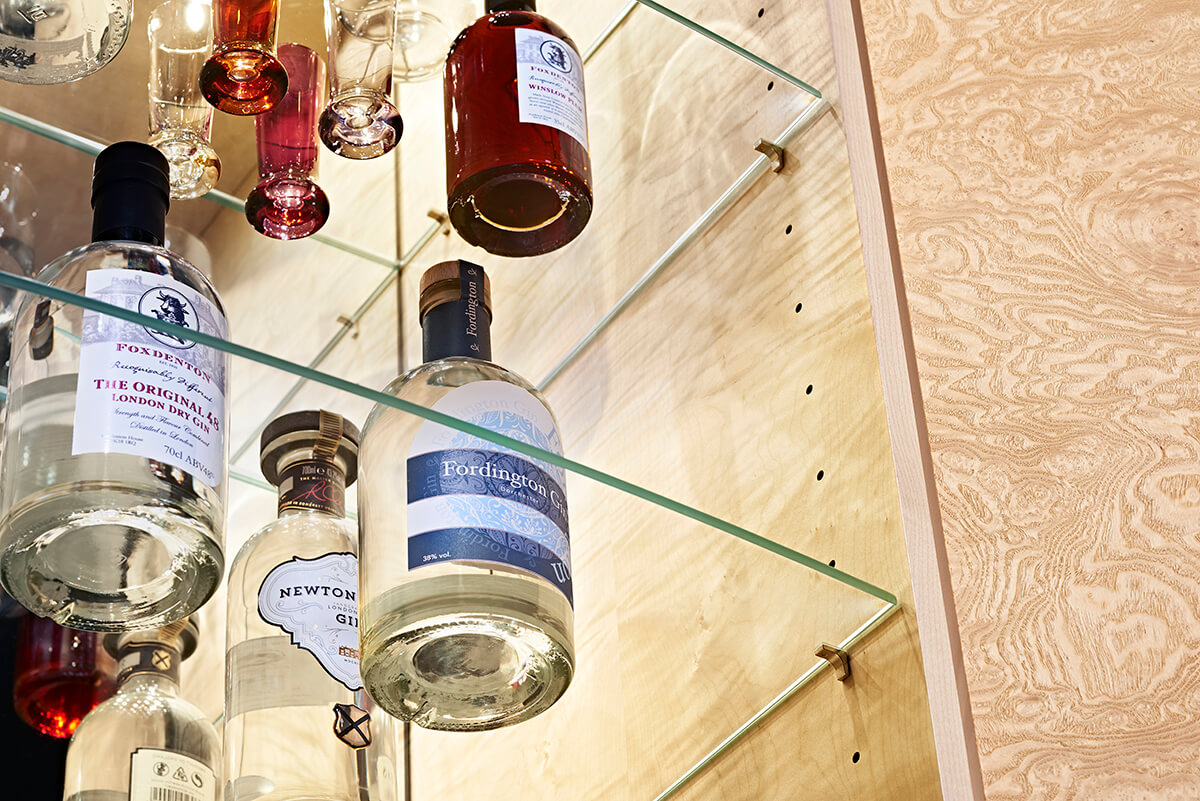 A lovely element of this was that two of the Gins are Dorset distilleries. Conker Spirit Gin are based in Bournemouth and Fordington Gin from just down the road in Dorchester. This very English micro industry is really taking off much in the way that craft brewing has done. In a way it has lots of resonance with other bespoke craft industries like our own. Perhaps that's why we like it so much.
So here's to English summer evenings with a gin in hand. Chin Chin!
Materials: Native figured sycamore walnut with burr ash doors
Dimensions: 70cm x 46cm, 180cm high
For sale: £6250
Current Location: The Courtyard Workshop Showroom, by appointment. 30 June to 2 July at Making Dorset exhibition – For further information click here…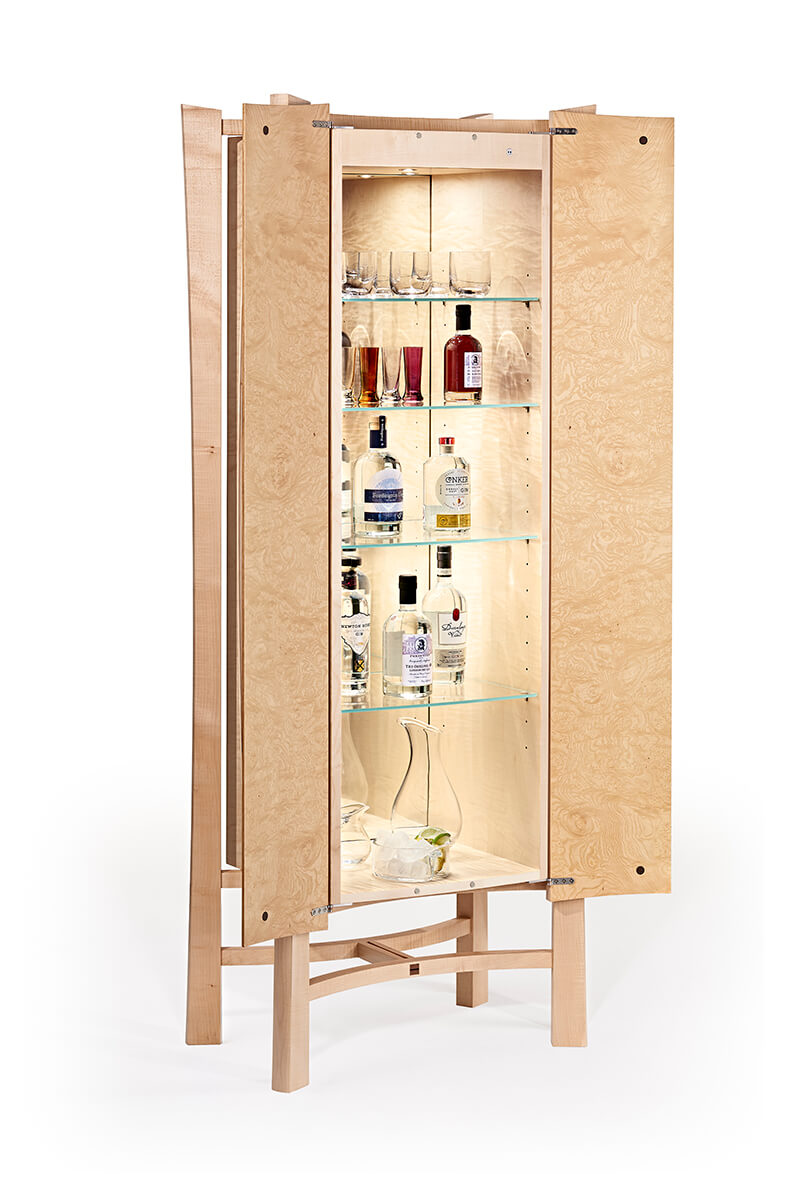 Tags: Ash and sycamore drinks cabinet, Ash Drinks Cabinet, Bespoke Drinks Cabinet, Bespoke furniture Dorset, Bespoke Gin, Conker Gin, Contemporary Drink Cabinet, Double Exposure Photographic, Drinks Cabinet Dorset, English walnut drinks cabinet, Fordington Gin, Gin Collectors Cabinet, Gin Drinks Cabinets, Making Dorset, Mark Banham, Moorish and Banham Wine Merchants, Simon Pirie, Simon Thomas Pirie, sycamore drinks cabinet
Posted in Furniture for Sale, News |