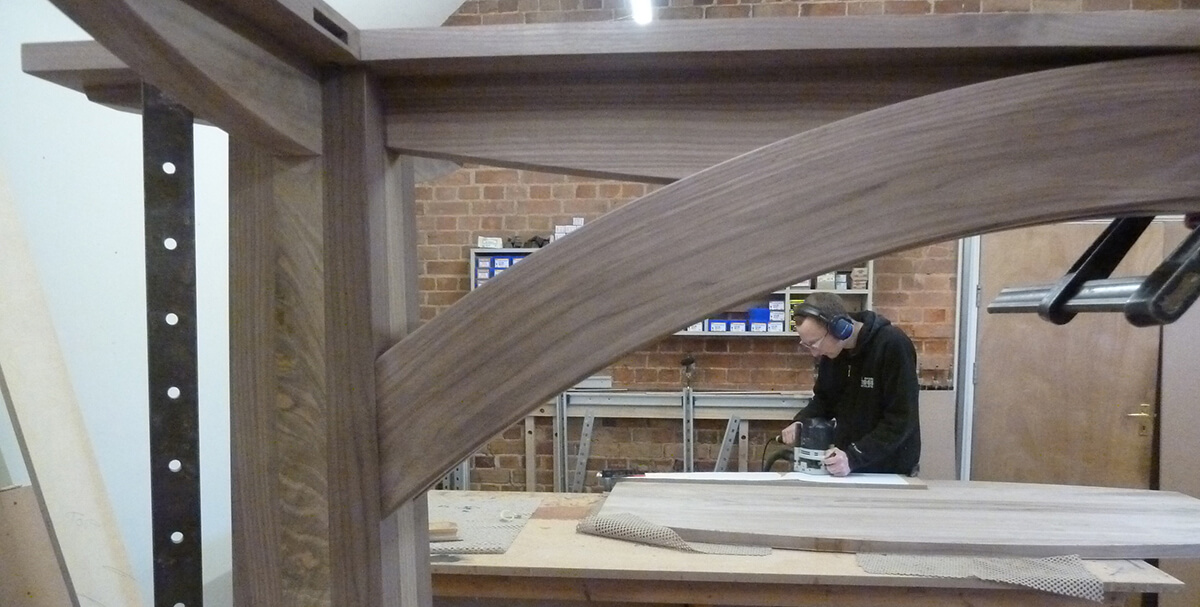 Goodness me, I have been a bit lax with the blog over the past 6 months, but there is lots of exciting stuff to come. One of the main reasons there has been so little written is because we have been unbelievably busy designing, costing and quoting and quoting some more.
Projects large and small have been coming in as fast as we can turn them around and we are seeing the results of that hard work taking shape now, with work going into museums, private homes, public spaces and major events like the RHS Chelsea Flower show.
2015 started as 2014 finished, with a run of dining tables and chairs. It's funny, dining furniture seems to come in fits and starts, nothing for a couple of years and then, well the buses thing comes to mind… Perhaps my favourite set this year has been the English walnut lozenge table with a set of matching Gabriel chairs. It was made from a walnut log we sourced from a local estate and cut by our friend Will Miller on his Woodmizer sawmill. Although it didn't look especially promising at first it did produce enough lovely timber for the table top and chair backs, with the rest of the set (table and chair frames) being made of subtley contrasting American black walnut. It was also the first time we had made a Gabriel armchair which we were very pleased with.
Left: Lozenge dining table and chairs made with locally sourced walnut tree. Our first Gabriel armchair at the head of the table. Right: Contemporary twist on a farmhouse table made in 'Grown in Britain' olive ash & elm.
The other table that stood out for us was as close to 'rustic farmhouse' as we get. Of course it had our contemporary take on rustic farmhouse but this stunning olive ash and elm table really looked a bit special. The top was made out of a pair of very beautiful wide boards of 'Grown in Britain' ash. Good news is I actually bought 4 so will be able to use the others on my own kitchen table next year!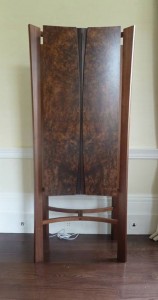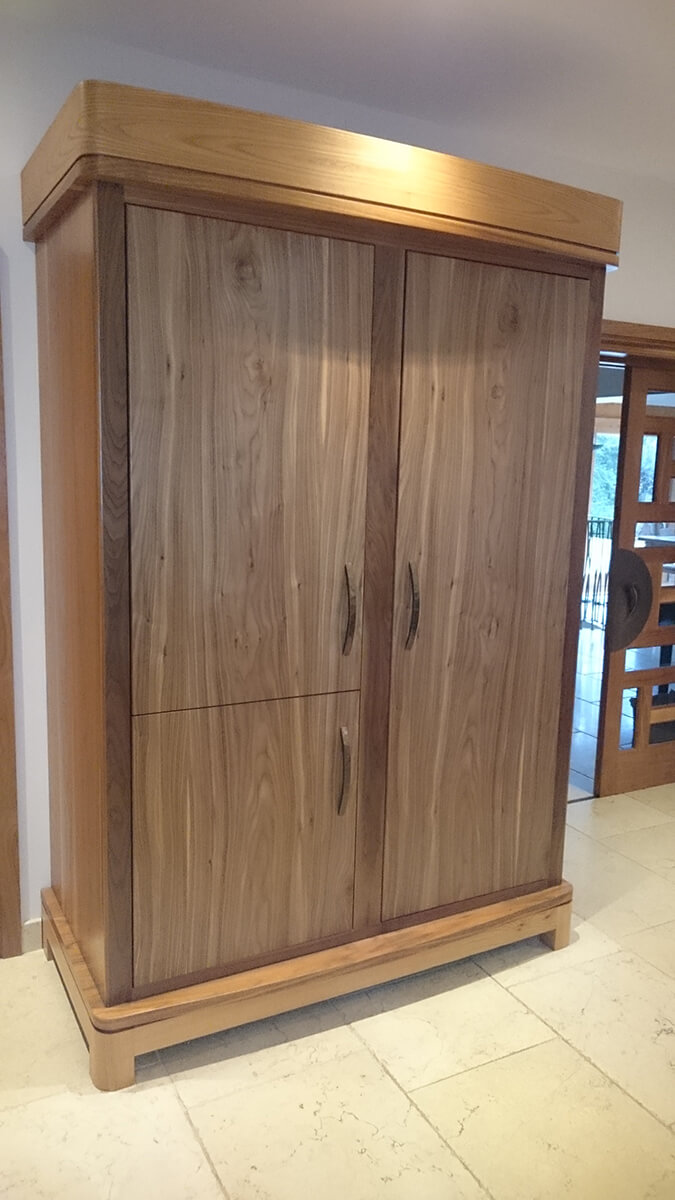 We have spent time over the last few years developing relationships with top end architects and interior designers which has led to great enquiries and projects. My favourite of 2015 was a stunning burr walnut drinks cabinet for Anna Bilton Interiors. This was based on an earlier design we made in ash and burr sycamore. We had always thought this piece would look great in a darker timber and Anna gave us the opportunity to explore that. In fact we ended up making two similar pieces, one for the client in black and burr walnut and one as a speculative show piece in English and burr walnut. You can see more stunning images of this drinks cabinet taken by Double Exposure Photographic by clicking here and find out why it's the piece I'd still make for myself.
Another theme for 2015 has been going back into kitchen interiors that are now a decade old and doing refurbishment work, in both cases this year because new owners were extending or changing the layout of the room. I always say to clients that we design and make kitchens to last decades, but the truth is the technology and appliances often start to look dated before the cabinetry does. Our very first kitchen was designed and installed on the edge of the New Forest back in 2003 and it was this one that unsurprisingly came up first. Although we discussed far reaching changes with the new owners in the end our changes were relatively minor, moving and re-configuring cabinets which is a testament to how good the original kitchen was.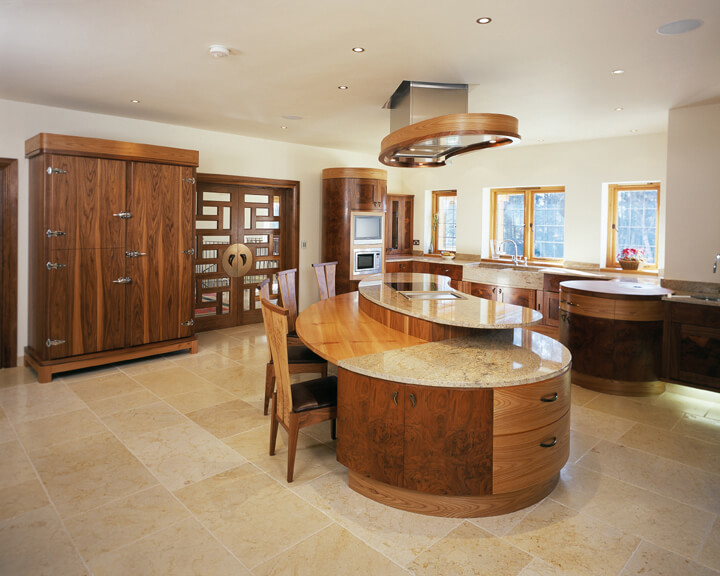 The original fridge cabinet (left) with chunky retro handles and hinges has been refined and had new appliances fitted as part of a major refurb a decade on.
I don't suppose it should have come as a great surprise that a few months later our 2nd kitchen was next for the refurb treatment. The major element of this one that needed attention was the large freestanding fridge / freezer cabinet. This needed new appliances and some cosmetic changes because the doors needed to be hinged differently. We also replaced some runners and hinges and generally spruced everything up. Again the design and cabinetry have stood the test of a decade well. This was a landmark project for us back in 2005 and has remained an important portfolio kitchen to this day. The new owners of this Surrey house also asked us to design a new oak and maple larder, so in the end the project was a good combination of old and new work.
The 2014 workshop blog round-up was dominated by two jobs, the first being the 75 oak desks and tables for the Makers' Eye / St Hugh's College, Oxford project. While 2015 has been relatively quiet on the newly named 'Poon' desk, we have made a number of these for Makers' Eye's private clients, including a couple of walnut versions which looked stunning. In late 2014 the St Hugh's project won the 'Wood Awards' Bespoke Furniture category, in early 2015 the Makers' Eye / STP collaboration also won a prestigious Design Guild Mark, this time specifically for the Poon desk. Tony Portus and I were photographed with walnut and oak versions of the Poon desk for publicity. The Desk and other items from the St Hugh's project are available exclusively through Makers' Eye website.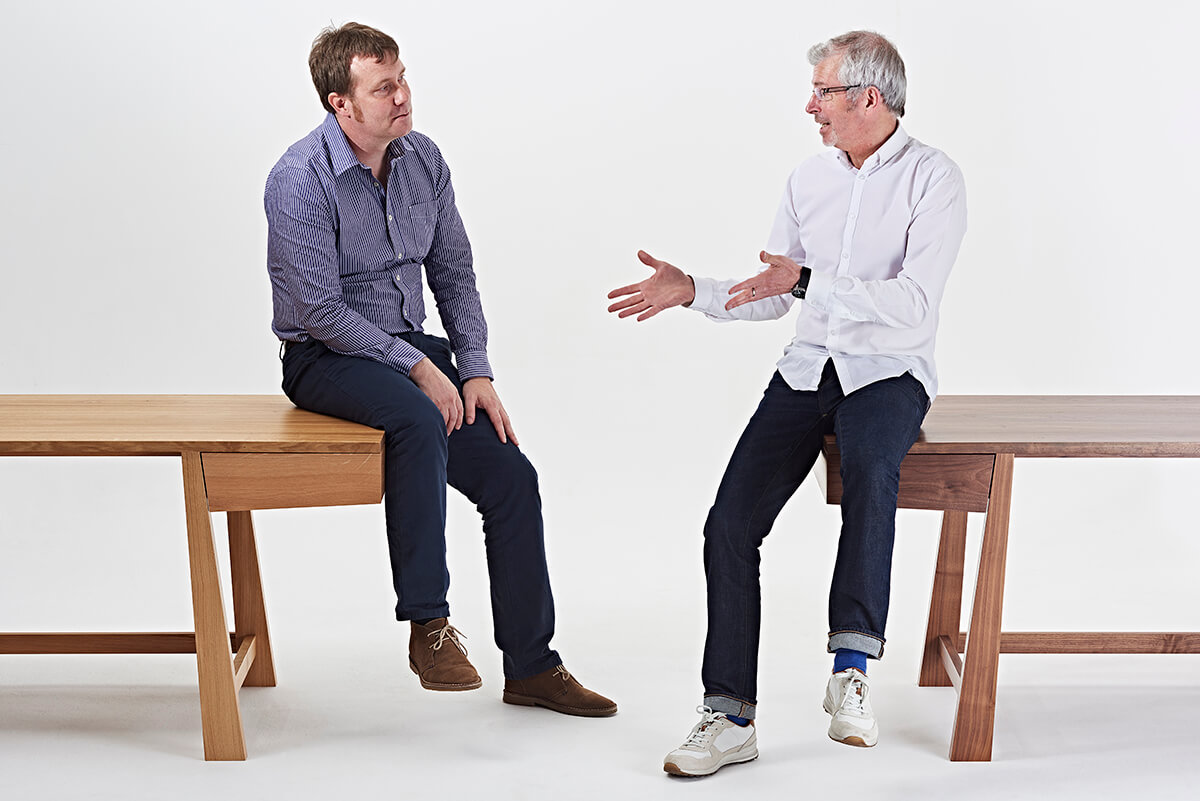 Tony Portus of Makers' Eye and I with walnut and oak versions of the double award winning St Hugh's College 'Poon' Desk.
The other job that dominated 2014 was our latest contemporary elm and walnut kitchen in Poole which has become known as the 'Fire & Water' kitchen. The project has only just been finished and we have finally got in to photograph and video the finished space. The new film has already been described by Grahame Morrison, well-known kitchen industry insider, journalist and blogger as 'probably the best kitchen and certainly the best kitchen video of 2016′ and that was before 2016 even started!'
There are plenty more images and of course a full in depth description of 'Fire & Water' in our new case study.
Needless to say we think it's the best kitchen we've ever designed, it's certainly very striking with its two islands and walk in drum larder; the clients love it, both from a visual standpoint and as practical kitchen space. Although we spent plenty of 2015 putting finishing touches to this project we didn't actually make any new kitchens throughout 2015, but we did design and quote on lots and i'm pleased to say we have confirmed 2 very exciting kitchen projects in 2016 and are still designing 4 others.
In a way it's been a year of finishing off long-term projects. Our public art project in partnership with Adam Zombory-Moldovan of ZMMA Architects at the Rickyard is on a new Persimmon Homes development to the east of Shaftesbury. Originally born out of a 2011 public art project for the centre of Shaftesbury which fell away, we were able to use the research and development from there to create this installation. So over 4 years from concept to completion, with the curved log benches and uprights having been stored in my yard for the last 2 years! Anything to do with public sites, planning and development takes an age, but we've got used to a variety of projects moving through the workshop schedule at very different speeds. However, 4 years+ is probably the record so far! You can read more about The Rickyard and the other Shaftesbury public art projects by clicking here.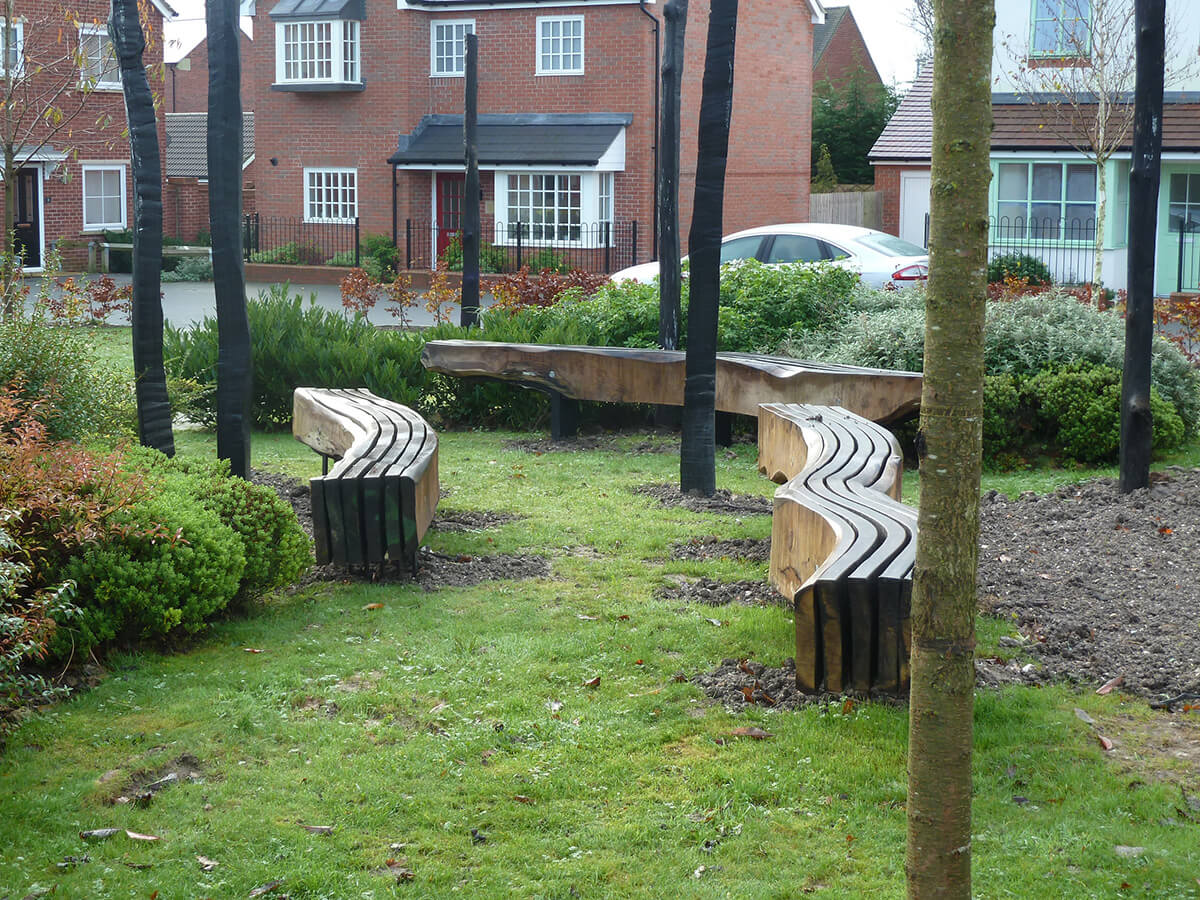 After 4 years in the development and design process the ZMMA / STP 'Rickyard' project has finally been installed on site. Just some pathway work and landscaping to complete now.

We love working with Adam and the team at ZMMA, it's a really dynamic and creative relationship which has also manifested itself in two museum projects during 2015. The first is for the V&A Museum, London. ZMMA were appointed to redesign the 'Europe 1600-1815' galleries. It's been a huge project for them and although we have only been responsible for a small number of stools for the learning and resource area it's still been lovely to have made work for one of Britain's great cultural institutions. As always ZMMA's concepts are really striking (and challenging to make) even on a seemingly simple stool, but the outcome is delightful and getting lots of very positive attention.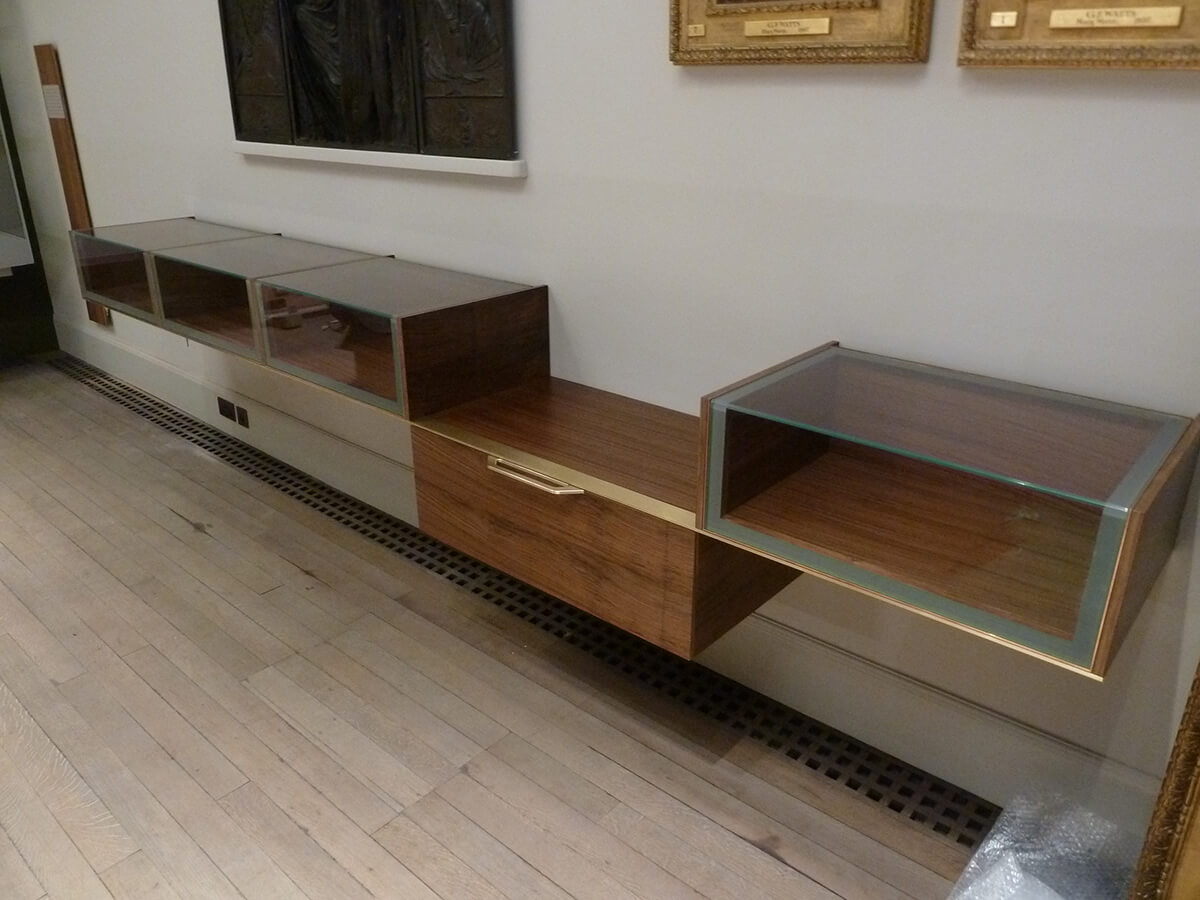 Top Left: The V&A stool is a striking concept by the ZMMA team. Top Right: Fitting the 4.2m display sideboard at the Watts Studio, Surrey. Above: The glass top Watts Display Vitrine, one of the most complicated pieces we have made.
The other larger museum project collaboration is for the Watts Gallery in Surrey. ZMMA have been working at the Watts for many years now but this latest stage – refurbishing Limnerslease, the house where Mary and G F Watts lived and worked for many years. We won the tender to create a couple of large archive display pieces in English walnut. The first is a 3 metre floating display vitrine with 4 glass sections and one lower display drawer. The other is a huge 4.2 metre long sideboard with further glass topped display drawers for artefacts from the collection. Both these pieces of furniture are extremely intricate, with delicate brass frames around specialist German made non-reflective museum specification glass. They are probably the most challenging pieces we have ever made. They look stunning though and as ever, the work we do with ZMMA pushes us into new realms and that is enjoyable from both a design and making perspective. Again there will be more on this project in due course.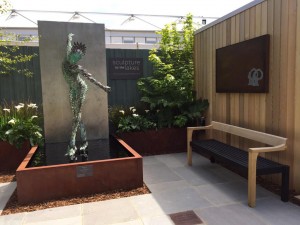 News of another exciting partnership is taking shape on the garden furniture front. We have been busy making a new exciting prototype garden swing seat for Sitting Spiritually, due to be launched at RHS Chelsea 2016. There will be lots more on this very soon, we can't wait to show you the new Sitting Spiritually 'Simon Thomas Pirie Contemporary Range'. We have also made a few of our 'Floating Benches' this year and put them into some stunning garden locations. In fact 'Floating' already made an appearance at RHS Chelsea this year on Simon Gudgeon's award winning 'Sculpture by the Lakes' stand.
Last word has to be about people and investment in our future. We are pleased to say that we have taken on a new apprentice called Tom Cornick who is progressing really well with us and on his Didac NVQ training course. He has fitted into the STP team like he belongs here, so expect to see him popping up in shots here on the blog in the future. 2016 is looking like a very exciting year, i'll try to do better at letting you know about it!
Tom under the watchful eye of his Didac trainer Alex in our workshop.Tom getting watched over carefully on the circular saw by his Didac tutor Alex.