As with many businesses over the past 10 years, we have found ourselves exploring new ways of exploiting our skills and talents. A recent focus for us has been in developing relationships with interior designers and architects. Particularly successful has been our collaboration with Jigsaw Interior Architects.
Based in Poole, Jigsaw work with clients, architects and developers designing interiors from the very start of the creative process to ensure that as much care and attention goes into what a room, apartment or whole building will look and feel like inside as on the external appearance and impact.
A recent project we have worked on together was for AMD Developments at a contemporary glass 'upside down' house overlooking the river near Christchurch in Dorset. Jigsaw invited us to participate in their vision of elevating the property to stand out above similar developments on the market. This involved creating bespoke interiors designed specifically with this house in mind and providing such individuality and quality as to attract a more discerning purchaser.
We were asked to contribute two elements: the timber treads for the staircase and some shelving and storage which could also provide a dividing structure in what was otherwise a large, open-plan living space. Working with Jigsaw's original design concepts, we collaborated on the fine design and manufacturing detail and materials.
The shelves were constructed using a thick birch ply that provides a striking stripe effect on the exposed edges of the shelves. The shelves and vertical edges are veneered with black tulipwood giving a robust visual appearance to the end product. The shelving units on the room divide are left open so that the sense of space is uninterrupted between the living and dining areas whilst clearly defining their individual function.
The wall units in the dining area are partially covered by a large sliding door formed from random end-grain timber panels. This gives the flexibility to hide away extraneous, domestic paraphernalia whilst maintaining sculptural presence and texture. The slanted timber blocks in the panels cast shadows which flow and evolve as the sun moves across the east facing window, giving the space life and warmth.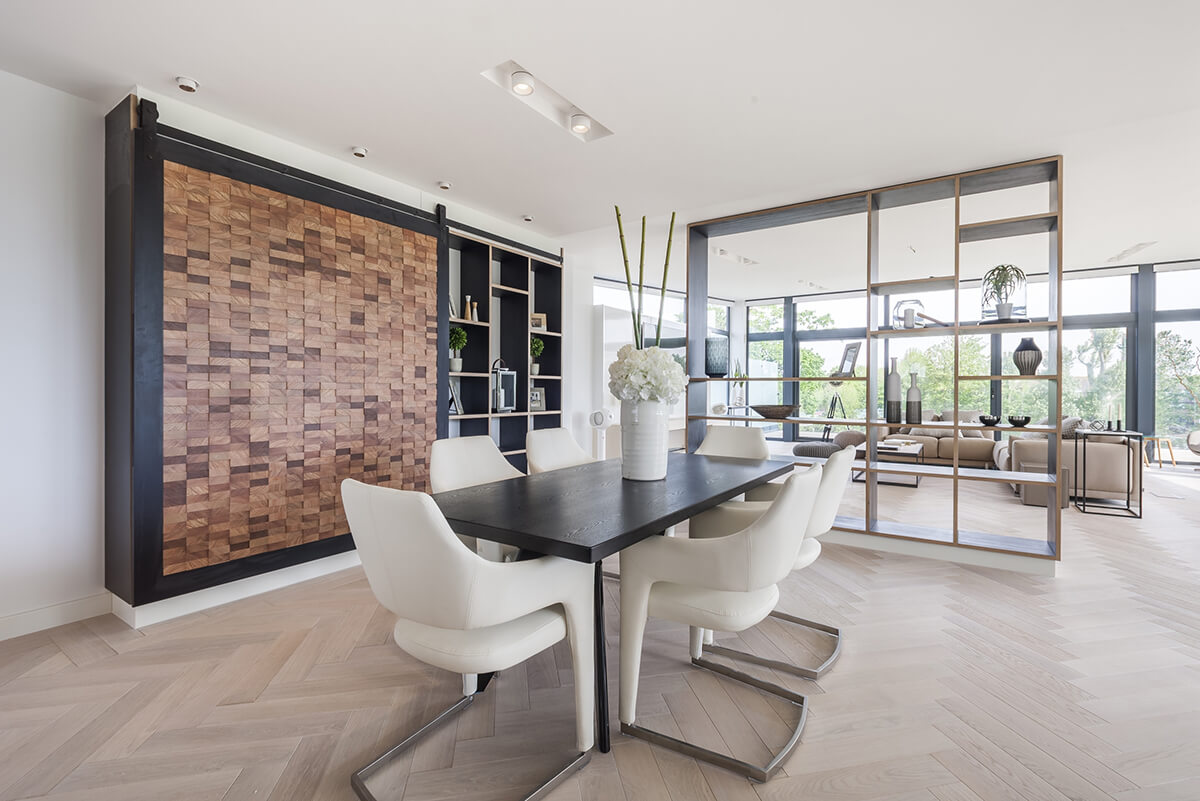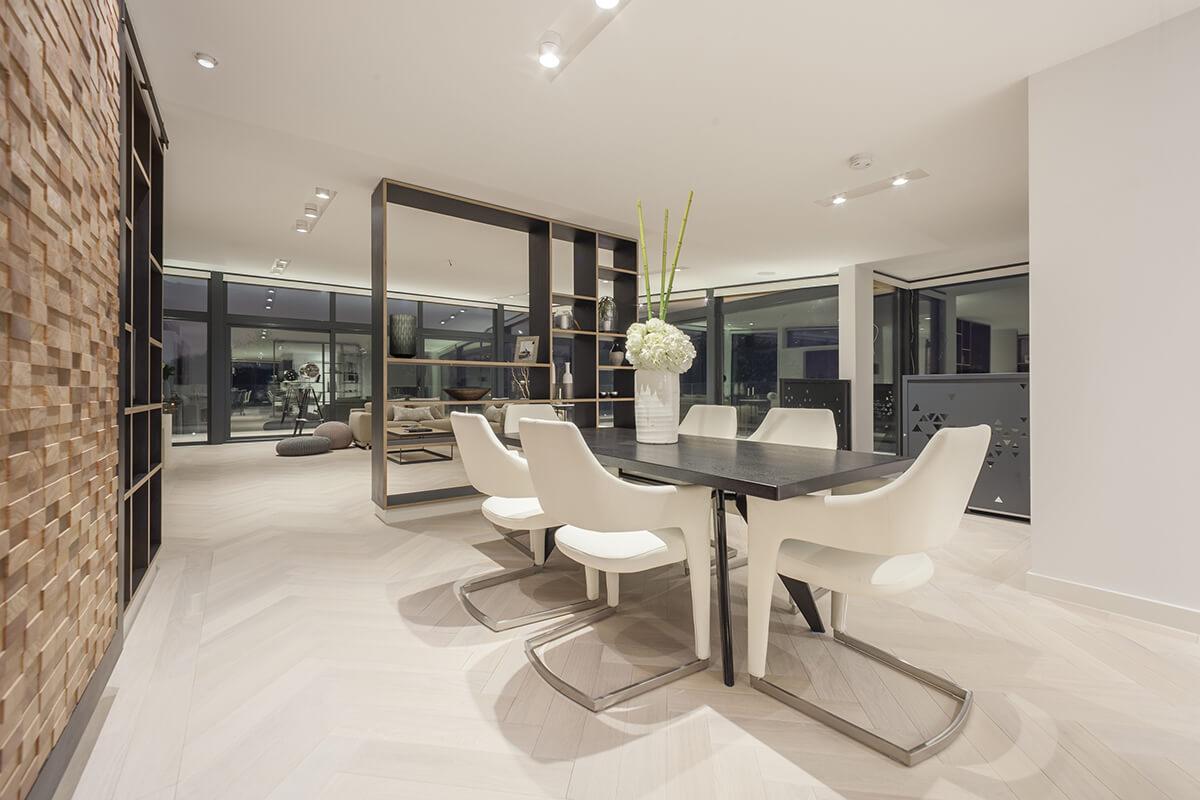 The stairs leading down to the bedrooms from the living area wrap around a feature water-jet which creates a visual and audible link between the inside and the river flowing close by. The steel fabrication for the staircase was provided by Elite Fabrication and Welding of Poole and we worked closely with them on the detailed design and construction ensuring that the solid whitened oak stair treads and half landing fits perfectly to the steel structure and balustrades. We waited until all the other trades had completed their individual pieces of the puzzle before returning to wax oil the treads, leaving them in perfect condition ready for their new owner to enjoy.
With more and more architects and designers taking this approach to creating individual and bespoke homes, we are relishing the prospect of establishing further collaborations with design-based companies. We feel privileged to have worked within such a dedicated a team of skilled designers, craftsmen and trades and our proud of our small, yet significant, piece of this particular Jigsaw puzzle!
To find out more about Jigsaw Interior Design and Architecture click here.
For more about AMD Developments click here.