I really enjoy designing drinks cabinets (from a furniture perspective of course!) There is something about them that just leads to elegant forms.
Over the years we have done dramatic bars for private residences, drinks cabinets as feature elements within kitchens, corner cabinets, free-standing pieces, and whisky display cabinets.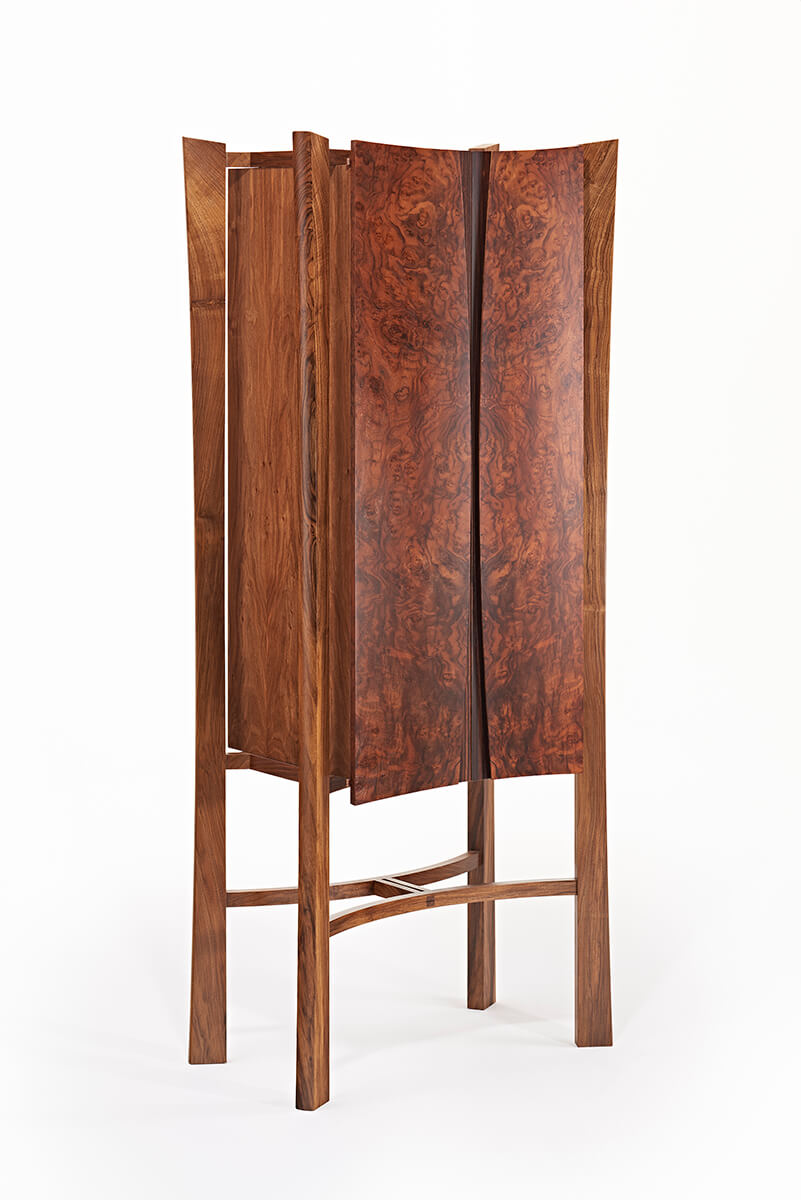 Bespoke Whisky Cabinet in Dark Walnut
Around 5 years ago we did a spectacular free-standing cabinet for an existing client in burr sycamore and ripple ash, it's always been a favourite piece of mine but I always wondered what it might look like in a dark timber – its alter ego piece in a sense.
So in early 2015 when I received an enquiry from the interior designer Anna Bilton for just such a piece I was delighted. We decided to make two, one for Anna's client and another as a speculative piece in a slightly different combination of timbers; the client piece being in black (American) and burr walnut and ours in English and burr walnut.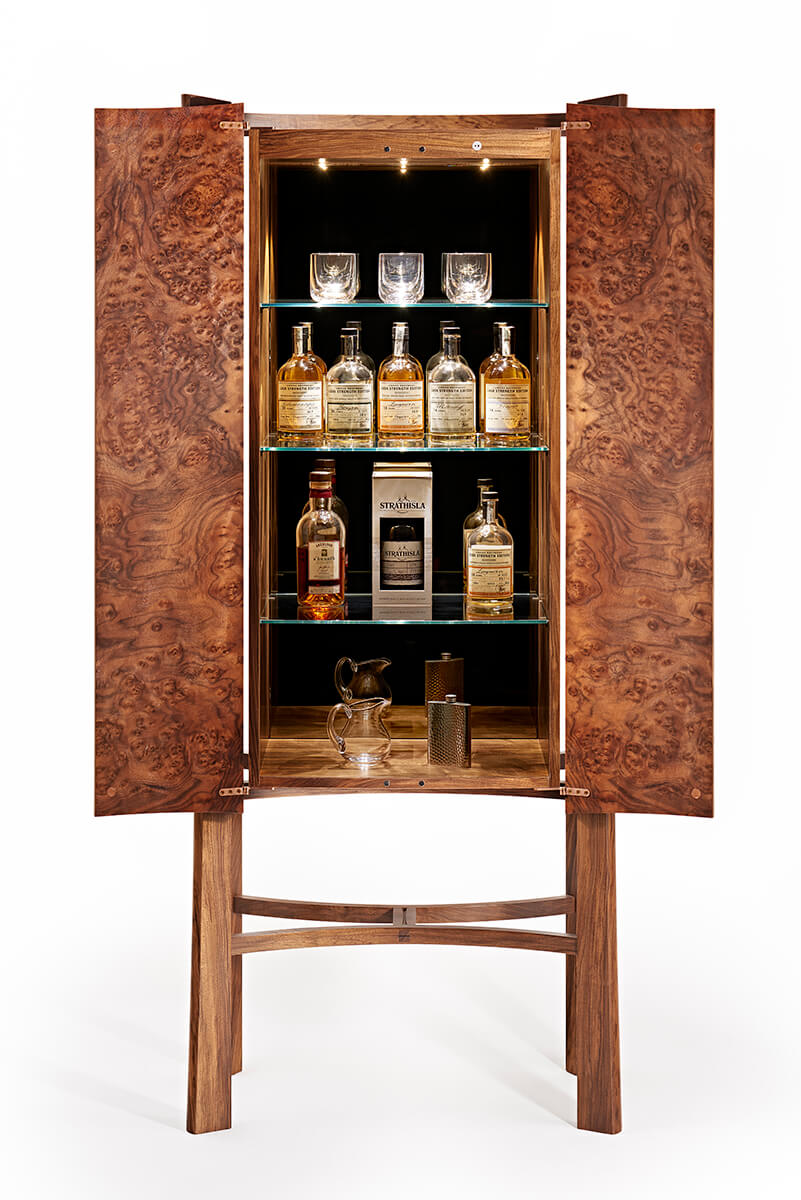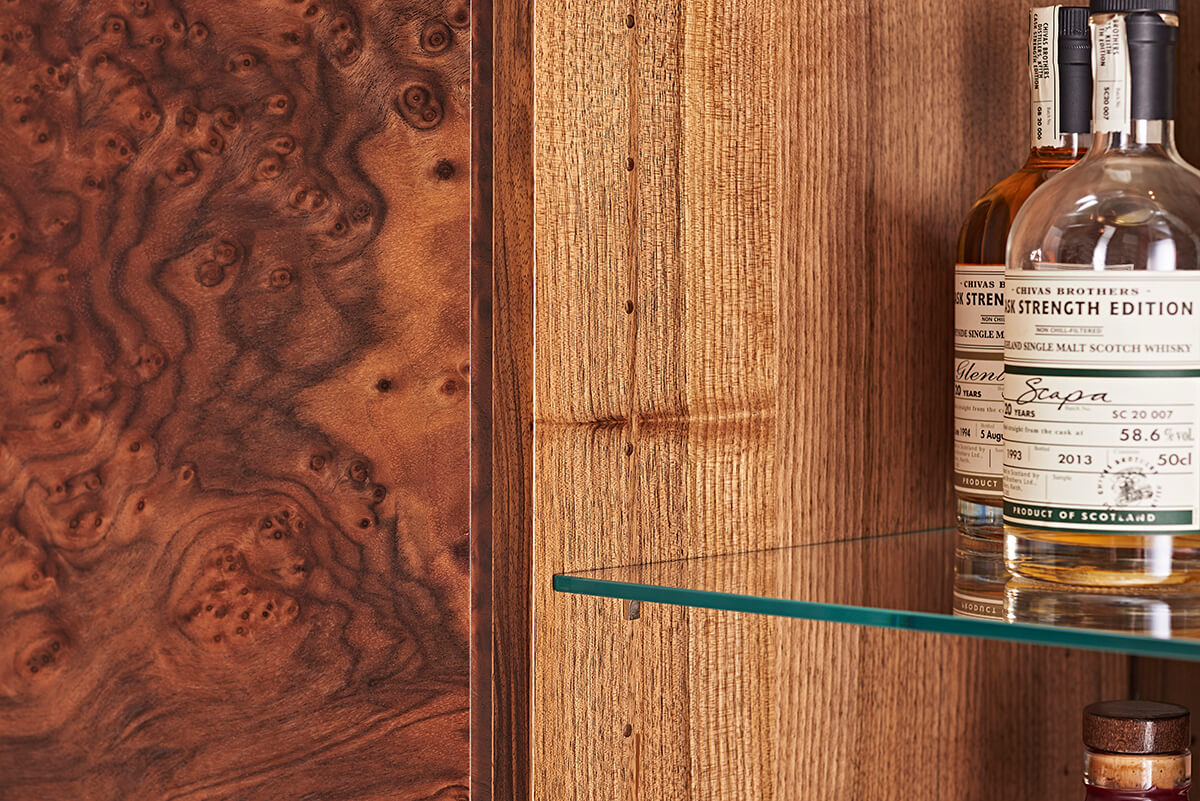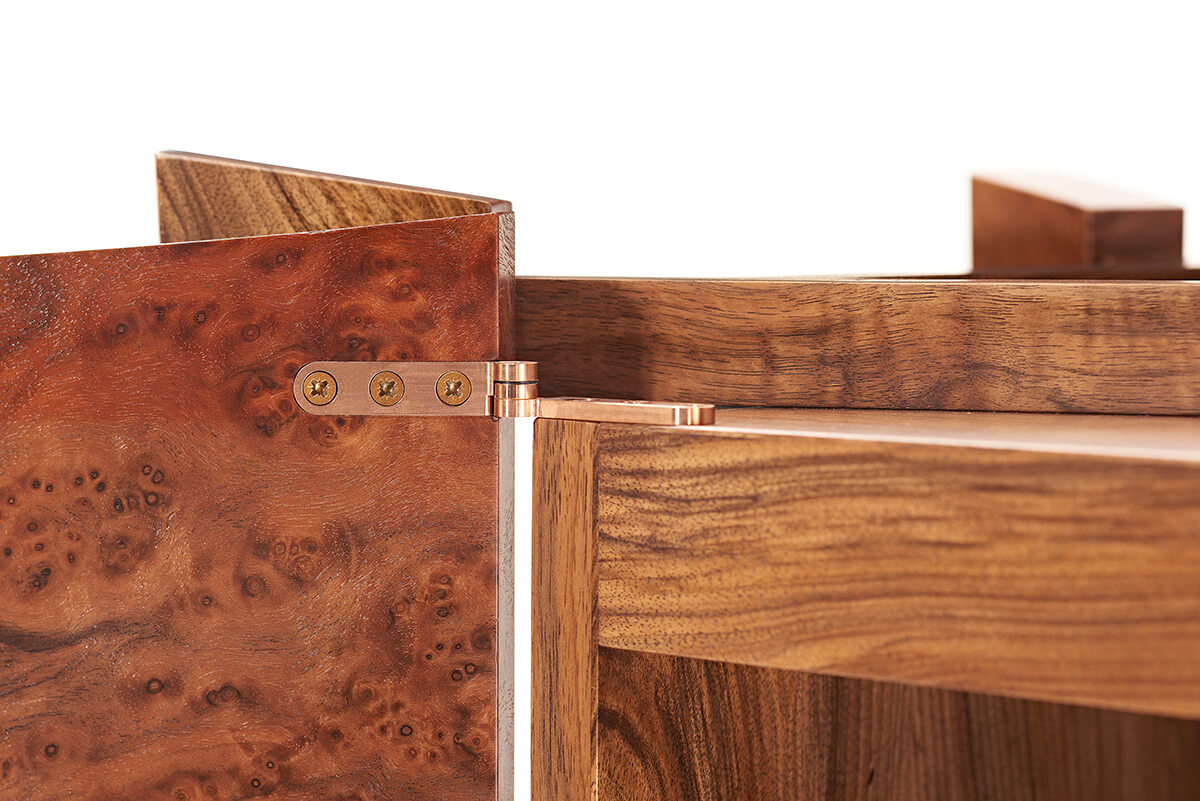 This bespoke whisky cabinet is suspended within an offset framework with gently curved rails and sweeping legs. The doors are slightly curved in profile and covered in that stunning burr walnut, book matched either side of the scalloped handle detail. The doors have a bespoke pivot hinge made by specialist engineers in bronze to our design – nothing off the shelf would do.
Inside, the warm LED spotlights come on as the doors are opened revealing the rich interior hues. Bottles and glasses are displayed on adjustable glass shelves and there is a bronzed mirror in the back to create the illusion of depth but also to reflect that warm light around the cabinet space.
Perhaps it is a favourite piece because it comes closest to the cabinet I'd want to have for my own little weakness – I do enjoy fine single malt whisky.
I used the opportunity to photograph the walnut drinks cabinet with own collection of Cask Strength Edition bottles from Chivas Brothers – highly recommended by the way. As well as being very attractive bottles these very special whiskies also echo the bespoke craft, time and dedication we put into our furniture. One day I'll get to make my own drinks cabinet, and when I do it will look very much like this one.
It's also a bit of a dedication to my father who passed away in early 2015. Captain George Pirie was a gentle Scotsman from the North East, where the best whisky comes from by the way! He taught me to appreciate a good dram, and it's his hip flask – a gift on his retirement from his ship's crew, that gleams on the bottom shelf. Slàinte!
There is an article on this blog dedicated to the furniture we have made for drink, but as I say in that "choose you drinking furniture wisely."
Walnut Drinks Cabinet Photos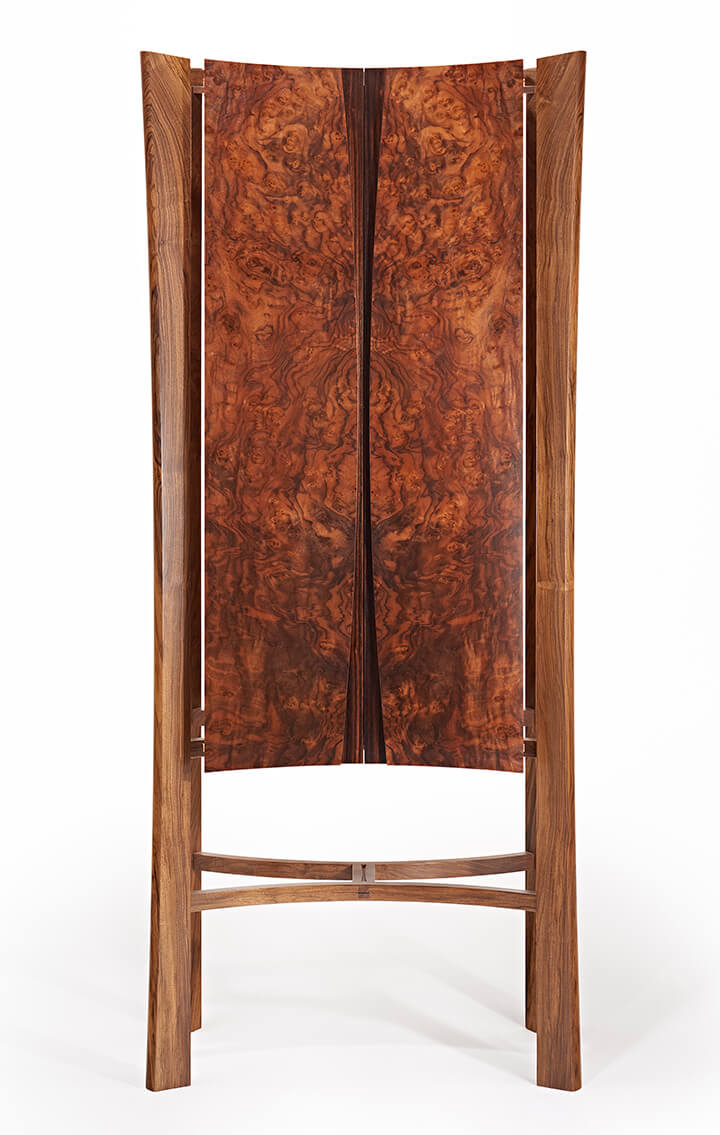 This version of the walnut drinks cabinet is SOLD however a similar piece could be made to commission for c. £6750
Tags: Anna Bilton Interiors, Bespoke Bar, Bespoke Bronze Hinge, bespoke cocktail bar, Bespoke Drinks Cabinet, Bespoke home bar, Bespoke Whiskey Cabinet, Bespoke Whisky Cabinet, burr drinks cabinet, burr oak drinks cabinet, Burr walnut Drinks Cabinet, Captain George Pirie, Chivas Cask Strength, contemporary home bar, Drinking furniture, Drinks cabinet, drum bar unit, English walnut drinks cabinet, Malt Whiskey Cabinet, sycamore drinks cabinet, walnut drinks cabinet, Whiskey Cabinet, Whisky Cabinet