Simon Thomas Pirie celebrated 20 years of making furniture as a business this year. 2018 has been a funny old year for us, although I suspect it has been for everyone. It followed our busiest year ever in 2017, so it took us a while to get up to full momentum again. Not that we've been idle mind you! A bit less in the way of big project management did allow us more time for future planning and the kinds of things that otherwise always get pushed to the bottom of the 'to do' list.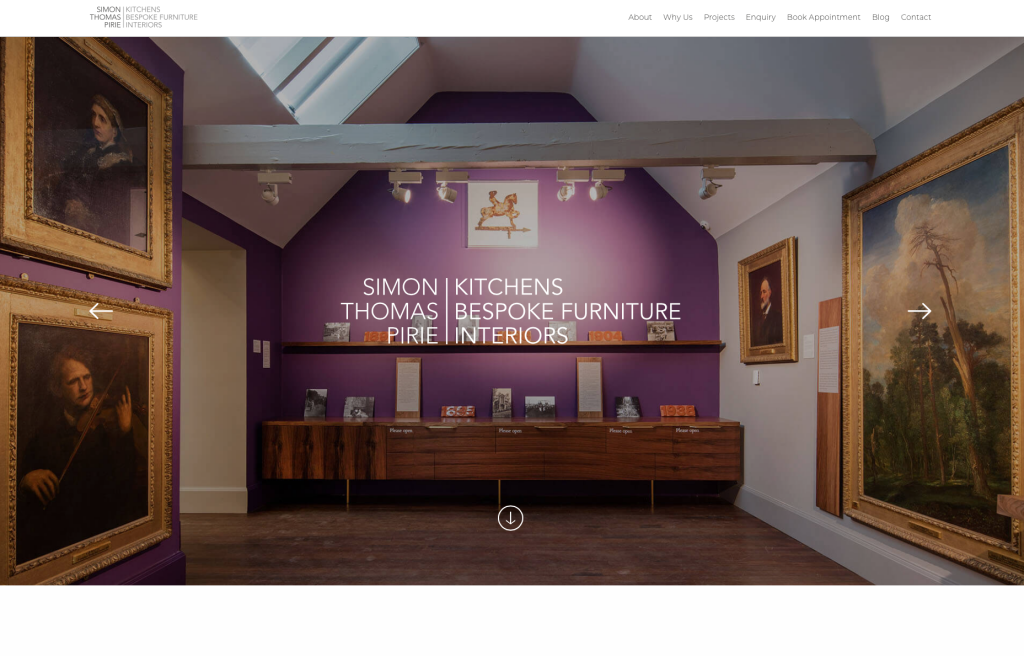 New Website
Perhaps the most obvious outward change is our stunning new website designed with We Are 778. It's much more interactive as a user experience and is better formatted for handheld devices, whilst still stunning to look at on a desktop where those big images really come into their own. It integrates the portfolio and blog / news sections more seamlessly and we have much more control over the content management. Crucially it also has all the new images from those stunning larger projects we have done over the last couple of years, with new gallery slideshows for Kitchens & Interiors, Outdoor furniture, Bespoke Furniture and Institutional Furniture.
To browse the new Simon Thomas Pirie website and the furniture galleries just click here.
Having a shiny new website is in itself not enough these days, people have to be able to find us through in internet's purple haze so we have also been doing lots of that unseen work on 'search engine optimisation' and the other 'black arts' of getting noticed: PR, winning design awards and doing internationally focused trade shows. More on those later…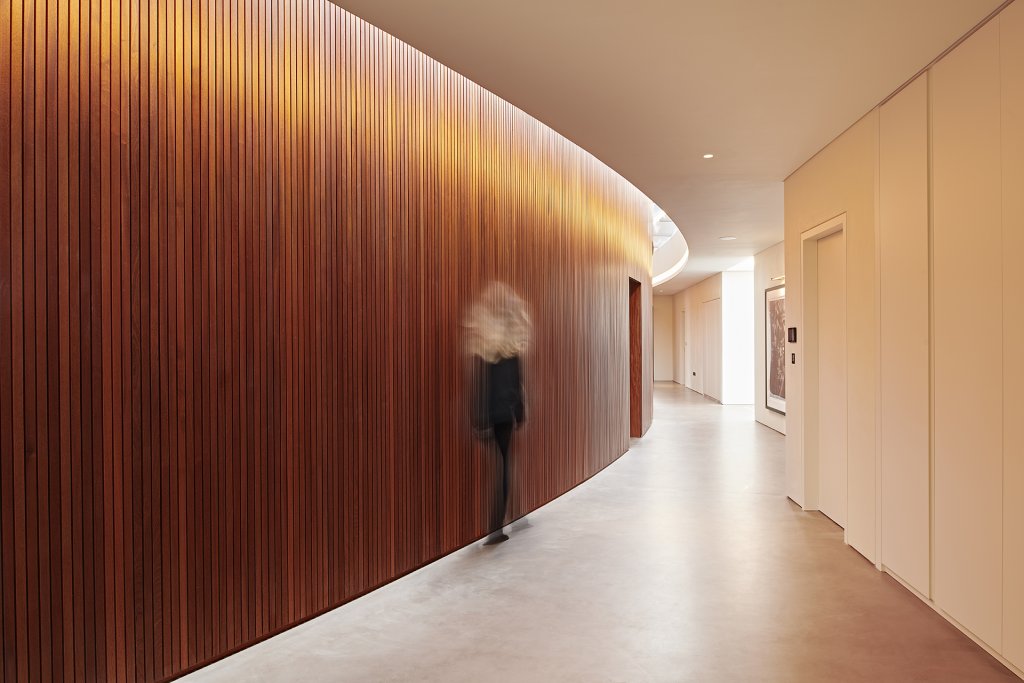 Without wanting to sound over self-congratulatory, it's only when we look at the website as a body of work over 2 decades we realise just how far we have come, and that we really have done some pretty extraordinary work in that time. Large projects from 2016/17 broadened our own horizons in terms of what we can offer, design and deliver, and moved our operations into new arenas and towards types of clients we have not spoken to before. They have also broadened our portfolio and required some extra sections of the website like bedrooms, study/offices, hallways/lobbies and living areas.
Planning for the Future
Our successes in 2017 gave us the confidence to plan to double the size of the workshops and invest in new facilities. Organising this has taken up lots of our time during 2018, but eventually, after lots of delays, planning permission was secured in late November this year. We are now looking forward to extending the building, investing in new veneering and finishing facilities and moving our existing kit into a purpose-built workshop adjacent to the current office and gallery. All of this should happen in 2019 whilst the old buildings will eventually become our new office, showroom and demonstration kitchen area and we hope to be able to host intimate cooking demonstrations and events from 2020.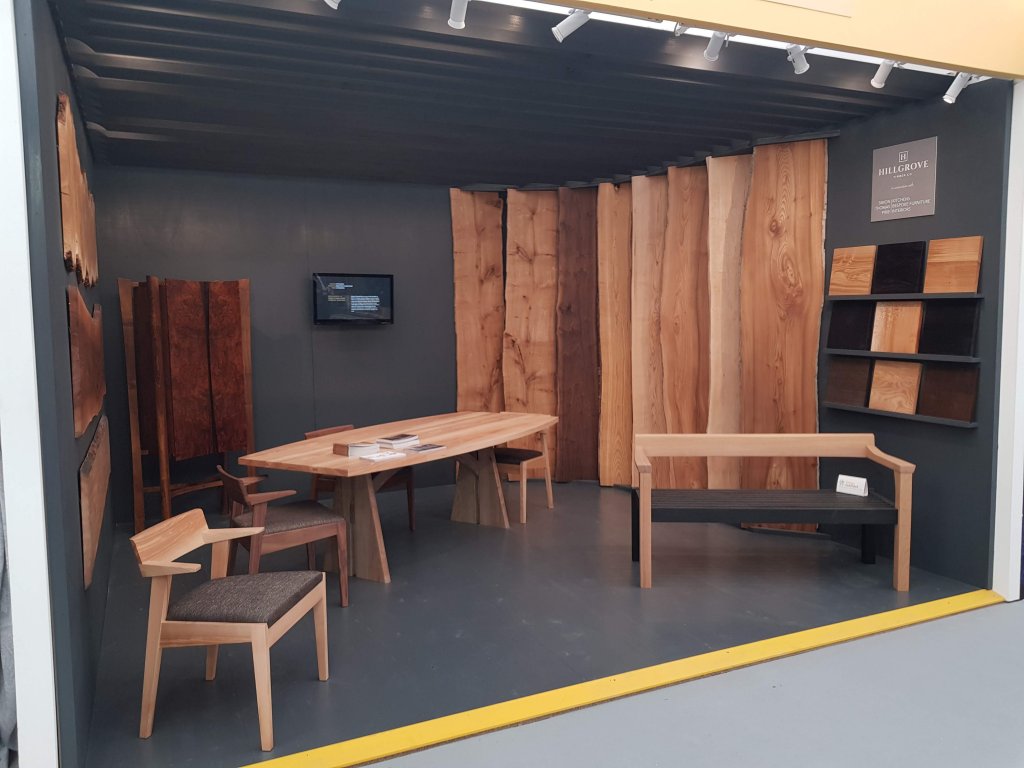 None of this stuff gets done in isolation and in fairness lots of these ideas have been brewing for some time, but they have to be done in sequence as part of a long term strategy. We had been thinking about getting back into doing a London show for sometime, but you really have to visit these shows over a few years to make sure they have the right feel and clientele. In the end we opted for Decorex with its Interior Design trade focus and international profile. We felt it would best suit where we wanted to pitch ourselves. It just so happened that we were having discussions with one of our main timber suppliers, English Woodland Timbers, about a new interior designer focused venture they were launching called the Hillgrove Timber Reserve. It made sense for us to work together and take a joint stand with Hillgrove bringing their rare beautiful selected timbers and us exhibiting stunning furniture made from those woods. We designed the stand and the brilliant workshop staff from English Woodland built it; a real collaborative effort.
Decorex is always of full of rich and opulent textures and material finishes of every kind so our timber dominated stand could have looked out of place. However it looked so different in those surroundings that it acted as a magnet. We had 4 very busy days at Syon Park having lots of exciting conversations with great people, a couple of which are going to turn into significant projects for 2019/20. Given such a positive response and the fact we are aiming to be consistent we have already booked the stand for Decorex 2019, again in partnership with Hillgrove / English Woodland Timbers.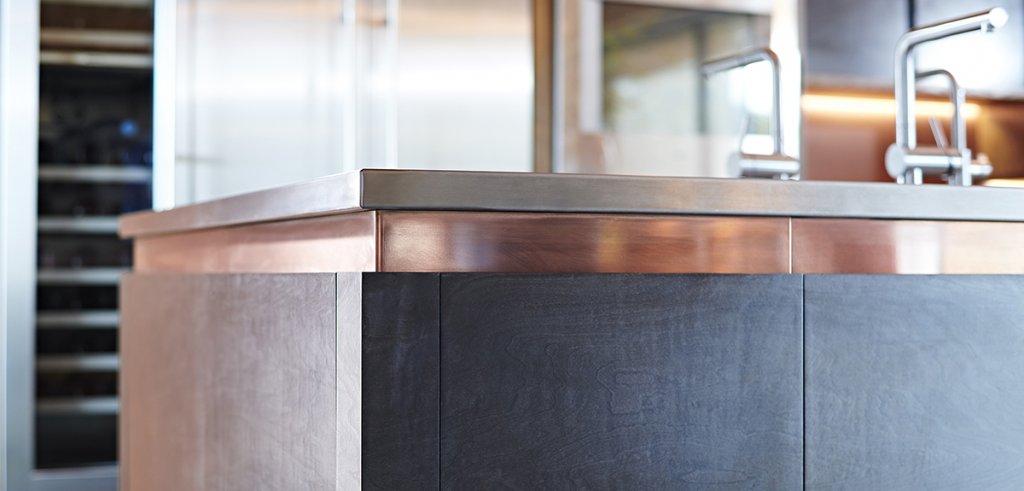 Another high point of 2018 came off the back of one of our big 2016/2017 projects: Bliss Blakeney was a large multi-interior project on the North Norfolk coast (you can read more about it here in our two-part Case Study). A key part of this extraordinary house was the kitchen space which reflected clients Lisa & Daniel Broch's lifestyle and bold taste. Its rich, warm, industrial aesthetic in dark charcoal grey figured sycamore, copper, stainless steel and fumed oak was a real portfolio changer for us. We knew it was something unique as we were working on it, so much so we entered it into the leading national kitchen design awards.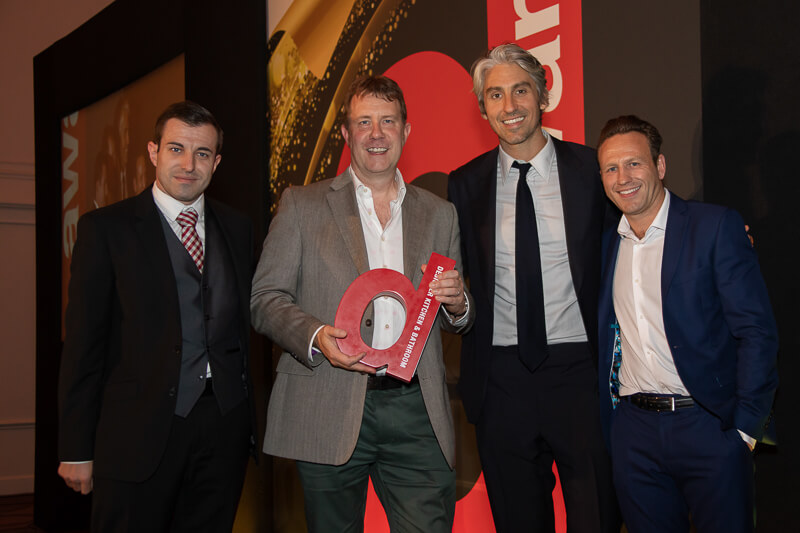 Designer Kitchen and Bathroom Award Winners
We already have major design awards for pieces of furniture, both indoor and outdoor, but felt the work we were doing in kitchens and interiors was up there with some of the best that the industry could offer and that perhaps the different perspective that a furniture makers' eye could offer may just make others think so as well. The Bliss Kitchen won Designer Kitchen & Bathroom's 'Kitchen Design of the Year (over £25K)' at a glitzy do in London in early October. Needless to say all of us at Simon Thomas Pirie are very proud of our big, red 'd' and the fact that we beat much larger and more established names in the industry at out first attempt.
Around the Workshop
Of course all of this makes it sound like we weren't busy making in the workshops but that is certainly not the case…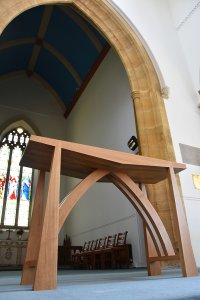 We have had a real variety of work going through which the makers always enjoy. The start of the year saw us complete lots of ecclesiastical work, from church gates to a nave altar tables. We also completed a couple of dining sets, one of which was to compliment one of the big kitchen projects we completed in 2017. There was a bit of art deco flavoured work in the shape of two projects for different clients, a stunning run of study storage furniture and a drinks cabinet in some pretty exotic, coloured timbers.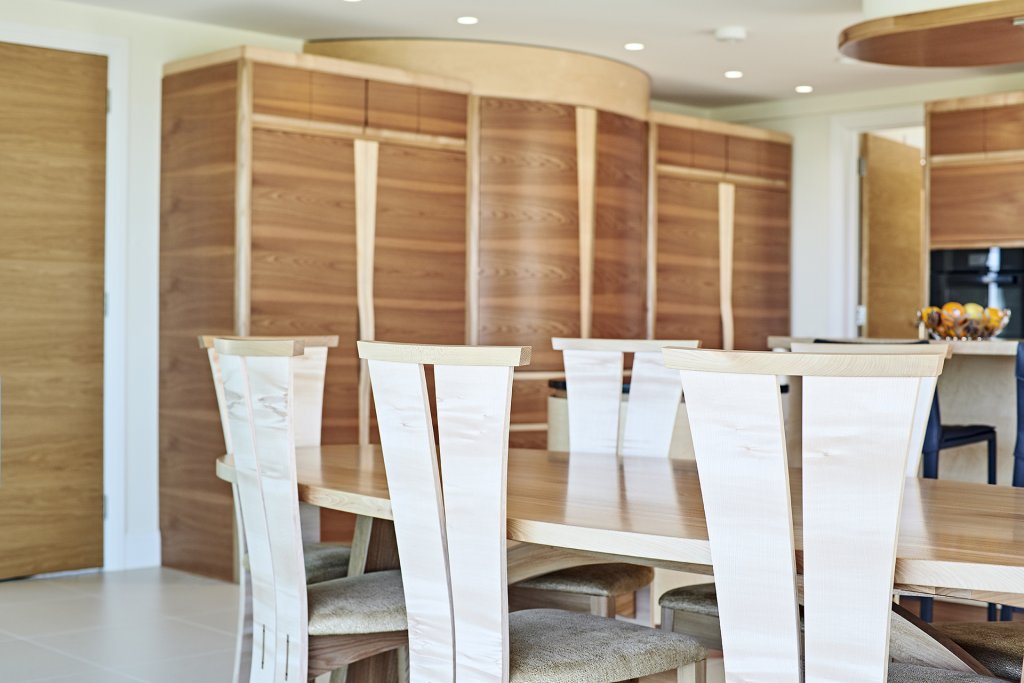 Our largest project of 2018 was in conjunction with Jigsaw Interior Design who landed an exclusive penthouse interior in the heart of Westminster. We made the master bedroom furniture and some pretty fancy louvered window screens in the main living space, as well as a sideboard and study area. It's always nice to work with like-minded interior companies but the location and logistics of this (it was on the 7th floor and right next to the Home Office) made it a bit more of a challenge!
Perhaps our most important piece of furniture of 2018 was a new chair. It's something that has been my sketchbook for years as a repeating scribble which finally took 3 dimensional form as the 'Iceni' chair. We used Decorex to launch this rather different low-back half-arm which is as at home around a dining table as it is in an office or study. It got a very positive reception at the show and the first client set is already in situ.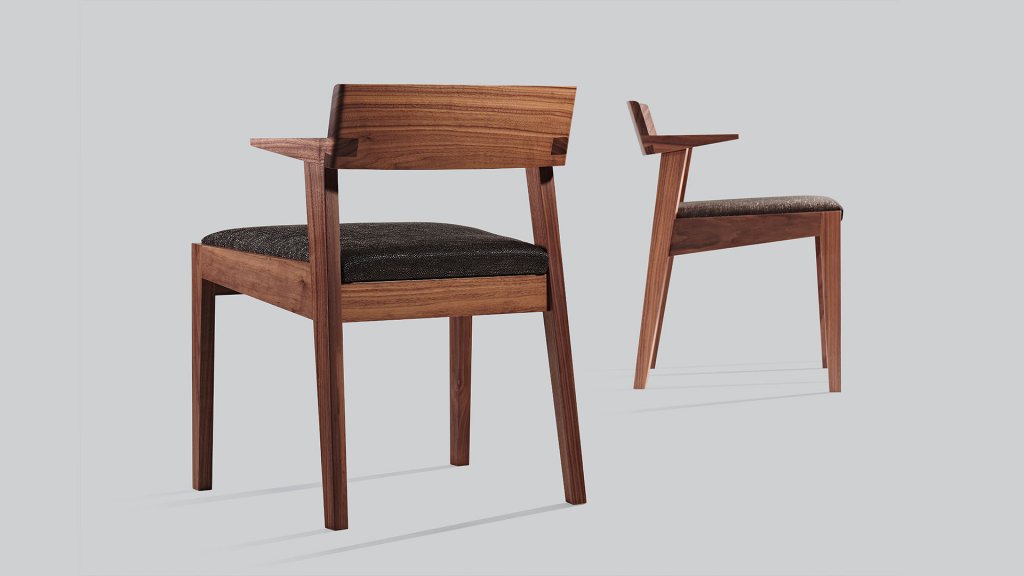 At long last, I now have my own lovely set of Iceni chairs around a table, both in olive ash, which sit in my new kitchen, also in olive ash, which we managed to 'squeeze in' around the weekends and evenings.
Mike, one of our makers who was saving money before heading off travelling to New Zealand for 18 months helped me out. It's always sad to see one of our tight knit team leave, but he was always a bit of a free spirit. We wish him well on his travels.
Our two youngest makers, Tom and Bradley are now experienced enough to be running their own projects and have recently completed complex pieces which in effect mean they have graduated from the apprentice stages of their careers to fully fledged makers. Of course making furniture is a life-long learning curve, both Tom & Brad have plenty more to learn but also much more to give now.
Some of you will have met Boris, my design assistant. He's also come on in leaps and bounds in the year and a bit he's been with us and we are able to do far more design visualisation and 3D work now as a result. It has also taken pressure off me to do all the drawing work so I can get out more, visiting clients and suppliers. John and Bridget have also taken on more of the management allowing me focus on making sure we remain a creatively led design business bringing in the kind of work we all enjoy.
Looking forward to 2019 … in a year from now I hope to be talking about being in the midst of the biggest interior project we've ever done, a set of mess furniture for a famous military regiment, a series of benches for a coastal path and country park, seating for a major shopping centre and at least two stunning kitchens. As for that Iceni half-arm chair, well that's been entered for a design award, so you never know. Hopefully by then we will also have some images to show you of our shiny new workshop building!
We are never too busy and always keen to talk about new work and new projects no matter how small or large, so do please do get in touch if you are pondering something.
Written by Simon