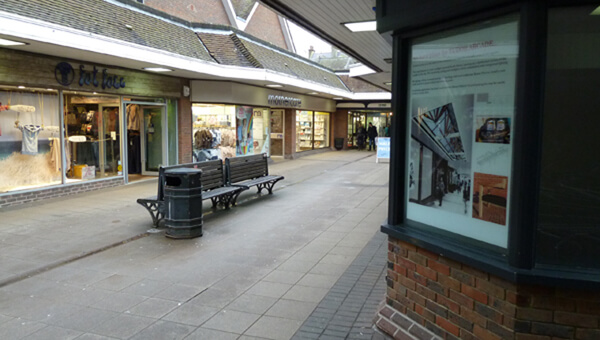 The old will soon make way for the new at Tudor Arcade and the word is out…
I was told about the nice piece of graphics explaining the refurbishment plans opposite Waitrose so went to have a look today as I was walking through Dorchester. The scheme includes reworking the roof structure in the rather dark section, opening it up to the sky and including new integrated lighting throughout. There will also be new signage inside and outside.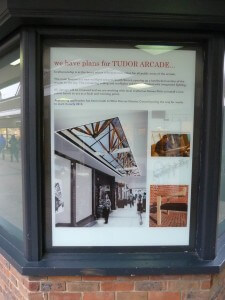 I really like the fact Gavin Hutchison of Hutchison Kivotos Architects and Ignis UK, the Arcades owners, are focusing so much on 'craftsmanship' at the core of the new work. That is of course where we come in – creating a stunning piece of public seating to act as a focal point for people to meet, sit and talk.
You may have seen in earlier posts the scorched black and natural oak prototype bench that we finished in late 2011. It's now going through robust outdoor testing to se the effects of the weather on the finish and design. At one point this morning I thought I was going to be taking a shot of it in the snow, but despite it being bitterly cold it didn't lie. No timeless winter image this time.
We are into the main bench now, already planning up the oak for the slats on the 10 metres of curved snaking seating. Keep your eyes on the blog for updates on progress. This public seating commission will be installed in the spring of 2012.